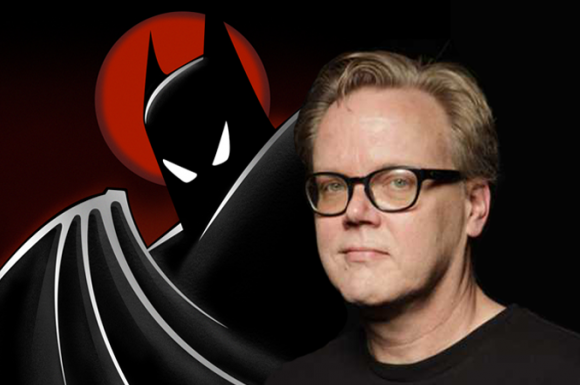 Biography
Perhaps best known for co-creating the television cartoon, Batman: The Animated Series, Bruce Timm (b.1961) possesses a unique style that transforms well-established heroes and villains into cartoon-like figures using a minimalist style reminiscent of comic book artist and Hanna-Barbera character designer, Alex Toth.
Timm's career began in 1981 at Lou Scheimer's Filmation animation studio, where he worked the next four years as a layout artist and character designer for such series as Blackstar, He-Man and the Masters of the Universe, and She-Ra: Princess of Power. Throughout the rest of the 1980s, he found employment on animated television series produced by other studios. Timm worked as model designer for the Marvel/Sunbow joint production of Hasbro's G.I. Joe, character designer for DiC's The Real Ghostbusters, and model designer for Warner Bros.' Tiny Toon Adventures.
His creation, Batman: The Animated Series, debuted in Fall 1992 to critical acclaim and positive viewer response. The series presented a darker version of the superhero than had been portrayed in Saturday morning cartoons from the 1960s through the 1980s. Carrying on the visual style of Tim Burton's Batman (1989), the animation was created in an unusual style—on black backgrounds. The darker visuals and use of more physical violence than was typically presented in contemporary cartoons, provided a fresh take on animated superheroes. On that same television series, Bruce Timm and writer Paul Dini created the popular character Harley Quinn, a romantic interest for Batman's greatest villain, the Joker. Incidentally, Star Wars' Mark Hamill provided the voice of the Joker, transforming his career from being the actor most famous for playing Luke Skywalker to becoming a highly sought-after voice actor on dozens of animated series through the following decades.
Timm continued to find success throughout the 1990s producing other popular animated series such as Superman: The Animated Series, Batman Beyond, and Justice League Unlimited.
In addition to his animation work, Timm has also illustrated several comic book series for DC Comics, including The Batman Adventures: Mad Love, The Batman Adventures: Holiday Special, and Batman: Harley and Ivy. In 2012, Timm published a book of his pinup art, titled Naughty and Nice: The Good Girl Art of Bruce Timm.
Illustrations by Bruce Timm
Additional Resources
Bibliography
Dini, Paul and Bruce Timm. The Batman Adventures: Mad Love. New York: DC Comics, 1994.
Dini, Paul and Bruce Timm. Harley and Ivy: The Deluxe Edition. Burbank, CA: DC Comics, 2016.
Dini, Paul and Bruce Timm. Mad Love and Other Stories. New York: DC Comics, 2009.
Timm, Bruce. Naughty and Nice: The Good Girl Art of Bruce Timm. Santa Cruz, CA: Flesk Publications, 2012.