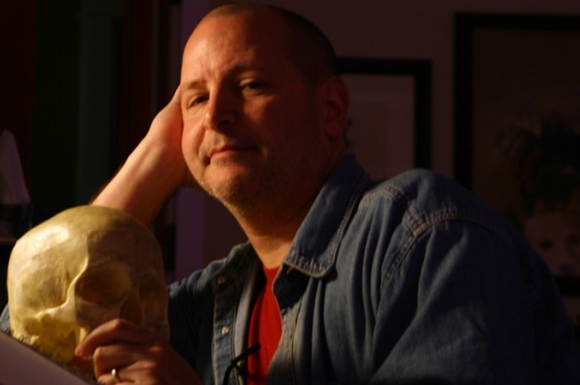 Biography
Following ten years of working on in-house projects for Marvel and DC Comics, Mike Mignola (b.1960) created the Hellboy series in 1993, releasing it through the independent comic book publisher Dark Horse. The offspring of a human mother and a demon father, and born in hell, Hellboy was brought to Earth in a plot hatched by the Russian mystic Rasputin and the Nazis during World War II, and then rescued by the Allies. Thereupon, Hellboy is raised in captivity but treated as a normal child, though he possesses superhuman strength, red skin, and horns, which he files down. Despite being half demon, Hellboy joins the Bureau for Paranormal Research and Defense (B.P.R.D.), where he is tasked with fighting all manner of supernatural and otherworldly evil.
The Hellboy franchise continues to enjoy success which has not waned over nearly three decades. The character regularly appears in novels, video games, and comic book series based on characters originating in Hellboy, including Abe Sapien, Lobster Johnson, and Witchfinder. Hellboy has also been featured in three live-action films, released in 2004, 2008, and 2019.
Unlike many superhero creators who came before him, Mignola owns the rights to his creation, contributing to the character's sustained popularity. Mignola's dedication to his craft was acknowledged at the 2016 Spectrum Fantastic Art annual, when he was awarded the distinguished title of Grand Master.
Photo credit: Christine Mignola
Illustrations by Mike Mignola
Additional Resources
Bibliography
Kowalski, Jesse. Enchanted: A History of Fantasy Illustration. New York: Abbeville Press, 2020.
Kupperberg, Paul, John Byrne, Roger Stern, P. Craig Russell, Rick Bryant, Carlos Garzon, Petra Scotese et al. The DC Universe by Mike Mignola. Burbank, CA: DC Comics, 2017.
Mignola, Mike. The Amazing Screw-On Head and Other Curious Objects. Milwaukie, OR: Dark Horse Comics, 2002.
———. Hellboy. Milwaukie, OR: Dark Horse Books, 1994.
Mignola, Mike, Josh Dysart, Paul Azaceta, and Nick Filardi. B.P.R.D. 1946. Milwaukie, OR: Dark Horse Comics, 2008.
Mignola, Mike and Duncan Fegredo. Hellboy: The Wild Hunt. Milwaukie, OR: Dark Horse Comics, 2008.
Mignola Mike and Christine Mignola. Mike Mignola: The Quarantine Sketchbook. Milwaukie, OR: Dark Horse Books, 2021.
Mignola, Mike, Ben Stenbeck, Dave Stewart et al. Frankenstein Underground. Milwaukie, OR: Dark Horse Comics, 2015.
Mignola, Mike, Dave Stewart, and Clem Robins. Hellboy in Hell: The Descent. Milwaukie, OR: Dark Horse Comics, 2014.
Stoker, Bram, Roy Thomas, Mike Mignola, and John Nyberg. Dracula. London: Titan, 1993.