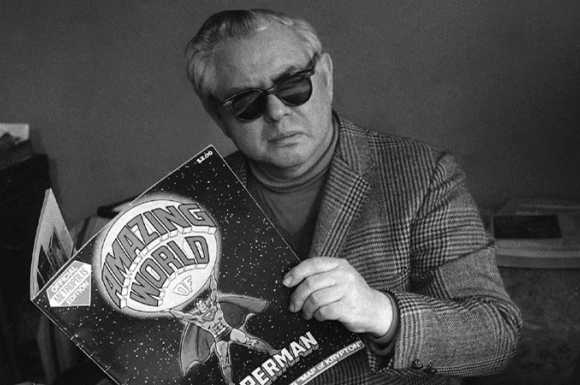 Biography
Joe Shuster is best known for creating the world's first superhero, Superman, in collaboration with writer Jerry Siegel.
When they first met in 1930, Shuster and Siegel were two shy, unpopular Jewish teens from Cleveland who shared an affection for science-fiction pulp magazines. Immediate friends, they began collaborating on comic book projects. Through the mid-1930s, they were unsuccessful in selling their original superhero story to publishers. Finally in 1938, after some revisions and a bit of luck, DC Comics agreed to publish the exploits of Superman in their new comic book, Action Comics.
Making his first appearance in Action Comics #1 (June 1938), Superman was an immediate hit with the American public. Superman was so popular that he became the first superhero to receive his own comic book with the publication of Superman #1 in June 1939.
An amalgam of Clark Gable, Flash Gordon, Friedrich Nietzsche's Ubermensch, and Harold Lloyd, among others, the world's first superhero was born Kal-El on the planet Krypton. Realizing that Krypton would soon die of "old age," Kal-El's father, Jor-El, sends his only child to Earth in a rocket ship. Kal-El's crashing rocket is spotted by a passing motorist, who turns the baby over to an orphanage. Reaching maturity, Clark Kent, as he was named, could jump over 20-story buildings, run faster than a train, and lift tremendous weights. The source of his power was his highly advanced Kryptonian physiology. Because of this unique gift, he chose to become Superman and "devote his existence to those in need."
Superman's back-story was eventually altered to include Ma and Pa Kent in Kansas finding and adopting the alien baby, and an adjustment of his strengths to include the ability to fly, increased super powers, and near invulnerability. Also, the source of his power was later explained to be a result of Earth's yellow sun on his alien DNA.
Since he burst onto the scene in 1938, Superman has appeared in a daily comic strip, a radio series, theatrical cartoons, film serials, several feature films and live-action television series, and scores of animated television series. In nearly 80 years, he has married, died, returned to life and fought Al Capone, Nazis, and Communists—all while wearing tights.
Illustrations by Joe Shuster
Additional Resources
Bibliography