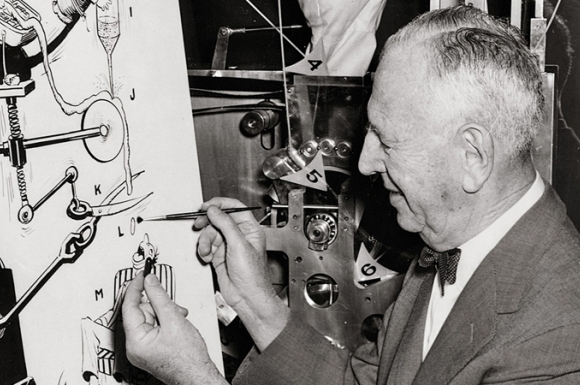 Biography
A prolific cartoonist and visionary, Rube Goldberg has become more famous for the inventions bearing his name than for his cartoons and political illustrations. Within his comic strips Goldberg created extremely complex machines that were built to perform a simple task. Beginning in 1912, the hand-drawn diagrams of his outlandish inventions established Rube Goldberg as one of the most popular cartoonists of the time, and the term "Rube Goldberg Machine" was coined. The idea behind Goldberg's devices was so innovative that it has since been adapted countless times in popular culture—in Tom and Jerry cartoons, the board game Mouse Trap, episodes of Sesame Street, and the films Back to the Future and The Goonies, to name just a few.
Born in San Francisco in 1883, Reuben Garret Lucius Goldberg studied Engineering at the University of California, Berkeley and soon found work mapping sewers and water lines for the city of San Francisco. Shortly after starting his engineering career, Goldberg quit to become a sports cartoonist at the San Francisco Chronicle. In 1907 he moved to New York where he began drawing cartoons for the New York Evening Mail. Cartoon creations such as Boob McNutt, Foolish Questions, Mike and Ike (They Look Alike), I Never Thought of That, and The Inventions of Professor Lucifer Gorgonzola Butts, which showcased the Rube Goldberg Machine, were syndicated throughout the country.
Beginning in 1938, Goldberg added editorial cartoons to his repertoire. His work for the New York Evening Sun focused on the events in Europe in the lead-up to World War II. As the son of a Jewish immigrant from Germany, Goldberg understood early on the threat of Nazi Germany, and felt passionately about the world's indifference to the events happening in Europe. During World War II, Adolf Hitler became Goldberg's main point of ridicule. Following the war, Goldberg continued to comment on world politics and in 1948 he won a Pulitzer Prize for a political cartoon titled Peace Today in which a suburban family is relaxing on their patio which sits atop an atomic bomb as it balances on a cliff between peace and world destruction.
Following the end of World War II, Goldberg became a founding member and the first President of The Cartoonists Society. Other founding members included Ernie Bushmiller (creator of Nancy), Milt Caniff (creator of Terry and the Pirates), Ham Fisher (creator of Joe Palooka), Superman co-creator Joe Shuster, and Otto Soglow (creator of The Little King). Later members included legendary illustrators Paul Terry, Al Capp, Bob Kane, Chic Young, and Alex Raymond. Since 1954, the Society has awarded the Reuben Award, named after Rube Goldberg, to the Outstanding Cartoonist of the Year. Winners have included Hal Foster (1957), Charles Schulz (1955) and (1964), Jim Davis (1989), Will Eisner (1998), and Roz Chast (2014).
In addition to promoting the work of comic illustration through The Cartoonists Society, Goldberg became a teacher in the Famous Artists School shortly after its founding in 1948, offering instruction on editorial cartoons in the school's Cartoon Course. Later in life, Goldberg experimented with creating fine art and sculpture, though he would never give up drawing his unique inventions.
Illustrations by Rube Goldberg
Additional Resources
Bibliography
George, Jennifer. The Art of Rube Goldberg: (A) Inventive (B) Cartoon (C) Genius. New York: Abrams ComicArts, 2013.
Goldberg, Rube. The Rube Goldberg Plan for the Post-War World. New York: N.Y. F. Watts, Inc., 1944.
Goldberg, Rube and Philip Garner. Rube Goldberg: A Retrospective. New York: Delilah Communications, 1983.
Goldberg, Rube and Charles Keller. The Best of Rube Goldberg. Englewood Cliffs, NJ: Prentice-Hall Inc., 1979.
Wolfe, Maynard Frank and Rube Goldberg. Rube Goldberg: Inventions. New York: Simon & Schuster, 2000.