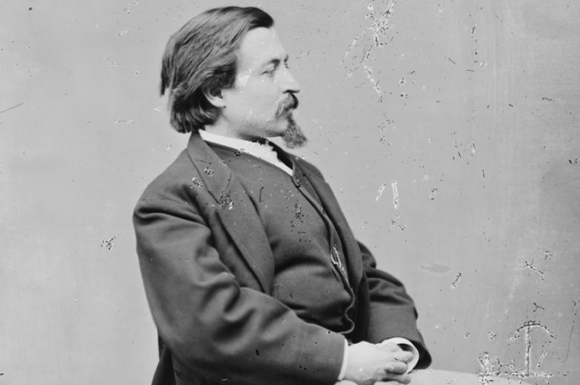 Biography
Thomas Nast (1840-1902) was a political cartoonist considered to be the "Father of the American Cartoon." Born in Landau, Germany, Nast's family immigrated to New York City when he was six. Nast showed an interest in drawing from an early age, but much less so in school, dropping out at the age of 14. He briefly studied at the National Academy of Art, and in 1885 went to work for Leslie's Illustrated Newspaper.
The start of the Civil War created an increase in the public's demand for illustrated news from the war front. In 1862, Nast joined the staff of Harper's Weekly, and earned recognition for his vivid, compassionate battlefield and camp scenes. Nast's drawings reflected his staunch support of the Union, and his liberal, progressive Republican views. Thomas Nast satirized the major political issues of his era: slavery, the Civil War, Reconstruction, and political corruption. Although he initially gained fame for his artistic portrayals of Civil War battles, Nast was most famous for his editorial cartoons which brought attention to the criminal activities of William Marcy "Boss" Tweed's Tammany Hall Democratic Party political machine in New York City, from which Tweed and his friends illegally benefitted. Due in large part to the publicity brought on by Nast, Tweed was arrested and died in jail.
Nast's highly-opinionated editorial cartoons earned him many enemies. In 1872, concerned for his family's safety, Nast and his wife, Sarah, relocated from New York City to Morristown, New Jersey to raise their five children.
Known as "The President Maker," Nast's persuasive, and sometimes scathing cartoons proved crucial in influencing the nation's vote and affecting the outcomes of six presidential elections between 1864 and 1884. His illustrations supported the causes he believed in and the candidates he thought were best. Nast was also responsible for the association of the elephant as a symbol for the Republican party and the popularization of the donkey as the symbol for the Democratic party.
By the mid-1880s, Nast's contributions to Harper's dwindled and he left the magazine in 1886. Soon after, due to bad investments, Nast fell heavily into debt. In 1902, he applied for a job in the State Department, hoping to secure a consular position. President Theodore Roosevelt, a fan of Nast's work, offered him an appointment as the Consul General to Guayaquil, Ecuador. Nast accepted and traveled to Ecuador on July 1, 1902 where he contracted yellow fever and died just five months later. His body was returned to the United States and he was buried in Woodlawn Cemetery in New York City.
Illustrations by Thomas Nast
Additional Resources
Bibliography
Adler, John and Draper Hill. Doomed by Cartoon: How Cartoonist Thomas Nast and The New York Times Brought Down Boss Tweed and His Ring of Thieves. New York: Morgan James Publishing, 2008.
Halloran, Fiona Deans. Thomas Nast: The Father of Modern Political Cartoons. Chapel Hill, NC: The University of North Carolina Press, 2012.
Keller, Morton. The Art and Politics of Thomas Nast. New York: Oxford University Press, 1968.
Nast St. Hill, Thomas. Thomas Nast: Cartoons and Illustrations. New York, Dover Publications, 1974.
Vinson, John Chalmers. Thomas Nast: Political Cartoonist. Athens, GA: University of Georgia Press, 1967.