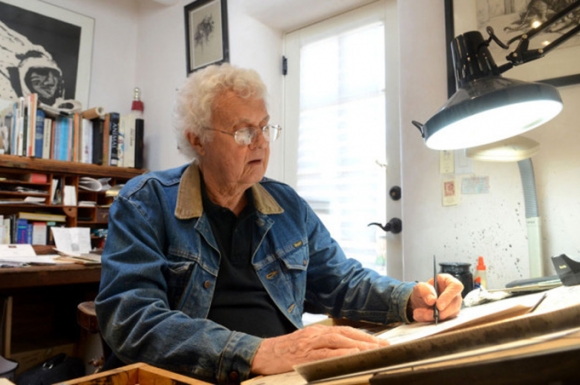 Biography
Pat Oliphant (b.1935) is a Pulitzer Prize-winning Australian-born American artist described by the New York Times in 1990 as "the most influential editorial cartoonist" of his time. Retired in 2015 due to vision loss, his career spanned more than sixty years, his work focusing primarily on American and global politics, culture, and corruption. Oliphant's caricatures of American presidents and other powerful leaders are world renowned. In addition to thousands of daily editorial cartoons, he also produced dozens of bronze sculptures as well as works on paper and paintings.[1]
Raised in a small cabin outside of Adelaide, Oliphant attended a one-room schoolhouse and went on to finish his formal education at a local high school. His interest in drawing was sparked by his father's work as a government draftsman, and he decided at an early age that he wanted to become a journalist. Not interested in pursuing higher education and still a teenager in 1952, he began working as a copyboy for Adelaide's evening newspaper, The News, which was recently inherited by a young Rupert Murdoch. The following year, Oliphant moved to a rival publication, The Advertiser, where he worked as a press artist; and by 1955 he was drawing editorial cartoons. During this period he was inspired by English cartoonist Ronald Searle, the western Australian cartoonist Paul Rigby, and the political commentary of Mad magazine.[2]
Frustrated by The Advertiser's conservative editorial policies, Oliphant had his eyes set on working in the United States. Upon completion of a five-year commitment to The Advertiser, he landed a job with the Denver Post after submitting an exceptional portfolio that singled him out over fifty other American applicants. Within a year of joining the Post, his work was disseminated internationally by the Los Angeles Times Syndicate. Oliphant's reputation grew quickly and in 1967 he was awarded the Pulitzer Prize.
Not one to shy away from controversy, Oliphant intentionally submitted a work he felt was inferior to the Pulitzer Prize board. When it won, he criticized the board for selecting his cartoon for its subject matter (Ho Chi Minh carrying the body of a dead Vietnamese man in the posture of the Pietà) rather than the quality of the work. After that, he was a regular critic of the Pulitzer and refused to be considered for the award again. Other cartoons featuring Catholic scandals and Israel's December 2008 offensive against Hamas in Gaza also drew outrage from the Catholic League and the American Jewish community respectively.
In 1975, Oliphant moved to the Washington Star and in 1980 switched to Universal Press Syndicate. When the Star went out of business in 1981, he decided to remain independent, thus becoming the first political cartoonist in the 20th century from a home newspaper to work independently. By 1983 Oliphant was the most widely syndicated American cartoonist—his works appeared in more than 500 publications. During the 1980s he began working in bronze; his bronze works are often compared with those of 19th century artist Honoré Daumier.
Early on in his career, Oliphant began to include a small penguin he named Punk in many of his political cartoons. The creation of Punk allowed him to add his own commentary on the cartoon subject matter and the character became popular with Oliphant's fans who made a game of finding Punk in each cartoon.
In addition to the Pulitzer Prize, Oliphant was recognized with numerous awards from the Society of Professional Journalists, National Cartoonists Society, National Wildlife Federation, American Civil Liberties Union, and the Washington Journalism Review, among others.
Oliphant became an American citizen in 1979. A member of the Bad Golfers Association for many years, he succeeded in earning a commercial pilot's license. His uncle, Sir Mark Oliphant, was an Australian physicist who worked on the Manhattan Project during World War II. Pat Oliphant married three times and currently lives in Virginia with his third wife, Susan C. Conway.
[1] Wikipedia's entry on Pat Oliphant. Last modified on December 24, 2019. Accessed on January 16, 2020. https://en.wikipedia.org/wiki/Pat_Oliphant
[2] Ibid.
This artist's biography was written by Phyllis Geraghty, a writer with professional experience in the public relations, education, health, and non-profit sectors.
Illustrations by Pat Oliphant
Additional Resources
Bibliography
Oliphant, Pat. ...But Seriously, Folks!: More Cartoons. Kansas City, MO: Andrews and McMeel, 1983.
Oliphant, Pat. An Informal Gathering. New York: Simon and Schuster, 1978.
Oliphant, Pat. The Jellybean Society: A Cartoon Collection. Kansas City, MO: Andrews and McMeel, 1981.
Oliphant, Pat. Off to the Revolution: More Cartoons. Kansas City, MO: Andrews and McMeel, 1995.
Oliphant, Pat. The Oliphant Book. New York: Simon and Schuster, 1969.
Oliphant, Pat. Oliphant!: A Cartoon Collection. Kansas City, MO: Andrews and McMeel, 1980.