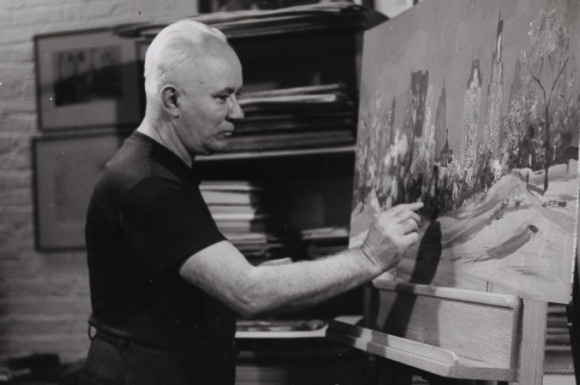 Biography
Adolf Dehn (1895 – 1968) was one of the most notable lithograph artists of the 20th century. His innovative and unusual textural effects ultimately reshaped the entire character of American printmaking, producing prints that had the tonal and textural richness of a painting. Dehn was also an accomplished painter, and in watercolor, ranks nearly on a par with the very greatest American masters of this medium.[1] An author and teacher as well, Dehn helped define some important movements in American art including Regionalism, Social Realism, and caricature.[2]
Born in Waterville, Minnesota, Dehn was the descendent of farmers who had emigrated from Germany. His family lived in rural poverty. His father, a hunter and trapper, was also an atheist and anarchist. His mother was a socialist and feminist, so Dehn was exposed to a wide range of radical thinking while growing up.[3] His mother encouraged Dehn's artistic talent which was apparent at an early age. After graduating as valedictorian from Waterville High School, he went to the Minneapolis School of Art where he met a woman, Wanda Gág, who was to be Dehn's close companion for the next five years. Both received scholarships to attend the Art Students League in New York. After graduation, Dehn was drafted to serve in World War I, but was imprisoned in Spartanburg, South Carolina after declaring himself a conscientious objector. Upon his release, he worked for several months as a volunteer painting teacher at an army rehabilitation hospital in Asheville, North Carolina. Dehn then returned to the Art Students League for another year of study and created his first lithograph, The Harvest.
When Dehn returned to New York, his lithographs were featured at Weyhe Gallery and he became politically affiliated with left wing activists. In 1921, he went to Europe, becoming part of a group of expatriate intellectuals and artists, including Andrée Ruellan, Gertrude Stein, and E.E. Cummings.[4] While abroad, Dehn took odd jobs as a magazine illustrator to support himself and his first wife, Mura Ziperovitch, a Russian dancer he met in Vienna. A number of his caricatures depicting the Roaring 20s, burlesque, opera houses, and the café scene appeared in such magazines as Vanity Fair. Coming back to New York in 1929, Dehn's art focused on depicting scenes of Manhattan, and his work appeared in magazines such as the New Yorker and Vogue.
As the Great Depression took hold in the 1930s, Dehn experienced financial difficulties which contributed to the divorce of his first wife, and caused him to make trips back home to Minnesota where he could live more cheaply. During this time, he did a number of drawings and lithographs based on Midwest scenes. It was in 1936 that he began executing watercolors, and in 1939, he received a Guggenheim Fellowship which allowed him to travel to the western United States and Mexico. Dehn's watercolors were immensely popular and placed him in the top tier of American watercolorists. Around the peak of his national fame and financial success in 1943, he met his second wife, Virginia Engelman. They married in 1947, after which Dehn traveled extensively to places including Venezuela, Cuba, Haiti, Afghanistan and other parts of the world; his experiences were reflected in his prints, drawings, and paintings. Dehn won a second Guggenheim Fellowship in 1951.
Among his many honors, Dehn was elected as a full academician to the National Academy of Design and as a member of the National Institute of Arts and Letters. His works are held in over 100 museums including the National Gallery of Art, National Portrait Gallery, Metropolitan Museum, Museum of Modern Art, and Whitney Museum of American Art.[5] Dehn died on May 19, 1968, at the age of 72, after suffering a massive heart attack.
[1] Adams, Dr. Henry. "Adolf Dehn, Biography." The website of Adolf Dehn Art. Accessed October 19, 2020. http://www.adolfdehnart.com/biography
[2] The Wikipedia website entry on Adolf Dehn. Accessed October 19, 2020. Last edited on October 19, 202. https://en.wikipedia.org/wiki/Adolf_Dehn
[3] The Smithsonian American Art Museum website's entry on Adolf Dehn. Accessed October 19, 2020. https://americanart.si.edu/artist/adolf-dehn-1178
[4] The Wikipedia website entry on Adolf Dehn. Accessed October 19, 2020. Last edited on October 19, 202. https://en.wikipedia.org/wiki/Adolf_Dehn
[5] Ibid.
This artist's biography was written by Phyllis Geraghty, a writer with professional experience in the public relations, education, health, and non-profit sectors.
Illustrations by Adolf Dehn
Additional Resources
Bibliography
Adams, Henry. The Sensuous Life of Adolf Dehn: American Master of Watercolor and Printmaking. Columbia: University of Missouri Press, 2021.
Eliasoph, Philip and Henry Adams. Adolf Dehn: Midcentury Manhattan. New York: The Artist Book Foundation, 2017.
Harmon-Meek Gallery. Adolf Dehn Retrospective: American Landscapes in Watercolor 1937-68. Naples: Harmon-Meek Gallery, 1985.
Lumsdaine, Joycelyn Pang and Thomas O'Sullivan. The Prints of Adolf Dehn: A Catalog Raisonné. St. Paul, Minnesota Historical Society Press, 1987.