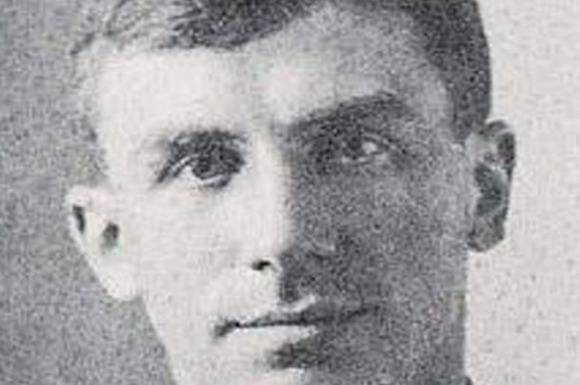 Biography
Emigrating to the United States from Germany in 1897, Anton Otto Fischer (1882-1962) worked on ships until becoming a handyman and model for artist Arthur Burdett Frost (1851-1928). Contact with Frost clearly inspired Fischer to pursue a career in art, and in 1906 he went to Paris to study for two years with Jean Paul Laurens at the Académie Julian. Fischer returned to New York City in 1908, but relocated to Delaware after being enticed by the opportunity to study with the Brandywine School founder, Howard Pyle (1853-1911), who would leave a lasting impact on Fischer's work for the entirety of his career.
In 1910, Fischer sold his first illustration to Harper's Weekly, and later that same year he was hired by The Saturday Evening Post, for whom he would work for over 40 years. He painted illustrations depicting women, children, domestic animals, and sports, but Fischer's particular affinity and talents were for nautical themes of sailing and the sea, a style was closely developed from the idiom of his former teacher, Howard Pyle. Replete with quotations of Pyle's majestic ships donning full sails and enlivened seas of choppy waves, these images convey energy and movement that perfectly assigned to an adventure narrative.
The artist illustrated for the long running story, Tugboat Annie, and classic books such as Moby Dick, Treasure Island, and 20,000 Leagues Under the Sea are a few of his most notable. He illustrated for magazines like The Saturday Evening Post, for whom, Fischer painted both covers and story illustrations.[1]
During World War II, Fischer's affinity for marine painting translated easily to nautically themed propaganda posters. Before long he was honored as artist laureate of the United States Coast Guard. Fischer was sworn in as a lieutenant commander in the Coast Guard (despite his German heritage and anti-New Deal beliefs), where he documented the "heroic deeds of the Merchant Mariners and Coast Guardsmen." [2]
Fischer married artist Mary Ellen Sigsbee (1876-1960) and adopted her son, David (1906-1922), from a previous marriage to fellow Pyle student, William Balfour Ker (1877-1918). Sigsbee and Fischer had a daughter together in 1914, Katrina Sigsbee Fischer (1914-1998).
Anton Otto Fischer was inducted into the Society of Illustrators Hall of Fame in 1996. Further esteem was bestowed upon him in 2011, when Friends of Historic Kingston hosted a lecture featuring Fischer's great-nephew, Andre Mele, honoring his memory. Today, a number of his drawings reside in the archives of the United States Coast Guard Academy in New London, Connecticut.
Entry written by Bailey Pfohl, 2016 Walt Reed Distinguished Scholar Intern
Footnotes:
[1] Diana Denny. "Classic Covers: Anton Otto Fischer." The Saturday Evening Post, April 25, 2009. http://www.saturdayeveningpost.com/2009/04/25/art-entertainment/beyond-the-canvas-art-entertainment/covers-anton-otto-fischer.html
[2] Ibid.
Illustrations by Anton Otto Fischer
Additional Resources
Bibliography
Fischer, Anton Otto. Foc'sle Days: A Story of My Youth. Kingston, NY: Hudson River Maritime Center, 1947.
Fischer, Katrina Sigsbee and Alexander Anthony Hurst. Anton Otto Fischer, Marine Artist: His Life and Work. Nantucket, MA: Mill Hill Press, 1984.
Reed, Walt. The Illustrator in America, 1860-2000. New York: Society of Illustrators, 2001.