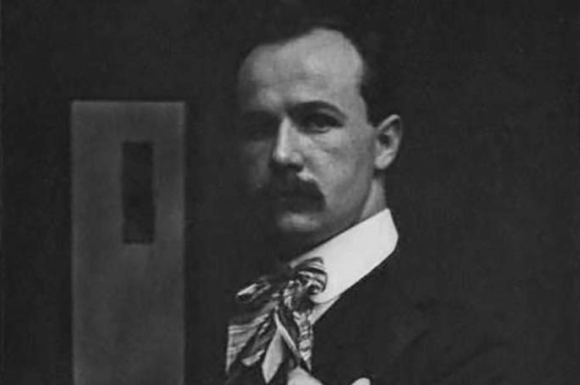 Biography
After emigrating to Milwaukee with his parents in 1885, Arthur E. Becher began his career by studying and training under prominent German emigrant artists Friedrich Wilhelm Heine and Robert Schade. Through his training, Becher learned the naturalistic style that was taught to them during their academic training in Europe. In the late 1890s, Becher joined the Milwaukee Art Students League and spent time painting at Jones Island, a fishing spot located just south of the city. In the early 1900s, Becher studied under the instruction of Howard Pyle, a distinguished illustrator and teacher, in Chadds Ford, Pennsylvania. Having entered into the classes as an advanced student, Pyle helped critique his work, allowing Becher to focus on mastering the finer details and nuances of gesture and expression.
Becher's work, especially his fictional pieces, were successful in grabbing the viewer's attention and distracting them from their daily lives and routines. His paintings and drawings tell romantic, mysterious, and gripping stories without giving away the main plot. These diversionary and escapist pieces were popular at the time, and Becher's ability to portray scenes of action, pleasure, and intrigue through various colors and gradation captured the reader's eye.
Aside from Becher's work in fiction, he also illustrated novels, historical school texts, and religious works. Becher also painted landscapes of the Hudson Vallery area where he moved later on with his wife, Frieda L. Knappe. The two married in 1904, and Knappe was known to have frequently modeled for him for book and magazine illustrations.
In 1908 Becher traveled to London for a commission from Appleton Magazine. There, he met German painter Leopold Otto Strützel, best known for his landscape paintings, and with whom he would study oil painting. That same year, Becher had established himself as an illustrator, working for various magazines and publishers, including Scribner's and Leslie's.
In 1911, Becher exhibited his work at the Pennsylvania Academy of the Fine Arts, and in 1917 he moved from Ardsley, New York to Putnam County where he and his wife bought a farm. Later, he became a member of the Society of Illustrators. Becher worked for forty years as one of the country's leading illustrators. He died in November 1960 in Poughkeepsie, New York at the age of eighty-three.
Illustrations by Arthur Becher
Additional Resources
Bibliography
Falk, Peter H., et al. Who Was Who in American Art 1564-1975: 400 Years of Artists in America. Madison, CT: Sound View Press, 1999.
Merrill, Peter C. and Max Kade Institute for German-American Studies (University of Wisconsin-Madison). German-American Artists in Early Milwaukee: A Biographical Dictionary. Madison, WI: Friends of the Max Kade Institute for German-American Studies, 1997.
Reed, Walt. The Illustrator in America, 1860-2000. New York: Society of Illustrators, 2001.
Samuels, Peggy and Harold Samuels. The Illustrated Biographical Encyclopedia of Artists of the American West. Garden City, NY: Doubleday, 1976.