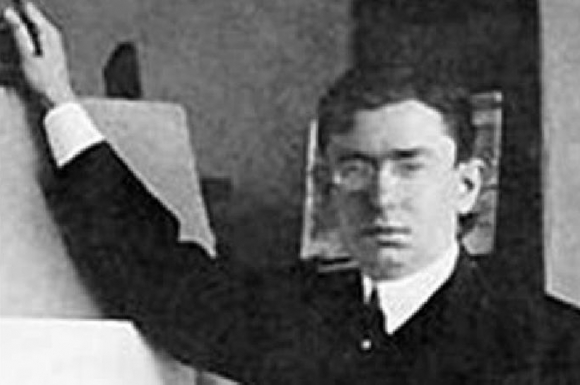 Biography
Joseph Clement Coll (1881-1921) is an American illustrator renowned as a master of the pen and ink medium. With great command over his pen, he could form both delicate subtle lines and bold black slashes. In addition, he could define varying tonal values in his drawings using only black ink.[1]
Born in Philadelphia as the youngest in a large family of Irish ancestry, Coll was perhaps a bit quiet and introspective as a child. As his father and brothers worked as bookbinders and printers, Coll was around paper, ink, type and illustrations from an early age. He enjoyed drawing and reading romantic literature. After graduating from Philadelphia's Central High School, where he took basic art courses, Coll continued developing his drawing skills working as a newspaper sketch-artist.
During the turn of the 20th century, the American newspaper industry reached its height in power. Newspapers attracted some of the smartest, most talented, and most ambitious individuals. They worked hard, but prided themselves as being impactful players in society, above the humdrum outside world. In this industry, workers became acquainted with the latest writing, painting, acting, and music of the western world. For Coll, working for the New York American, the Chicago American, and the Philadelphia North American newspapers encouraged his growing creativity.[2] As a newspaper illustrator, Coll had to travel to a site to observe and quickly sketch newsworthy scenes such as a meeting, game, or riot. With short deadlines, he would develop a detailed drawing based on his preliminary sketch (as well as his memory of the scene) to possibly appear in the next morning's paper. With a profound visual memory, Coll thrived in his career. However, given the demanding deadlines and crude paper for newspaper drawings, Coll produced for the newspapers simpler illustrations with more emphasis on lines than tonal values.[3]
William Glackens, an artist who attended Central High a few years before Coll, became Coll's friend and mentor. Perhaps Glackens' peculiar artistic facility and skills in draftsmanship had an impact on Coll. Coll also studied the illustrations of Howard Pyle, imitating Pyle's pen and ink techniques employed in such books as King Arthur. Coll also incorporated styles used in the works of English illustrators and Art Noveau.
Perhaps Coll's greatest influence was the Spanish-born French illustrator, Daniel Vierge. Vierge's work inspired Coll to depict pen and ink images in a more painterly fashion, emphasizing light and tonal effects and defining more subtle lines. Vierge also spurred Coll's imagination for romantic costume designs and command of character types.[4]
As Coll's technical ability and distinguishing style matured in his early twenties, he left the newspaper industry to foster his talent as an independent illustrator. A friend, patron, and prominent art editor, J. Thompson Willings, encouraged Coll to embark on this path and provided him with manuscripts to illustrate. Unlike his work for newspapers, better quality paper and more advanced printing techniques allowed Coll to employ greater detail with subtle tonal values.[5]
During this time, Coll developed a process for drawing pen and ink illustrations. To draw male figures, he used a model, and made pencil sketches of the model on tracing paper. He would rub the back of the paper with pencil and then trace the sketch onto an illustration board. Then Coll lightly penciled over the tracing, incorporating tonal values. When everything was drawn out to his satisfaction, Coll went over the pencil lines with pen and ink, rarely making a mistake or alteration.
Coll first attracted attention for illustrating Sir Nigel by Arthur Conan Doyle. In pen and ink, Coll masterfully portrays the medieval narrative with rich lines and distinctive values, opulent costumes and props, accurate expressions of action and characters, and an overarching romantic visual language. Later, Coll drew illustrations for periodicals including the Associated Sunday Magazine, Collier's, Vogue, Pictorial Review, and Everybody's.
With a growing career, Coll died from complications due to appendicitis at the age of forty. He never gained the following of his famous predecessors in pen and ink, mostly due to his entry into the scene at a time when the medium was in temporary decline and when tastes shifted towards the gaudy and vulgar.[6] However, Coll's legacy endures as one among the great pen and ink artists, widely studied and praised by students and enthusiasts of pen and ink illustration.
[1] Walt Reed. "Joseph Clement Coll," in The Illustrator in America, 1880-1980: A Century of Illustration, (New York: Society of Illustrators, 1984), 57, Hathi Trust Digital Library.
[2] Henry C. Pitz, "Joseph Clement Coll: A Master of the Pen," American Artist 14 (December 1950): 39, EBSCOhost.
[3] Ibid, 61.
[4] Ibid, 57-61.
[5] Ibid.
[6] Ibid, 38.
This artist's biography was written by Thomas Eitel Stucke. Stucke grew up in Washington, DC, and Knoxville, Tennessee. In 2018, he graduated from Phillips Exeter Academy in New Hampshire. He is currently studying art history and real estate at Cornell University, and holds a curatorial internship at Norman Rockwell Museum.
Illustrations by Joseph Clement Coll
Additional Resources
Bibliography
Fleskes, John. Joseph Clement Coll: The Art of Adventure. Santa Cruz, CA: Flesk Publications, 2003.
Fleskes, John. Joseph Clement Coll: A Legacy in Line. Santa Cruz, CA: Flesk Publications, 2004.
Oudemool, Madison Renée. "The Golden Years of Pen and Ink Illustration: The Lives and Works of Nine Illustrators." Masters thesis, Syracuse University, 2000.
Reed, Walt. The Illustrator in America, 1860-2000. New York: Society of Illustrators, 2001.
Reed, Walt. The Magic Pen of Joseph Clement Coll. New York: Illustration House, 1978.
Stout, William. Joseph Clement Coll. Pasadena, CA: Terra Nova Press, 2001.
Zimmer, Daniel. The Golden Age: Masterworks from the Golden Age of Illustration. St. Louis, MO: The Illustrated Press, 2015.