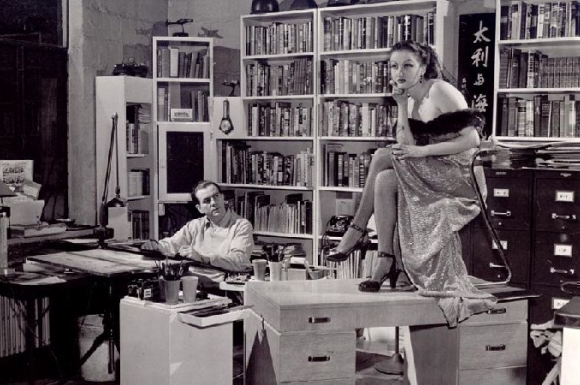 Biography
Milton Caniff, often referred to as "the Rembrandt of comic strips," was an American "adventure" cartoonist famous for his long-running comic strips, Terry and the Pirates and Steve Canyon. Unable to pursue his desire to join the military due to a medical condition, Caniff also used his artistic talents to contribute to the morale of U.S. troops during World War II with the creation of Male Call, an adventure comic strip featuring soldiers, which was available exclusively to members of the armed forces.
Born in Hillsboro, Ohio, Caniff began drawing in kindergarten. While a student at Stivers High School, he created cartoons for local newspapers. It was also at Stivers where he met his future wife, Ester Parsons. At Ohio State University, Caniff illustrated for campus publications and, upon graduating in 1930, he began his career at the Columbus Dispatch. In 1932, Caniff moved to New York City and accepted an artist job with the Associated Press, drawing comic strips such as Dickie Dare, a youth who dreamed of adventures with legendary figures such as Robin Hood and King Arthur.
Caniff created one of his signature comic strips, Terry and the Pirates, after he started working for the New York Daily News in 1934. Publisher Joseph Medill Patterson wanted an adventure strip set in the Orient and Caniff's research led him to learn about Asian families for whom piracy was a way of life passed down for generations. Thus began the adventures of Terry Lee, a boy traveling with mentor and fellow adventurer, Pat Ryan. Caniff's most memorable creation was the Dragon Lady, a ruthless and calculating pirate queen.[1] He continued to work on the strip until 1946.
Terry and the Pirates was owned not by Caniff (the strip's creator), but by the distribution syndicate, the Chicago Tribune-New York Daily News. Although this was standard practice at the time, Caniff was frustrated that he did not own the work he created, so in 1946 he negotiated to own a new comic strip of his creation; Marshall Field, publisher of the Chicago Sun, agreed to his terms. Caniff was one of only a handful of syndicated cartoonists who owned their creations, and he attracted considerable publicity as a result.[2] The action strip, Steve Canyon, was the result of this deal. It featured a civilian pilot, Steve Canyon, who became an Air Force pilot during the Korean War. Caniff continued to produce the strip until his death in 1988.
Though he was unable to enlist in the U.S. Armed Forces, Caniff donated all of his work on his Male Call military-targeted adventure strip. In 1987 he was made the first honorary member of the 8th Air Force Historical Society in recognition of Male Call's contribution to the war effort. One of the founders of the National Cartoonists Society, Caniff served two terms as its President, in 1948 and 1949. The Society named him Cartoonist of the Year in 1947, and then again, in 1972. Other notes of recognition include his induction into the Will Eisner Comic Book Hall of Fame in 1988, and his receipt of the National Cartoonists Society's (NCS) Elzie Segar Award in 1971, the NCS Award for Story Comic Strip in 1979 for Steve Canyon, and its Gold Key Award in 1981. The NCS has also named their Milton Caniff Lifetime Achievement Award in his honor. Caniff died in New York City at the age of 81 after a battle with lung cancer.
A collection of Caniff's papers, original art, personal and business papers, correspondence, research files, photographs, and memorabilia is presently housed at the Billy Ireland Cartoon Library & Museum in Columbus, Ohio.[3] A selection of his work is also part of the permanent collection of the Norman Rockwell Museum in Stockbridge, Massachusetts.
[1] Wikipedia's entry on Milton Caniff. Last modified on February 2, 2020. Accessed February 21, 2020. https://en.wikipedia.org/wiki/Milton_Caniff
[2] Ibid.
[3] Ibid.
This artist's biography was written by Phyllis Geraghty, a writer with professional experience in the public relations, education, health, and non-profit sectors.
Illustrations by Milton Caniff
Additional Resources
Bibliography