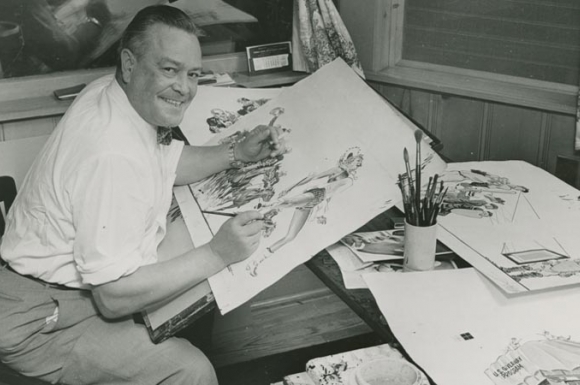 Biography
Born in Columbus, Ohio, Willard Mullin (1902-1978) grew up in Los Angeles, California. He began his professional career in 1923 when he was hired by the art department at the Los Angeles Herald. While there, he was first assigned to do spot illustrations and before moving on to sports cartoons.
After working for a short time for Hearst-owned newspapers in Texas, Mullin moved to New York in 1934 and illustrated for the New York World-Telegram. Over the next thirty years, he drew six cartoons a week on deadline; the Scripps Howard News Service syndicated these across the country. His graphic columns chronicled every sport in an informative and passionate style. When the World-Telegram folded in 1966, Mullin began doing work as a freelance cartoonist. He produced artwork for sports publications, books, and magazines such as The Saturday Evening Post, Time, and Life.
Mullin is best known for his infamous 'Brooklyn Bum' character which became synonymous with the Brooklyn Dodgers. This creation was a product of Mullin watching the Brooklyn Dodgers drop another game during the 1937 season. Leaving Ebbets Field that night, he jumped into a taxi cab where the driver asked Mullin, "Well, how did our 'bums' do?" In 1958, after the Dodgers moved west, Mullin spruced up the character with a pair of sunglasses, shorts, a loud shirt, and a hipster's hat.
Using a hard pencil, Mullin would sketch out his cartoon idea with images, words, and balloons. The finished work was typically done in pen and ink and conte crayon on 16 x 20 inch coquille board. His unique signature could be also be considered a work of art, and is comprised of 26 primarily vertical pen slashes.
Willard Mullin was highly regarded and inspired many other sport cartoonists like Karl Hubenthal and Gene Basset. Mullin received the National Cartoonist Society's prestigious Reuben Award in 1954 and the NCS award for Sports Cartoons eight times. In 1971, the NCS named him "Sports Cartoonist of the Century." Mullin passed away on December 21, 1978 in Corpus Christi, Texas at the age of 76.
Illustrations by Willard Mullin
Additional Resources
Bibliography
Menke, Frank G. and Willard Mullin. Encyclopedia of Sports. New York: F.G. Menke, Inc., 1939.
Mullin, Willard. The New Junior Illustrated Encyclopedia of Sports. Indianapolis, IN: Bobbs-Merrill, 1975.
Mullin, Willard and Dave Camerer. A Hand in Sport: Thirty-five Years with the Light Touch. New York: A.S. Barnes and Co., 1958.
Mullin, Willard and Ernest Thayer. Willard Mullin's Casey at the Bat and Other Diamond Tales. Seattle, WA: Fantagraphics Books, 2015.