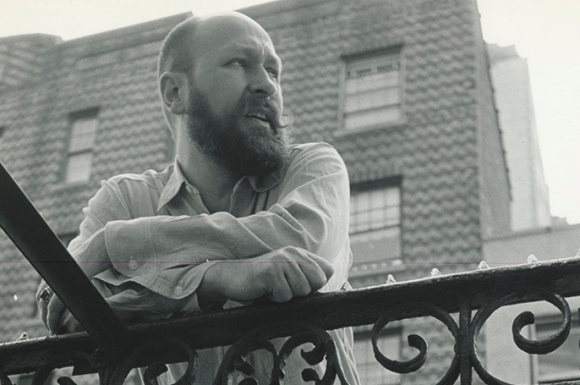 Biography
Robert M. Cunningham (1924-2010) created illustrations for a variety of America's leading magazines with sports themes as a common subject matter. He also did a great deal of work for an impressive list of corporate clients, such as American Express, Exxon, ABC-TV, Mobil, Chevrolet, and New York Telephone, among others. Cunningham's unique abstract style using simple shapes, light, and bold, often primary colors, earned him numerous awards including induction into the Society of Illustrators Hall of Fame in 1998; Society Gold Medals in 1966-67, 1978 and 1980; Silver Medals in 1983, 1985, 1987; and the Hamilton King Award in 1983. He was also the designer of ten U.S. postage stamps celebrating the 1980 Olympic Games.
Born in Herington, Kansas on the heartland prairie, Cunningham was the son of a railroad man, and knew at an early age that he wanted to be an artist. After serving in the Navy during World War II as an air cadet and radar man on a torpedo bomber, he pursued his childhood dream. With the help of the G.I. Bill, he attended the University of Kansas and the Kansas City Art Institute. In 1949 he moved to New York City where he studied at the Art Students League under Yasuo Kuniyoshi, Louis Bosa, and Jon Corbino, and later at the School of Visual Arts under celebrated illustrator Jack Potter.
It was while studying at the Art Students League in 1954 that Cunningham met a young fashion illustrator, Jean Ratley. They married in 1962 and she proved to be a source of inspiration and a tireless promoter of his work through the years. They often wintered together at Jean's cousin's house in the Bahamas where Cunningham's palette was influenced by the tropical colors surrounding them.
After assignments at an ad agency and as staff illustrator for a jewelry supply company, Cunningham's career took off when he was commissioned to do an eight-page spread for Sports Illustrated featuring a sportsmen's hunt for Canadian geese. The success of this collection lead to an assignment to do a horse racing poster for Aqueduct Raceway. The poster won him a Gold Medal Award from the Society of Illustrators. These two successes earned Cunningham the admiration of several major magazines and corporate clients who enabled him to enjoy a very rewarding career as a freelance illustrator.
Cunningham taught at Pratt Institute (1975-76) and was a member of both the Graphic Artists Guild and the Society of Illustrators. In addition to the Society of Illustrators, his work has been featured at the New York Directors Club, the American Institute of Graphic Arts, the "Century of American Illustration" exhibition at the Brooklyn Museum in 1972, the American Federation of Arts exhibition "Graphic Arts of the 20th Century" at the Smithsonian Institution in 1967-69, the "200 Years of American Illustration" exhibition at the New York Historical Society Museum in 1976-77 and "Twenty Years of Award Winners" there in 1981. His work has also appeared in Communications Arts, Art Direction, and Graphis annuals. He has had two group shows in 1990 and 1991 and a one-man show, "Eleuthera Paintings and Drawings," in 1991 at Lustrare Gallery, in New York City.[1] His work has also been on view at Norman Rockwell Museum in Stockbridge, Massachusetts, which holds a significant collection of Cunningham's original art, as well as reference and candid photographs, tearsheets, and other materials relating to his prodigious career.
Cunningham and his wife, Jean, moved to Warren, Connecticut in 1989 where he resided until his death in 2010 at the age of 85. Jean passed away on July 1, 2018 after suffering from dementia for eight years.
[1] Reed, Walt, The Illustrator in America 1860-2000 (New York: The Society of Illustrators, 2001), page 372.
This artist's biography was written by Phyllis Geraghty, a writer with professional experience in the public relations, education, health, and non-profit sectors.
Illustrations by Robert M. Cunningham
Additional Resources
Bibliography
Falk, Peter Hastings. Who Was Who in American Art, 1564-1975, Vol. 1: A-F. Madison, CT: Sound View Press, 1999.
Reed, Walt. The Illustrator in America 1860-2000. New York: The Society of Illustrators, 2001.