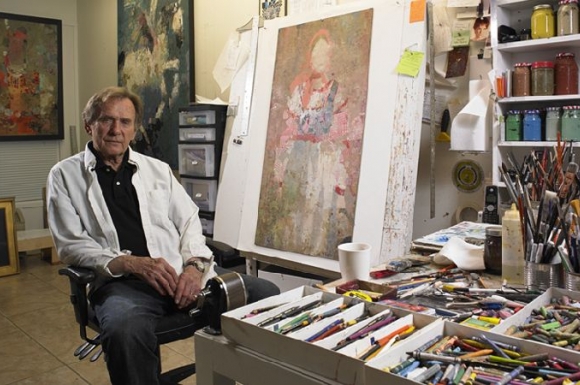 Biography
Mark English (1933–2019) was an American illustrator and painter who, along with his son John, co-founded the Illustration Academy, a prestigious Kansas City, Missouri-based art and design workshop that attracts students and professionals from around the world. With a distinctive style that made him a success both as an illustrator and a painter, English won hundreds of honors for his work. He is recognized as the most awarded illustrator in the history of New York City's Society of Illustrators, and has joined the ranks of such notable artists as Norman Rockwell, N.C. Wyeth, Maxfield Parrish, and Frederick Remington.[1]
Born in Hubbard, Texas, English attended the local high school where he met his first wife, Peggy Ann Littlejohn. He found employment picking cotton, but he soon worked his way out of the cotton fields by painting signs for visiting rodeos.[2] After serving in the military during the Korean War, English attended the University of Texas, and in 1960 graduated with honors from The Art Center College in Los Angeles, earning a BFA in Advertising Design. His first work experience was in Michigan illustrating for advertising agencies on projects related to the automobile industry.
In 1964 English moved his family to Connecticut where he began a very successful career working with publications such as The Saturday Evening Post, Time, Sports Illustrated, The Ladies Home Journal, TV Guide, and Redbook, among others. His unique style attracted an impressive list of clients from the corporate, pharmaceutical, and music industries, including IBM, RCA, GE, Ford, and Honeywell. English designed fourteen stamps for the U.S. Postal Service, in addition to several movie posters and album covers for John Denver, Julian Lennon, and The Who. The National Park Service commissioned English to create portraits of famous personalities.[3]
Hallmark Cards offered English an Artist-in-Residency in 1977 to teach classes to its creative staff in Kansas City. It was there that he met his second wife, Wendy Buskey, whom he married in 1983, the same year he was elected to the Society of Illustrators' Hall of Fame.
After three decades as one of the leading illustrators in the United States and abroad, English retired from illustration in the 1990s to focus on painting, showcasing his work in galleries and exhibitions both in the United States and abroad. His paintings covered a variety of subjects—landscapes, animals, human figures, florals, and architecture, often using simple forms and shading to create the desired mood. In 1995, English and his son, John, started the Illustration Academy in Kansas City. For the remainder of his life, English's work and paintings were exhibited in galleries across the United States and in London. His last exhibition was in 2019 in Columbia, Missouri. He died in Kansas City on August 8, 2019 after a brief illness. English had two daughters and a son from his first marriage, two daughters from his second, and several grandchildren.[4]
Among the many awards bestowed on English during his lifetime were an Honorary Doctor of Humane Letters from The Academy of Art University in San Francisco; 1967 "Artist of the Year" by the Artists Guild of New York; and numerous awards from the Society of Illustrators, including its 1967 Hamilton King Award and induction into its Hall of Fame.
[1] Wikipedia's entry on Mark English (illustrator). Accessed May 18, 2020. Last edited on February 12, 2020. https://en.wikipedia.org/wiki/Mark_English_(illustrator)
[2] The website of the Jones & Terwilliger Galleries. "Mark English (American B. 1933 – 2019)." Accessed May 18, 2020. https://www.jones-terwilliger-galleries.com/Artist_Entry/openenglish.html
[3] Wikipedia's entry on Mark English (illustrator). Accessed May 18, 2020. Last edited on February 12, 2020. https://en.wikipedia.org/wiki/Mark_English_(illustrator)
[4] The website of the Illustration Academy. "Mark English, Illustration Academy Founder – Industry Legend, 1933 – 2019." Accessed May 18, 2020. https://www.theillustrationacademy.com/mark-english
This artist's biography was written by Phyllis Geraghty, a writer with professional experience in the public relations, education, health, and non-profit sectors.
Illustrations by Mark English
Additional Resources
Bibliography
Bossert, Jill. Mark English. New York: Madison Square Press, 2002.
Ermoyan, Arpi. Famous American Illustrators. New York: Watson-Guptill Publications, 1997.
Pitz, Henry Clarence. 200 Years of American Illustration. New York: Random House, 1977.
Zeegen, Lawrence and Caroline Roberts. Fifty Years of Illustration. London: Laurence King, 2014.