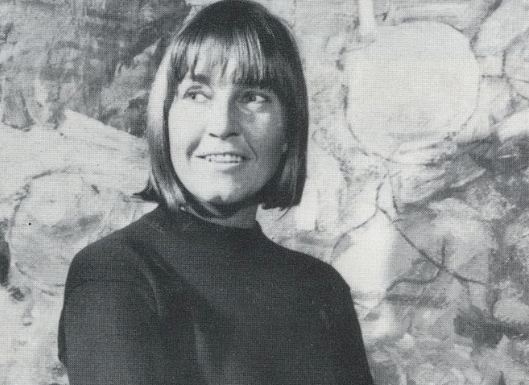 Biography
At the height of her career, Lorraine Fox (1925-1976) was described as "an elegant, quiet woman, highly imaginative, gifted in design and a standout artist in a field overbearingly populated by men."[1] These words describe Fox's legacy to this day.
Born and raised in Brooklyn, New York, Lorraine and her brother, Gill, were encouraged wholeheartedly to pursue art at early ages. Thanks to their mother, who took up a job as a housecleaner to help pay for their schooling, both went on to successful careers in illustration, he becoming a noted comic book artist, and she becoming an illustrator.
Lorraine attended the Pratt Institute of Art and graduated in 1944. While there, she met aspiring artist, Bernard D'Andrea, who she eventually married in 1951. That same year, Fox entered the Charles E. Cooper studio, where she was not only one of the very few women artists, but also possessed a unique artistic style that challenged the ideals of feminine beauty as portrayed in commercial art, which historically had been determined by men. In her early years at the studio she quickly claimed a place for herself in the crowded field and became an increasingly known illustrator whilst remaining busy with diverse work for books, covers, magazines, and advertisements. Some of the magazines that printed her illustrations included Woman's Day, Redbook, Seventeen, Pfizer Spectrum, and Sports Illustrated.
Fox's early style prioritized illustration that maintained a significant emphasis on design. In an interview, her artist friend Murray Tinkelman called her work "decorative illustration." Fox's designs recalled folk art, in contrast to the modern, retro style that was prevalent in contemporary commercial work.
In 1961, Fox returned to classes part-time at the Brooklyn Museum Art School for a duration of five years under Reuben Tam, which ended up being a transformative experience for Fox and her art. Tam encouraged his students to find their own originality, believing that this would naturally lead them to paint to their best and truest abilities. Already an artist with a distinct style, Fox worked hard to find her identity, even though that meant straying from the one she had initially worked in, which had already been widely accepted. Of her training she recounted: "He [Reuben Tam] never told us, 'This is the way...' He knew, of course, that the search has to come from you, the way you live, dream, the way your senses respond to eating, sleeping, drinking, the movies, whatever is affecting you. Everybody has the potential for originality once they learn about themselves."[2] During her time at the Brooklyn Museum Art School, Fox's art took what some critics considered to be a more mature turn. Her style continued to evolve until her last working days.
Before her studies with Tam, Fox's early work focused largely on traditionally feminine themes that lent themselves well to magazines like Better Homes and Gardens, and later, Woman's Day, Seventeen, Good Housekeeping, Cosmopolitan, The Ladies' Home Journal, Redbook, and McCall's. Later in her career, when her content shifted to more mature themes, she moved away from design-driven aspects, in favor of narrative, surreal, and even expressionist approaches. This difference can be best seen in the illustrations of "Pastry and Pies" and "Midsummer Night's Dream," included at the end of this essay.
Fox exhibited her work frequently at The Society of Illustrators and the Philadelphia Art Directors Club exhibitions, the Brooklyn Museum, New York City Center Gallery, and the Silvermine Guild New England Show.
By then a prolific artist, Fox taught at the Parsons School of Design in New York City, and was a teacher and member of the Famous Artists School in Westport, Connecticut. In 1979, she was the first female ever to be inducted into the Society of Illustrators' Hall of Fame, finally recognized for her artistic contributions and role in paving the way for other female practitioners.
The New School and Smithsonian Archives of American Art house her papers in their archives. There is also a significant collection of her magazine clippings in the Norman Rockwell Museum archive.
Entry written by Bailey Pfohl, 2016 Walt Reed Distinguished Scholar Intern
Footnotes:
[1] Don Stewart, "A Life Told in Illustration: The Rockwell celebrates the "Golden Age" of Murray Tinkelman," The Recorder (Greenfield, Massachusetts), May 15, 2014.
[2] Leif Peng, "Lorraine Fox (1922 - 1976)." Female Illustrators of the mid-20th Century, March 6, 2010. http://femaleillustrators.blogspot.com/2010/03/lorraine-fox-1922-1976.html
Illustrations by Lorraine Fox
Additional Resources
Bibliography
Better Homes and Gardens. Better Homes and Gardens Baby Book: A Handbook for Parents. New York: Meredith Publishing Company, 1953.
Fox, Lorraine. The Nursery Book: Pictures. New York: McLoughlin Brothers, 1960.
Geller, Amy. "Lure of the Naïve: An Exploration of the Naïve, Faux-naïf and Expressive Illustration Styles of James Thurber, Lorraine Fox, R.O. Blechman, Faith Ringgold, Sue Coe, Maira Kalman, and Roz Chast." master's thesis, Fashion Institute of Technology, New York, 2010.
Grossinger, Jennie. The Art of Jewish Cooking. New York: Random House, 1958.
Heyward, Lillian Byrne. "Lorraine Fox and Bernard D'Andrea: Patterns of Evolution." masters thesis, Syracuse University, Syracuse, NY, 2002.
Jackson, Shirly. 9 Magic Wishes: A Modern Masters Book for Children. New York: Crowell-Collier, 1963.
Nassau Community College. Lorraine Fox & Bernard D'Andrea: Exhibition of Paintings and Drawings. Nassau Community College, Garden City, NY, March 6, 1966.
Reed, Walt. The Illustrator in America, 1860-2000. New York: Society of Illustrators, 2001.
Van Doren, Mark. Somebody Came. New York: Quist, 1966.