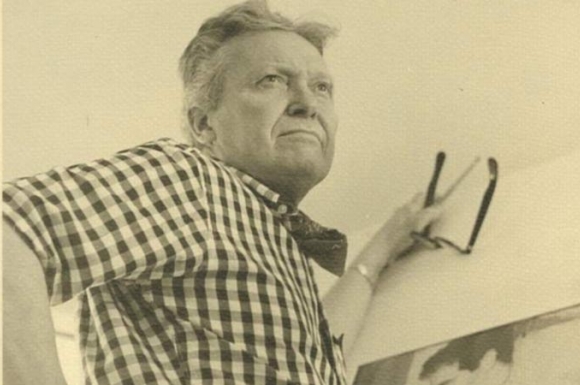 Biography
Joe De Mers (1910-1984) specialized in illustrating post-war American women in a non-stereotypical fashion. His distinctive images of glamourous ladies, attractive up-and-coming career women, and adventure-seeking lasses in search of romance were considered too steamy for the cover of The Saturday Evening Post. Instead, his illustrations graced its inner pages and is referred to at the Post as the "Leading Ladies." With guidance from his wife Janice, De Mers would dress his heroines in styles that would not become dated in the six months it took for the image to be published.
Born in San Diego, California, De Mers exhibited artistic talent at an early age. In 1930, he received a scholarship to the Chouinard Art School in Los Angeles, and studied there for three-and-a-half years. Later, he became an instructor and taught the classes, "Theory and Use of Color" and "Abstract Design and Composition in Relation to Illustration."
Through the years of the Great Depression, De Mers found work as a production designer and illustrator in the motion picture industry, working mostly for Warner Bros. Studios. He created comprehensive drawings of scripts prior to filming. While there, he worked with director John Huston on The Maltese Falcon in addition to other films, including Arsenic and Old Lace, Angels with Dirty Faces, and Sergeant York.
Starting to tire of the Hollywood lifestyle, De Mers turned to illustrating children's books with modest success. His career changed course when he received his first editorial assignment for Fortune. Soon, he received work from Esquire and other major national magazines such as The Saturday Evening Post, McCalls, and Ladies' Home Journal, and European publications.
After moving to New York, he joined the influential commercial art agency, Charles E. Cooper studios, where famed artists Coby Whitmore, Jon Whitcomb, Joe Bowler, Bernard D'Andrea, and Lorraine Fox worked. The Studio was known for "boy/girl" illustrations that used unique perspectives and brilliant colors to create upscale, stylish imagery.
De Mers' work has been exhibited at the New York Museum of Modern Art, Corcoran Museum of Art, the Los Angeles County Museum, and various other venues. In 1967, his family moved to Hilton Head Island, South Carolina where he owned an art gallery.
In 1997, he was inducted into the Society of Illustrators Hall of Fame.
Illustrations by Joe De Mers
Additional Resources
Bibliography
De Mers, Joe. Taffy and the Rose-Colored Glasses. New York: The Rogue Press, 1945.
Reed, Walt. The Illustrator in America, 1860-2000. New York: Society of Illustrators, 2001.