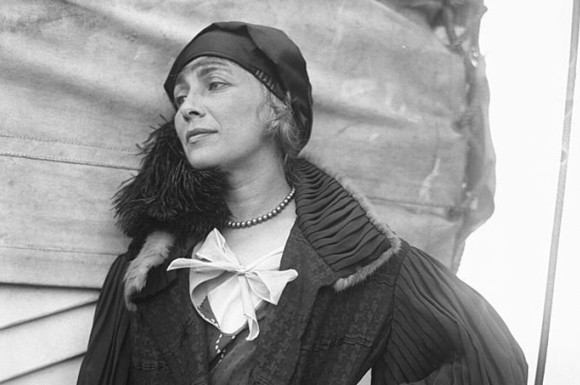 Biography
Neysa McMein was born Marjorie McMein in Quincy, Illinois on January 24, 1888 .Her father, Harry McMein, worked for the family business, the McMein Publishing Company. He and his wife, Belle Parker, had a difficult marriage.[1]
McMein attended the Art Institute of Chicago and moved to New York City in 1913. She changed her name to Neysa shortly after moving and briefly pursued a career in acting, performing in several of Paul Armstrong's plays.[2] The following year she began studying art at the Art Students League and worked as a sketcher and clothing designer for the pattern maker, Butterick.[3] In 1914, she also sold her first drawing to the Boston Star.[4]
In 1915 McMein started producing covers for the Saturday Evening Post. Her pastel drawings of vibrant, young American women were highly popular and brought her many commissions. During the First World War she travelled to France and created posters for the United States and French governments. While in Paris she became friends with Private Harold Ross and Sergeant Alexander Woollcott who were working for the army newspaper, Stars and Stripes.[5]
McMein met Jack Baragwanath at a party at the home of Irene Castle and they got married in 1923. The following year they had a daughter named Joan. The couple had an open marriage like their friends Ruth Hale and Heywood Broun and Jane Grants and Harold Ross. Neysa had long-term relationships with several high profile men, including Broadway director George Abbott, Robert Benchley, and Ring Lardner.[6]
McMein was a highly successful artist between 1923 and 1937. She created many of the covers of McCall's, and in 1932 and 1933 she was the magazine's film reviewer. She also produced work for Collier's, McClure's, Liberty Magazine, Woman's Home Companion, and Photoplay.[7] McMein illustrated advertisements for products such as Palmolive soap and Lucky Strike cigarettes. She was commissioned by General Mills's Marjorie C. Husted to produce the portrait of "Betty Crocker," a fictional housewife.[8] Her contract with McCall's came to an end in April 1938 when changes in technology enabled magazines to be printed on four-color machines. This allowed magazines to substitute much lower priced color photographs for expensive cover sketches. After she lost her job, McMein focused on painting portraits. She painted subjects such as Dorothy Parker, Warren G. Harding, Herbert Hoover, Edna St. Vincent Millay, Dorothy Thompson, Charlie Chaplin, Charles Evans Hughes, Ferdinand von Zeppelin, Anne Morrow Lindbergh, Janet Flanner, Katharine Cornell, Helen Hayes, and Anatole France.[9]
Neysa McMein passed away from an embolism she received during surgery for cancer in New York City on May 12, 1949.[10]
Footnotes:
[1] "Neysa McMein." Spartacus Education. n.d. July 10, 2019. https://spartacus-educational.com/Aneysa_mcMein.htm.
[2] "Neysa McMein" Up Close. n.d. July 10, 2019. https://upclosed.com/people/neysa-mcmein/.
[3] Brennan, Carol. "MeMein, Neysa (1888-1949)." Women in World History: A Biographical Encyclopedia. n.d. July 10, 2019. https://www.encyclopedia.com/women/encyclopedias-almanacs-transcripts-and-maps/mcmein-neysa-1888-1949.
[4] "Neysa McMein." Spartacus Education.
[5] Ibid.
[6] Ibid.
[7] Ibid.
[8]"Neysa McMein Biogrpahy." Vintage Poster. n.d. July 10, 2019. https://www.thevintageposter.com/artist-biography/?at=NeysaMcMein.
[9] "Neysa McMein." Spartacus Education.
[10] Brennan, Carol. "McMein, Neysa (1888-1949)."
This artist's biography was written by Rachel Mancour, 2019 Walt Reed Distinguished Scholar Intern.
Illustrations by Neysa McMein
Additional Resources
Bibliography
Bailey, Brooke. The Remarkable Lives of 100 Women Artists. Holbrook, MA: Bob Adams, 1994.
Cohn, Jan. Covers of the Saturday Evening Post: Seventy Years of Outstanding Illustration from America's Favorite Magazine. New York: Viking, 1995.
Muray, Nickolas. The Revealing Eye: Personalities of the 1920's. New York: Antheneum, 1967.
Platnick, Norman I. The Lady Seldom Smiles: A Collector's Guide to Neysa McMein. Bay Shore, NY: Enchantment Ink, 2006.