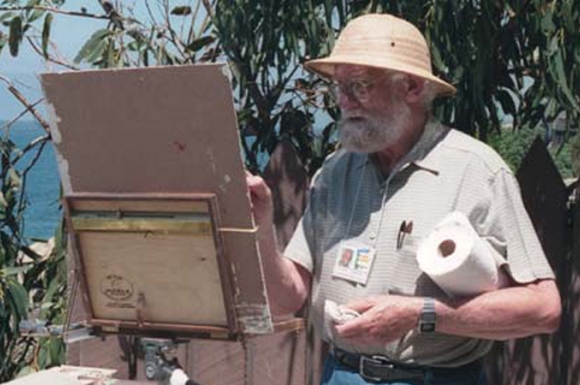 Biography
Born in Alberta, Canada, Neil Boyle (1931-2006) received formal art training in Alberta at the Banff School of Fine Arts (renamed the Banff Centre for Arts and Creativity) in Banff, Canada and the Chouinard Art Institute in Los Angeles in the 1950s before teaching art for several years at the California Art Institute in Thousand Oaks, California.
Over the next decade, Boyle provided story illustrations for several magazines, including The Saturday Evening Post, Reader's Digest, Cosmopolitan, and Ladies' Home Journal.
Boyle also painted calendars for the Rand Corporation which included portraits of notable politicans, athletes, artists, and authors. In addition, the artist painted album covers for musicians such as Glenn Miller, Tennessee Ernie Ford, The Sons of the Pioneers, and Henry Mancini.
Later in life, Boyle painted many Western subjects in his typical impressionistic style, often signing his name alonside the acronym, BSWCA—Big Shot West Coast Artist, and returned to teaching at the California Art Institute.
Photo courtesy of Susan Lyon.
Illustrations by Neil Boyle
Additional Resources
Bibliography
Bedford, Annie North. Walt Disney's Mickey Mouse Flies the Christmas Mail. New York: Simon and Schuster, 1956.
Eisenberg, Harvey. Ruff and Reddy Go to a Party. Racine, WI: Whitman Publishing Company, 1958.
Reed, Walt. The Illustrator in America, 1860-2000. New York: Society of Illustrators, 2001.
Wright, Betty Ren. Walt Disney's Donald Duck in Frontierland. Racine, WI: Western Publishing Company, 1957.