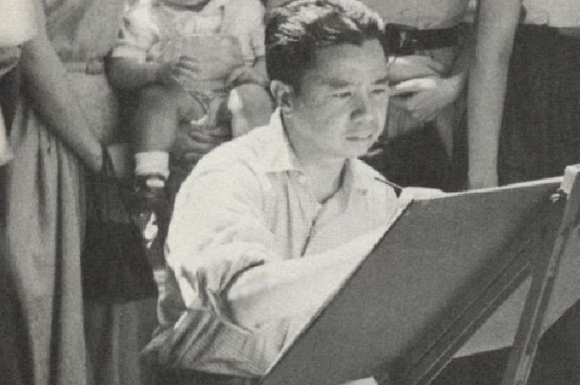 Biography
Dong Kingman (1911-2000) was a Chinese American artist renowned worldwide as a watercolor master. A pioneer of the "California Style" school of painting, Kingman enjoyed tremendous success throughout his career as an artist and teacher—creating urban and landscape paintings, illustrations for publications and posters, and graphic designs for the Hollywood film industry. Exhibitions of his work were in demand in galleries, public spaces, and other venues worldwide. He taught at prestigious institutions and lectured around the globe.
Born "Dong Moy Shu" in Oakland, California, Kingman was the son of Chinese immigrants from Hong Kong. His father moved his family back to Hong Kong when World War I began in Europe and Kingman was five years old. Showing a talent for art at an early age, Kingman excelled at calligraphy and watercolor painting. As a teenager, he was sent to the Lingnan Branch School to study painting with Szetsu Wai, a highly respected Paris-trained Chinese painter. While at the school, Kingman studied not only traditional Chinese art, but also the Western artists, especially French Impressionists like Pierre-Auguste Renoir and Claude Monet, who were of particular interest to him for their use of light in their paintings.[1]
When he was eighteen years old in 1929, Kingman moved back to the United States to pursue a career in art. Arriving in San Francisco where his brother owned a factory, he took a variety of menial jobs to make ends meet. Kingman also attended the Fox Morgan Art School and painted every chance he could get, submitting his work to local group art shows. His work was beginning to gain recognition, and in 1936 he was hired as an artist by the federal government for the Works Project Administration, a Great Depression employment and infrastructure program. That same year Kingman had his first solo art show at the San Francisco Art Center. It was this show that launched his career, gaining him worldwide recognition as well as a teaching job at the Academy of Advertising Art in San Francisco.[2]
In 1942 and 1944 Kingman received the Guggenheim Fellowship. When the United States entered World War II, he was drafted into the U.S. Army. However, due to the intercession of one of his fans, Eleanor Roosevelt, he was transferred to work as a cartographer in the Office of Strategic Services in Washington, D.C. and Camp Beal, California.[3] After the war, Kingman moved to Brooklyn, New York and was associated with Midtown, Wildenstein, and Hammer galleries. He also began teaching at Columbia University and Hunter College. His teaching career continued with the Famous Artists School in Westport, Connecticut where he joined such distinguished artists on the faculty as Will Barnet, Stuart Davis, Norman Rockwell, and Ben Shahn. Kingman also taught for forty years for the Hewitt Painting Workshops, a group organizing worldwide painting tours. In addition, he was on the faculty and the board of the Academy of Art College in San Francisco from which he received an honorary doctorate.[4]
During the 1950s and 1960s, Kingman served as a United States cultural ambassador and international lecturer for the Department of State. In 1981 he was invited by the People's Republic of China to exhibit in that country—the first American artist to be given a one-man show since the resumption of diplomatic relations. Kingman's watercolors were used to set the mood for Hollywood films such as Flower Drum Song (1961) and 55 Days At Peking (1963). He also contributed artwork to motion pictures such as King Rat (1955), The Sand Pebbles (1966), and Lost Horizons (1973), among others. In 2000, the Academy of Motion Picture Arts and Sciences held an exhibition highlighting Kingman's contributions to the industry at the Academy Center for Motion Picture Study in Beverly Hills, California.
Kingman's commissions included magazine covers for Time, Life, Fortune, The New York Times, and Saturday Review; murals for the Bank of California in San Francisco, the Washington Mutual Bank in New York, and the Ambassador Hotel in Hong Kong, among others; and posters for "OpSail" 1976 and 1986, and the "100th Anniversary of the Olympics Games," held in Atlanta, Georgia.
Among his many honors were the establishment of the annual Dong Kingman award by the American Watercolor Society, a Dong Kingman fellowship in the Visual Arts Division of the Columbia University School of the Arts, and inclusion in the "Leading the Way" exhibit of pioneering Asian American artists held at Gordon College in Massachusetts. Former Washington state governor, Gary Locke commented that Kingman "deftly brings together elements of his Chinese heritage and life in America. The paintings tell a story of a man's quest to unite the best of both his worlds."[5]
Kingman was married twice—in 1926 to Janice Wong, who died in 1954, and then in 1956 to the writer Helena Kuo, who died in 1999. He died in 2000 at his home in New York City of pancreatic cancer at the age of 89.
[1] World Biography/Supplement website entry on Dong Kingman. Accessed April 9, 2020. https://www.notablebiographies.com/supp/Supplement-Ka-M/Kingman-Dong.html
[2] Ibid.
[3] Wikipedia's entry on Dong Kingman. Accessed April 9, 2020. Last edited September 8, 2019. https://en.wikipedia.org/wiki/Dong_Kingman
[4] The website of Dong Kingman. "About the Artist." Accessed April 9, 2020. Copyright 2000. http://www.dongkingman.com/about2.html
[5] Ibid.
This artist's biography was written by Phyllis Geraghty, a writer with professional experience in the public relations, education, health, and non-profit sectors.
Photo still from James Wong Howe's film, Dong Kingman, 1954.
Illustrations by Dong Kingman
Additional Resources
Bibliography
Gruskin, Alan D. The Water Colors of Dong Kingman, and How the Artist Works. New York: Studio Publications, 1958.
Kim, Hyung-Chan. Distinguished Asian Americans: A Biographical Dictionary. Westport, CT: Greenwood Press, 1999.
Kingman, Dong. Paint the Yellow Tiger. New York: Sterling, 1991.
Kingman, Dong and Helena Kuo Kingman. Dong Kingman's Watercolors. New York: Watson-Guptill Publications, 1980.
Leung, L.P. Portraits of Pride II: Chinese-American Legacies, First 160 years in America. Los Angeles: Chinese Historical Society of Southern California, 2011.