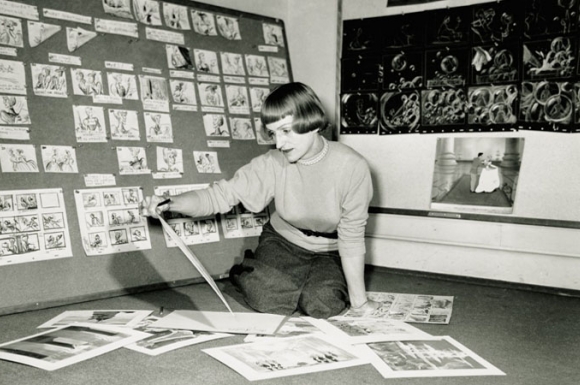 Biography
One of Walt Disney's favorite artists, Mary Blair learned her craft at The Chouinard Art Institute in Los Angeles in the mid-1930s. She joined The Walt Disney Company in 1940 where she created concept paintings for projects related to Fantasia (1940), Dumbo (1941), and The Lady and the Tramp (1955).
Along with her husband, Lee Blair, who also worked for Walt Disney, she accompanied Disney and several of his artists on a South American tour in 1941. Upon their return, Blair created concept art that ended up being used for films inspired by the trip, including Saludos Amigos (1942) and The Three Caballeros (1944). She developed a distinct look to her concept art by using vivid colors from gouache and tempera to create swirling, highly imaginative images that influenced many of Disney's feature films of the 1940s and 1950s. Her unique designs led Walt Disney to assign her work on the films Song of the South (1948), The Adventures of Ichabod and Mr. Toad (1949), Cinderella (1950), Alice in Wonderland (1951), and Peter Pan (1953).
Blair left Disney in 1953 to concentrate on illustrating children's books and raising a family. She painted images for a series of Little Golden Books, of which her most popular was titled I Can Fly, illustrated by Blair with text by Ruth Krauss. Although, in 1963 Walt Disney convinced Blair to work on Disney's contribution to the 1964 World's Fair in New York. Her concept art on this project would be her final major designs for Disney. The "It's a Small World" ride proved extremely popular at the World's Fair, and was later adapted for use in Disneyland and Disney World.
Illustrations by Mary Blair
Additional Resources
Bibliography
Blair, Mary and Ruth Krauss. I Can Fly. Simon and Schuster, 1951.
Canemaker, John. The Art and Flair of Mary Blair. New York: Disney Press, September 1, 2003.
Canemaker, John. Magic Color Flair: The World of Mary Blair. San Francisco: Walt Disney Family Foundation Press, May 6, 2014.
Guglielmo, Amy and Jacqueline Tourville. Pocket Full of Colors: The Magical World of Mary Blair, Disney Artist Extraordinaire. New York: Atheneum Books for Young Readers, August 29, 2017.
Krauss, Ruth, et al. A Mary Blair Treasury of Golden Books. New York: Golden Books, 2012.