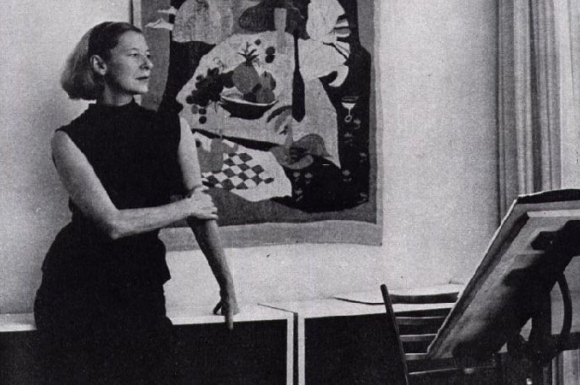 Biography
Evaline Michelow was born on April 24, 1911 in Union City, Ohio. When she was two years old, her parents, Albert and Myrtle Woods moved the family to Pontiac, Michigan, where she spent the rest of her youth through high school. She did not think of herself as an artist and decided to attend Ball State Teachers College in Muncie, Indiana. She transferred to the fine arts department of the Chicago Arts Institute and spent years studying painting.[1] At the time, she was pursuing a career as a librarian and a fashion illustrator.[2] Her work first appeared in the Chicago Tribune on a page of fashion illustrations for Carson Pirie Scott.[1]
In 1938, she married Eliot Ness, the Prohibition agent and leader of the Untouchables when he was Public Safety Director of Cleveland, Ohio. Because of Eliot's career, the couple travelled frequently. They first moved to Washington D.C. during WWII, where Evaline enrolled at the Corcoran Gallery of Art for two years. She began teaching studio classes to children at the Corcoran in 1945. Eliot and Evaline Ness divorced in 1946 and Evaline moved to New York City. She continued to teach, at Parsons School of Design. Her work in the Tribune landed her jobs at Saks Fifth Avenue and different periodicals such as Seventeen, Good Housekeeping, and Sports Illustrated. She continued traveling; she spent 1951-1952 in Rome enrolled at the Accademia di Bella Arti.[1]
Ness's debut into the world of children's book illustration came in 1954, when she created art for The Story of Ophelia by Mary Gibbons. Her artwork received very little criticism, despite her distinctive silkscreen and woodcut techniques. Evaline Ness considers her illustration career to have officially begun in 1957 when Mary Cosgrove, editor at Houghton Mifflin, approached her with the manuscript for The Bridge by Charlton Ogburn. Jr. Originally, Ness refused the offer, thinking the profit would not produce enough income for her to live on. Cosgrove persisted and eventually Ness agreed. She used offset printing techniques for the production of The Bridge. Ness pushed her silkscreen illustrations beyond the page margins and integrated text outside strict boundaries. The Bridge received much acclaim and Ness decided to leave commercial illustration and only focus on book illustration. In the following years, Ness's use of mixed media and experimental materials garnered accumulated attention from a wide audience.[1]
She remarried in 1959 to Arnold A. Baynard, an engineer, during this breakthrough period. In 1960, she created a book jacket illustration for The Island of the Blue Dolphins by Scott O'Dell, which also became the winner of the 1961 Newbery Award. The book jacket garnered many commissions for Lloyd Alexander's The Prydain Cycle books. The children's book editor at Scribner, Nancy Quint, encouraged Ness to write and illustrate her own children's books. The first book she wrote and illustrated was titled Josefina February, published in 1963. This tale was inspired by a year she had spent in Haiti. Josefina February was chosen as an ALA Notable Children's book on the 1963 list.[1]
Fifteen years after her career in children's book illustrations began. Evaline Ness was awarded the Caldecott Honor three years in a row for Sorche Nic Leodhas's All in the Morning Early (1963), Rebecca Caudill's A Pocketful of Cricket (1964), and Joseph Jacob's rendition of Tom Tit Tot (1965). The next year she published her fifth book which she has both written and illustrated, Sam, Bangs, and Moonshine. Ness won the Caldecott Medal for this book and afterward she continued to produce illustrations for a wide variety of books for children. The Hand-Me-Down Doll, published in 1983, was her last original story.[1]
Evaline Ness died on August 12, 1986 of a heart attack in Kingston, New York. Ness will always be remembered for her experimental techniques, diverse media, and expanding the boundaries of children's book illustration.[1]
Entry written by Rachel Mancour, 2019 Walt Reed Distinguished Scholar Intern
Footnotes:
[1] Andracki, Thaddeus. "Evaline Ness Biography." Sam Bangs & Moonshine. December 20, 2019. July 10, 2019. https://sambangsandmoonshine.wordpress.com/ness-biography/#_edn21.
[2] "Evaline Ness." D. B. Dowd Graphic Nonfiction. May 22, 2016. July 10, 2019. https://www.dbdowd.com/illustration-history/2015/11/13/evaline-ness.
Image from: https://sambangsandmoonshine.wordpress.com/ness-biography/
Illustrations by Evaline Ness
Additional Resources
Bibliography