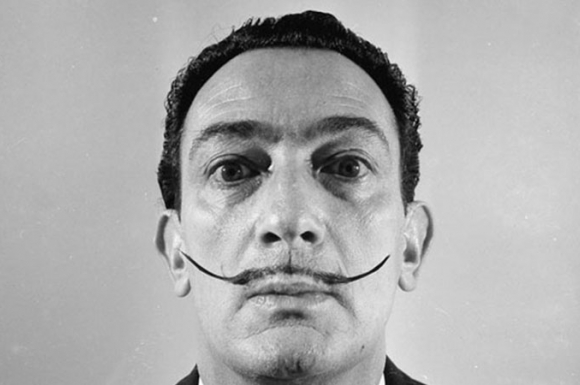 Biography
Best known as the master of surrealist art, in addition to being a terrific eccentric, Salvador Dalí (1904-1989) illustrated numerous projects that hold true to his off-beat persona.
Dalí created several theater backdrops, including enormous illustrated curtains for the Metropolitan Opera's performances of the ballets "Labyrinth" in 1941 and "Mad Tristan" in 1944.
In 1945, Dali and Walt Disney began collaboration on an animated short based on Dalí's paintings. However, Destino, which explored the story of Chronos, was left unfinished until completed by Walt's nephew, Roy E. Disney in 2003.
In 1955, comedian and bandleader Jackie Gleason asked Dalí to design the cover art for his fifth LP, Lonesome Echo. Dalí included this description on the cover, "The first effect is that of anguish, of space, and of solitude. Secondly, the fragility of the wings of a butterfly, projecting long shadows of late afternoon, reverberates in the landscape like an echo. The feminine element, distant and isolated, forms a perfect triangle with the musical instrument and its other echo, the shell."
In 1973, Dalí illustrated the cookbook, Les Dîners de Gala. Abound with surreal, erotic illustrations, the book appears to be a culinary love letter to his wife, Gala. The cookbook contains such recipes as "Peacock a l'Impériale" and "Frog Pasties," in addition to many gastronomic tidbits as "I only like to eat what has a clear intelligible form. If I hate that detestable degrading vegetable called spinach, it is because it is shapeless, like Liberty."
Illustrations by Salvador Dalí
Additional Resources
Bibliography
Ades, Dawn, William Jeffett, and Cécile Debray. Dalì/Duchamp. London, England: Royal Academy of Arts, 2017.
Dalí, Salvador. Les Dîners de Gala. New York: Felicie, 1973.
Dalí, Salvador. The Secret Life of Salvador Dalí. New York: Burton C. Hoffman, 1941.
Descharnes, Robert and Gilles Néret. Dalí: The Paintings. Köln, Germany: Taschen, 1994.