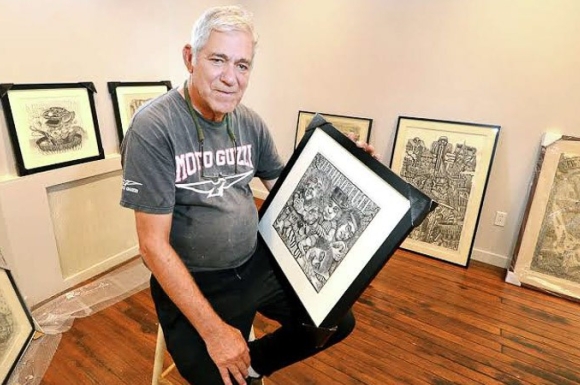 Biography
James Grashow (b.1942) is an American artist who established himself as an illustrator early in his career, doing woodcuts and engravings for album covers and major publications. He is best known, however, for his creative genius working with cardboard. Grashow's cardboard creations include large-scale installations such as fountains and menageries; smaller, elaborate cities and buildings amid flowers and leaves (Houseplants); and exquisitely detailed birds (Cardbirds). His works, addressing "themes of man, nature and mortality," have been exhibited, both indoors and outdoors, all over the country since the 1960s; and he is continually seeking new outlets for his creative energy.[1]
Born in Brooklyn, New York, Grashow earned his BFA from Pratt Institute. After graduation, he spent a year in Florence, Italy on a Fulbright Travel Grant for painting and graphics. Upon returning to the United States he continued his studies at Pratt and was awarded an MFA in 1965. Grashow made a name for himself in woodcuts and engravings for album covers and for major publications, including Rolling Stone magazine. One of his most memorable album covers, "Stand Up," was made in 1969 for the English band, Jethro Tull. He also created cover art for the Yardbirds' 1971 album, "Live Yardbirds: Featuring Jimmy Page," as well as for several other recording artists. His Rolling Stone images included Jim Morrison, Jimi Hendrix, Elton John, and Elvis Presley. The Jethro Tull album and some of Grashow's other covers are engravings whose primary images are created in reverse—not a challenge for him as he claims that his dyslexia gives him a natural aptitude for working backwards.[2]
Grashow's enthusiasm for the sculptures he cuts and shapes from cardboard, chipboard, and papier-mâché is evident in the sheer volume of his various creations and his natural ability to teach his art, sharing this enthusiasm through educational cardboard workshops for people of all ages. He said in an interview: "I supported my sculpture habit with woodcuts."[3] Grashow created large cardboard installations such as his "Great Gulliver Project," a teaching experience with university students. Another huge installation was "Yazoo – A Corrugated Menagerie," featuring cardboard zoo animals including alligators, lions, tigers, a giraffe, and gorilla, among others.[4] Grashow has said that the temporary nature of the cardboard material reminds him of his mortality and helps him deal with his eventual demise.[5]
In 2012 filmmaker Olympia Stone released "The Cardboard Bernini," a documentary featuring Grashow and the creation, exhibition, anticipated decay, and ultimate destruction of his enormous cardboard fountain, inspired by the Trevi Fountain in Rome and the work of Gian Lorenzo Bernini. Olympia Stone is the daughter of Grashow's longtime art agent, Allan Stone. The film won Best Documentary at the 2013 Art of Brooklyn Film Festival and was an official selection at 20 additional festivals.
Grashow has taught at Pratt Institute and Parsons School of Design in New York, Fairfield University in Connecticut, and at the Marie Walsh Sharpe Art Foundation in Colorado. He has received numerous awards and recognition from the Society of Illustrators, Art Directors Club, and American Institute of Graphics Arts, among others. Grashow lives and works in Redding, Connecticut. He and his wife have two children and five grandchildren.
This artist's biography was written by Phyllis Geraghty, a writer with professional experience in the public relations, education, health, and non-profit sectors.
Footnotes:
[1] The website of James Grashow. Accessed April 4, 2020. http://www.jamesgrashow.com/bio.cfm
[2] Lang, Joel. "No marble or bronze required for sculptor of cardboard, James Grashow." Connecticut Post, Updated April 28, 2019. Accessed April 4, 2020. https://www.ctpost.com/living/article/No-marble-or-bronze-required-for-sculptor-of-13795356.php
[3] Ibid.
[4] Martin, Ann. "Dimensional Cardboard Art by James Grashow." All Things Paper, April 28, 2014. Accessed April 4, 2020. https://www.allthingspaper.net/2014/04/james-grashow-cardboard-art.html
[5] Seltz, Johanna. "Fuller Craft Museum's new exhibit is a barrel of monkeys." The Boston Globe, Updated January 31, 2020. Accessed April 4, 2020. https://www.bostonglobe.com/metro/globelocal/2020/01/31/new-exhibit-fuller-craft-museum-barrel-monkeys/BW5QuwrPRnyko525M733fJ/story.html
Illustrations by James Grashow
Additional Resources
Bibliography
Grashow, James and the North Carolina Museum of Art. James Grashow: A City. Raleigh: North Carolina Museum of Art, 1987.
Grashow, James, Olympia Stone, Floating Stone Productions and Microcinema, Inc. The Cardboard Bernini. San Francisco: Microcinema Distributor, 2013.
Grashow, James, Sam Antupit and the Book-of-the-Month Club. Angels: Wood Engravings. Camp Hill: Book-of-the-Month Club, 1978.