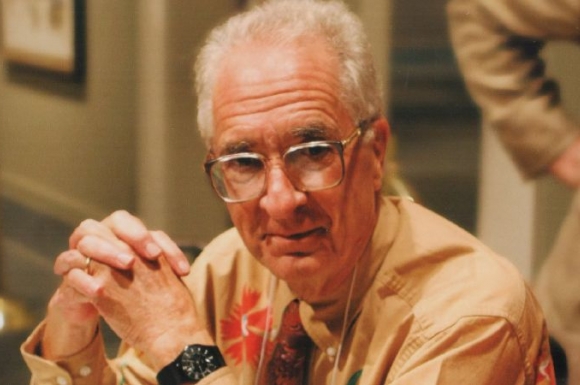 Biography
Peter Barstow Rockwell (1936-2020) was an accomplished sculptor, art historian, author, and teacher. As a sculptor, he was known for his playful monsters, soaring acrobats, climbing sculptures, humorous terra cottas, bronze work, and deeply spiritual religious iconography.[1] As an art historian, he acquired a rare and exhaustive understanding of the history of stone carving, leading to historical consultation assignments throughout the world. As an author, Rockwell published a number of articles and books, most notably, The Art of Stoneworking: A Reference Guide. He taught both in the United States and abroad.
Born in New Rochelle, New York to famous illustrator, Norman Rockwell and Mary Barstow Rockwell, Peter Rockwell was the youngest of three siblings. He grew up in Arlington, Vermont where his family moved in 1939. He met his future wife, Cynthia Ide, while attending high school at The Putney School, also in Vermont. Continuing his education at Haverford College in Pennsylvania, Rockwell studied art and majored in English literature, anticipating a career in academia. A near-fatal fencing accident during freshman year, however, was instrumental in changing his life course. At the prompting of his mother to seek substitute extracurricular activities, Rockwell experimented with sculpting under the tutelage of J. Walter Kelly and found three-dimensional art to be his life's passion.
After earning his degree in English, Rockwell studied sculpture for three years at the Pennsylvania Academy of Fine Arts in Philadelphia. In 1961 he received a fellowship to study carving in Carrara, Italy; and soon thereafter, Rockwell, his son, and wife moved to Rome where he lived and worked most of his life and where he raised his three sons (Geoffrey, Thomas, and John) and daughter (Mary).
In Rome, Rockwell worked in different types of stone, in bronze, in wood, in clay, and casting in resin, usually exhibiting his works back in the United States to earn a living. He was awarded numerous large commissions like the Ned Wolf Memorial in Philadelphia and Boston College's Tree of Life. A commission to carve gargoyles for the Washington Cathedral led to a lifetime love of often playful monsters, gargoyles, and grotesques that can be found in Plymouth, Michigan; Philadelphia, Pennsylvania; Chioggia, Italy; and Stockbridge, Massachusetts.[2] Grendel's Folly, an animated assemblage of whimsical 'monster' portraits, including the artist's own likeness, has greeted visitors to the Norman Rockwell Museum since 1994.[3]
Rockwell taught at the American Overseas School, the Forum School, St. Stephen's School (in Rome), and at Temple University's Tyler School of Art & Architecture in Philadelphia. As an expert in ancient stone carving technique, Rockwell published a number of articles and books and consulted on such notable works as Trajan's column, the Trevi Fountain, and Bernini's Angels. After the death of his wife in 2013, Rockwell moved back to the United States and lived in Beverly, Massachusetts. A collection of his works are permanently displayed on the grounds of the Norman Rockwell Museum in Stockbridge, Massachusetts.
[1] Associated Press. "Peter Rockwell, sculptor and son of famous artist, dies." The Washington Post, February 15, 2020, Accessed February 17, 2020. https://www.washingtonpost.com/local/obituaries/peter-rockwell-sculptor-and-son-of-famous-artist-dies/2020/02/15/c0775ada-5042-11ea-967b-e074d302c7d4_story.html
[2] Legacy.com. "Peter Barstow Rockwell, 1936-2020." Boston Globe, February 13, 2020. https://www.legacy.com/obituaries/bostonglobe/obituary.aspx?n=peter-barstow-rockwell&pid=195388495
[3] Stephanie Haboush Plunkett, "Peter Rockwell: A Life in Art," introduction to The Fantastical Faces of Peter Rockwell, A Sculptor's Retrospective, ed. Audrey Manring (Stockbridge, Massachusetts: Norman Rockwell Museum, 2009), 22.
This artist's biography was written by Phyllis Geraghty, a writer with professional experience in the public relations, education, health, and non-profit sectors.
Illustrations by Peter Rockwell
Additional Resources
Bibliography
Dehejia, Vidya and Peter Rockwell. The Unfinished: Stone Carvers at Work on the Indian Subcontinent. New Delhi: Roli Books, 2016.
Plunkett, Stephanie Haboush. "Peter Rockwell: A Life in Art." The Fantastical Faces of Peter Rockwell: A Sculptor's Retrospective, edited by Audrey Manring. Stockbridge, MA: Norman Rockwell Museum, 2009.
Rockwell, Peter. The Art of Stoneworking: A Reference Guide. Cambridge, MA: Cambridge University Press, 1993.
Rockwell, Peter. Preliminary Study of the Carving Techniques on the Column of Trajan. Rome: International Centre for the Study of the Preservation and the Restoration of Cultural Property, 1983.
Rockwell, Peter, Heather Hanley, and Stanley Rosenfeld. The Compleat Marble Sleuth. Sunny Isles Beach, FL: Rockrose Publishing, 2004.
Wasserman, Jack, Franca Trinchieri Camiz, Timothy Verdon, and Peter Rockwell. Michelangelo's Florence Pietà. Princeton, NJ: Princeton University Press, 2003.
Associated Press. "Peter Rockwell, sculptor and son of famous artist, dies." The Washington Post, February 15, 2020, Accessed February 17, 2020. https://www.washingtonpost.com/local/obituaries/peter-rockwell-sculptor-and-son-of-famous-artist-dies/2020/02/15/c0775ada-5042-11ea-967b-e074d302c7d4_story.html
Fanto, Clarence. "Rockwell son Peter who wielded 'ebullient creative force' as sculptor, dies at 83." The Berkshire Eagle, February 11, 2020. Accessed February 17, 2020. https://www.berkshireeagle.com/stories/rockwell-son-peter-who-wielded-ebullient-creative-force-as-sculptor-dies-at-83,596992
Legacy.com. "Peter Barstow Rockwell, 1936-2020." Boston Globe, February 13, 2020. https://www.legacy.com/obituaries/bostonglobe/obituary.aspx?n=peter-barstow-rockwell&pid=195388495
The website of the Norman Rockwell Museum. "In memoriam, Peter Barstow Rockwell (1936 – 2020)." February 10, 2010. Accessed on February 17, 2020. https://www.nrm.org/2020/02/peter-barstow-rockwell/