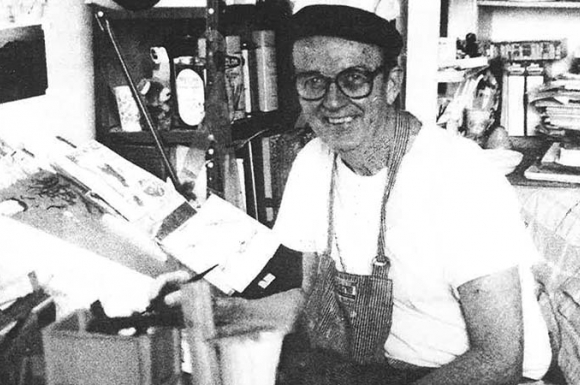 Biography
Richard Waring (Dick) Rockwell (1920 – 2006) was an American comic strip artist who is best known for his thirty-five-year stint as an art assistant to fellow cartoonist, Milt Caniff, on the popular Steve Canyon adventure strip. He was also the nephew of the famous painter and illustrator, Norman Rockwell—one of two sons of Norman's brother, Jarvis.
Born in Mamaroneck, New York, Richard Rockwell began his career in illustration after serving as a U.S. Army Air Corps pilot during World War II. His missions included flying Allied troops to France on D-Day and to the Ardennes Forest for the Battle of the Bulge. After the war, Rockwell used his penciling and inking skills for publisher Fiction House's Jungle Comics #113, released in May 1949. His first known story art appeared three months later—the seven-page "The Masquerading Bandits" in Prize Comics' crime series, Headline Comics #36.
Continuing in the crime genre, Rockwell worked on Crime Does Not Pay for Lev Gleason Publications, as well as drawing another Lev Gleason strip, Black Diamond Western. In 1952, while providing samples of his work with his membership application to the National Cartoonists Society, he caught the eye of the Society's president, Milt Caniff. Caniff hired Rockwell to assist him on the syndicated newspaper strip, Steve Canyon, a position Rockwell held for thirty-five years, even continuing the strip for a short time after Caniff's death in 1988.[1]
Following in the footsteps of his famous uncle, Rockwell illustrated for magazines. He also drew editorial cartoons and worked as a courtroom artist illustrating scenes from trials. Though the courtroom work was mainly a sideline for him from 1957 to 1983, he created sketches for some important cases such as the U.S. Supreme Court school desegregation case in Little Rock, Arkansas; the Weather Underground robbery and murder trial; and the Black Liberation Army robbery of a Brinks armored truck in Nyack, New York.
Rockwell taught at New York University, the Parsons School of Design, and Fashion Institute of Technology. He had six children, eight grandchildren, and two great-grandchildren. Rockwell died in Cortlandt Manor, New York, at the age of eighty-five.[2]
[1] Wikipedia website's entry on "Dick Rockwell." Accessed June 18, 2020. https://en.wikipedia.org/wiki/Dick_Rockwell
[2] Legacy website's obituary, "Richard Waring Rockwell." Accessed June 18, 2020. Published in The Journal News, April 20, 2006. https://obits.lohud.com/obituaries/lohud/obituary.aspx?n=richard-waring-rockwell&pid=149415304
This artist's biography was written by Phyllis Geraghty, a writer with professional experience in the public relations, education, health, and non-profit sectors.
Illustrations by Richard Rockwell
Additional Resources
Bibliography