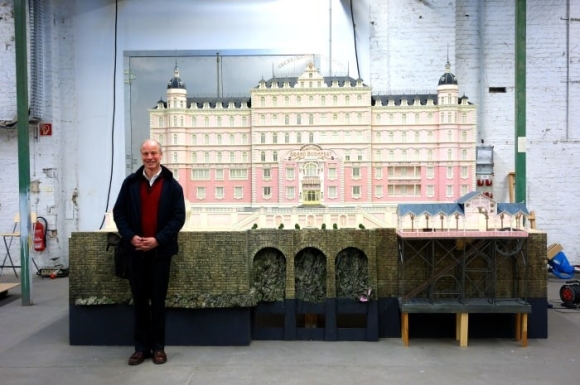 Biography
Carl J. Sprague (b.1961) is a concept illustrator and scenic design artist known for his work in feature films and theater productions. Sprague has worked in the art department of more than 40 feature films and television projects as either art director, production designer, or concept illustrator. More than 35 of these films have received Academy Award nominations, including "La La Land," "The Grand Budapest Hotel," and Best Picture winner "12 Years a Slave."[1]
As a child, Sprague was influenced by his family's interest in puppetry. His great grandfather created a puppet theater and his grandmother contributed to the performances by making exquisitely-costumed and detailed puppets. When he was eight years old, Sprague was producing puppet shows, many including monsters, and princes and princesses in various threat and rescue dramas.[2] As an adult living in Stockbridge, Massachusetts, and as part of his contribution to the Berkshire art and theater communities, Sprague continues to present puppet shows at a vintage puppet theater at Ventfort Hall in Lenox, Massachusetts.
Sprague graduated from Harvard in 1984 with a B.A. Magna cum Laude in Film and Philosophy. He was involved in theater while at Harvard, though as a director at first, then, by default, as a designer when he couldn't find people to fill the job. He found that the design work was very rewarding and enjoyable, and he built a successful career on those skills.[3]
While his feature film design work began with Martin Scorsese's "The Age of Innocence," Sprague also worked with Stephen Spielberg ("Amistad") and David Fincher ("The Social Network"), but his collaboration with Wes Anderson was the most enduring. He collaborated with Anderson on set designs and concept illustrations for movies such as "The French Dispatch," "Isle of Dogs," "The Grand Budapest Hotel," and "The Royal Tenenbaums," among others.[4]
An active member of the Berkshire community where he lives, Sprague has designed more than a dozen shows for the Berkshire Theatre Group. He has also worked at other Massachusetts venues including the Colonial Theatre in Pittsfield, Shakespeare & Co. in Lenox, and the Berkshire Playwrights Lab in Great Barrington. He serves as president of the Albany Berkshire Ballet, chair of the Stockbridge Historic Preservation Commission, and he is on the board of the Stockbridge Planning Board.
Footnotes:
[1] Edwards, David Noel. "Set designer Carl Sprague discusses his work on Wes Anderson's 'The French Dispatch,'" The Berkshire Edge, December 25, 2021. Accessed on December 16, 2022. https://theberkshireedge.com/i-publius-gone-but-not-forgotten#
[2] Ibid.
[3] Lambert, Craig. "Visual Conjurer Carl Sprague designs the look behind the drama," Harvard Magazine, March – April 2010. Accessed on December 16, 2022. https://www.harvardmagazine.com/2010/03/visual-conjurer
[4] Laurel Hill Association Website. "Carl Sprague." Accessed on December 16, 2022. https://laurelhillassociation.org/trustees/carl-sprague/
This artist's biography was written by Phyllis Geraghty, a writer with professional experience in the public relations, education, health, and non-profit sectors.
Illustrations by Carl Sprague
Additional Resources
Bibliography
Anderson, Wes, dir. Isle of Dogs. Beverly Hills, CA: 20th Century Fox Home Entertainment, 2018.
Anderson, Wes, dir. The Grand Budapest Hotel. Los Angeles, CA: 20th Century Fox Home Entertainment, 2014.
Chazelle, Damien, dir. La La Land. Santa Monica, CA: Summit Entertainment-Lionsgate, 2016.
Frelinghuysen, Christian, dir. Stroke of Luck. California: Gravitas Ventures, 2022.
McQueen, Steve, dir. 12 Years a Slave. Beverly Hills, CA: 20th Century Fox Home Entertainment, 2013.
Spielberg, Steven, dir. Amistad. Dreamworks Pictures, 1997.