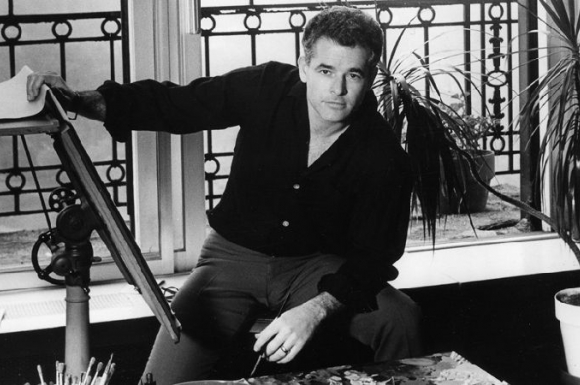 Biography
Robert M. Peak (1927–1992) is an award-winning American illustrator best known for his thirty year contribution to the film industry, creating vibrant and exciting designs for modern movie posters. The United States Postal Service commissioned him to design thirty stamps for the 1984 Olympics, and throughout his prolific career Peak created cover art and illustrations for a wide variety of magazines. In addition, he taught at the Art Center College of Design in Los Angeles and at New York's Art Students League.
Born in Denver, Colorado, Peak grew up in Wichita, Kansas. At an early age he displayed a talent for art, and had an interest in becoming a commercial illustrator. While attending Wichita State University, Peak took a part-time job in the art department of a local printing and graphics firm, McCormick-Armstrong. After serving in the Navy during the Korean War, he enrolled in the Art Center College of Design in Los Angeles, California, where he graduated in 1951.[1]
In 1953 Peak moved to New York City and worked on an Old Hickory Whiskey advertising campaign, followed by numerous assignments in such major national magazines as Time, Esquire, Good Housekeeping, TV Guide, and Ladies' Home Journal, among others. In 1961 United Artists film studio hired Peak to design the poster images for the film West Side Story, the success of which began a three-decade-long career in designing movie posters for such big-budget films as My Fair Lady (1964), Camelot (1967), Superman (1978), six Star Trek films (1979-1991), and many others. He is credited with having a major impact on the development and style of subsequent movie poster artists and was in great demand by film directors throughout the 1980s.[2]
Peak won more than 150 awards, from numerous organizations, such as The Society of Illustrators, New York; The Artists Guild, New York; Art Directors Club of New York; Art Directors Club of Philadelphia; Advertising Club of Boston, and The Hollywood Reporter. In 1977 the Society of Illustrators elected Peak to its Hall of Fame. For the 1984 Olympics, the United States Postal Service commissioned Peak to design thirty stamps. He also created thirty-one watercolors depicting various sports events in the history of the Olympics for the book entitled Golden Moments, commissioned by the United States government.[3]
Peak's work has appeared in numerous art exhibitions and solo shows. His paintings of Anwar Sadat, Mother Teresa, and Marlon Brando hang in the Smithsonian Institution's permanent collection. His career ended abruptly and tragically in August 1992 after he suffered a brain hemorrhage in a fall.
[1] "Bob Peak." Wikipedia. Accessed September 14, 2020. https://en.wikipedia.org/wiki/Bob_Peak
[2] Ibid.
[3] "About Bob Peak." The Art of Bob Peak. Accessed September 14, 2020. https://bobpeak.com/about/
This artist's biography was written by Phyllis Geraghty, a writer with professional experience in the public relations, education, health, and non-profit sectors.
Illustrations by Robert Peak
Additional Resources
Bibliography
King, Emily. A Century of Movie Posters: From Silent to Art House. New York: Barron's, 2003.
Peak, Robert. People, Places & Things. Chicago, IL: Jack O'Grady Galleries, 1978.
Peak, Robert and James A. Michener. Golden Moments: A Collection of United States 1984 Commemorative Olympic Issues. Washington, DC: United States Postal Service, 1984.
Peak, Tom. The Art of Bob Peak. Burbank, CA: Peak Books, 2012.
Reed, Walt. The Illustrator in America, 1860-2000. New York: Society of Illustrators, 2001.
Salavetz, Judith, Spencer Drate, Sam Sarowitz, and Dave Kehr. Art of the Modern Movie Poster: International Postwar Style and Design. San Francisco: Chronicle Books, 2008.