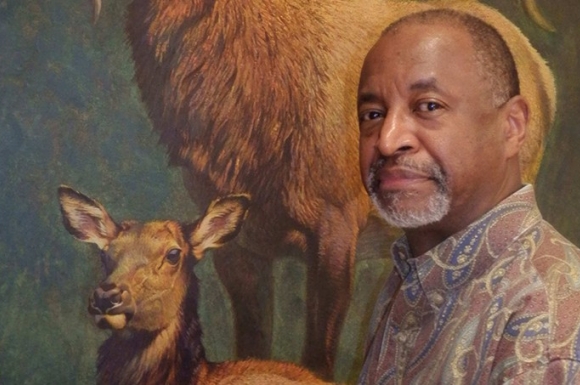 Biography
As a young boy, Ezra Tucker sat transfixed by images of wildlife and the animal kingdom on television, and he spent many hours at the library researching adventure stories from around the world. His interest in archaeology, history, science, and geography also grew, and in the 1960s, his family purchased the World Book encyclopedia, which further expanded his knowledge.
Tucker went on to study at the Memphis Academy of Arts in Tennessee, where he was encouraged to pursue his interest in wildlife subjects. Since then his dynamic illustrations have been commissioned by Outdoor Life, Field & Stream, Anheuser-Busch, Bank of America, Coca-Cola, MGM Grand Hotel, Seagrams, Universal Studios, Warner Brothers, LucasFilms, and many other publishers and corporations. "I find it necessary to preserve and respect all creatures that inhabit our planet, because I believe that we are more connected than most humans acknowledge," Tucker said. "I represent the beauty and majesty of the animal world…to help influence the preservation of our planet's varied species."
Illustrations by Ezra Tucker
Additional Resources
Bibliography
Blade, Adam and Ezra N. Tucker. Skor: The Winged Stallion. New York: Scholastic, 2008.
Blade, Adam and Ezra N. Tucker. Sting: The Scorpion Man. New York: Scholastic, 2011.
Cuyler, Margery and Ezra N. Tucker. Big Friends. New York: Walker & Co., 2004.
Knight, Kathryn and Ezra N. Tucker. Gods of Olympus. Franklin, TN: Creative Edge, 2010.
Ladd, Cheryl. The Adventures of Little Nettie Windship. West Hollywood, CA: Penguin, 1996.
Wells, H.G. The Time Machine. Franklin, TN: Dalmatian Press, 2012.