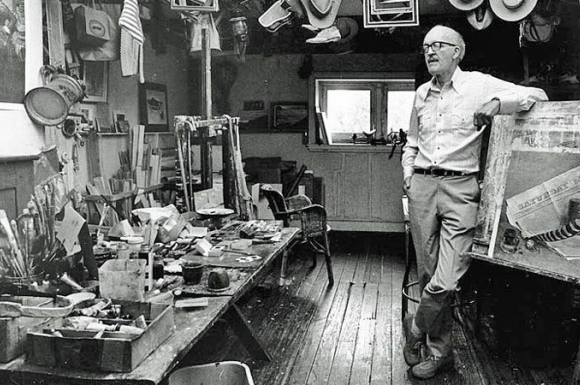 Biography
Like many artists, John Falter (1910-1982) enjoyed drawing at an early age. However, unlike many of his contemporaries, he acquired professional job experience before even graduating high school. For a few years, Falter worked as a comic strip artist on a strip entitled Down Thru the Ages, for the local Falls City Journal, in Falls City, Nebraska. Seeing his potential, the journal's cartoonist encouraged him to consider making illustration a career.
Falter heeded his colleague's advice and went on to study art at the Kansas City Art Institute. After graduating, he won a scholarship to the Art Students League in New York City. His tenure there was brief, however, leaving the school to begin life as an illustrator by garnering work for pulp magazines. He split his time between these jobs and took classes at the Grand Central Art School.
Falter's first steady job started in 1933 with Liberty Magazine. For $75 dollars a week, he was hired to create three illustrations weekly. Increasingly aware of the lucrative nature of advertisements, the artist began seeking opportunities for such work. Some of his regular advertising clients included Gulf Oil, Four Roses Whiskey, Arrow Shirts, and Pall Mall.
After securing a stable income, Falter opened a studio in New Rochelle, New York, where he was in close proximity to some of his close artist friends. New Rochelle was a popular destination for artists at the time; giants in the illustration field, including J.C. Leyendecker and Norman Rockwell, along with many writers, musicians, and actors, lived there as well.
Falter was very busy in 1943. Following the onset of World War II, the artist enlisted in the Navy. He was promoted rapidly, while designing over 300 recruiting posters for the government. Many of them served domestic purposes and were geared toward women, like the WAVES campaign ("Women Accepted for Volunteer Emergency Service").
That year, Falter also assumed a coveted position as a cover illustrator for the popular Saturday Evening Post magazine. The magazine chose his painting of Benjamin Franklin to be the artist's debut cover, thus beginning his 25-year relationship with the publication, for whom he produced over 120 covers. Indeed, Falter's success with The Post led him to a solid reputation in the field that reaped myriad commissions for McCall's, Esquire, Life, Look, Good Housekeeping, and Cosmopolitan. He maintained these commissions after the war while also illustrating over forty books in his lifetime. Regardless of the destination for his paintings or illustrations, Falter's work was heavily informed by his life experiences often spun with comedic commentary, noting, "My main concern in doing Post covers was trying to do something based on my own experiences… I used humor whenever possible."[1]
Falter's style was different from that of other Post artists, whose cover scenes often featured a close-up perspective. Instead, Falter's paintings were set farther away and often at interesting viewpoints that allowed for the inclusion of more detail in support of the visual narrative. This composition style inspired other seasoned illustrators to reconsider their own processes, one of whom was Norman Rockwell, who briefly tried his hand at Falter's approach. Rockwell would later refer to those works as his "Falter Period."[2]
Likewise, Rockwell also influenced Falter's work greatly. Falter once admitted: "Rockwell was our inspiration then. I didn't meet him until years later. We would hear that Rockwell had been out on the street and we'd all rush out and hunt for him. If they'd tell us that he had looked in a shop window, we'd look in the same window trying to absorb what he looked at by osmosis."[3]
When photography began to replace illustration in magazines, jobs became scarce even for prolific artists like Falter. He pragmatically turned to portrait painting, recreating likenesses of famous actors and jazz musicians. Clark Gable, James Cagney, Olivia de Havilland, Admiral "Bull" Halsey, Louis Armstrong, and Art Tatum were just a handful of the stars he painted. In the mid-1970s and 80s, Falter took up yet another subject in painting, devoting himself to Western themes. By the end of his career he had completed over 200 paintings inspired by this theme alone, making up just a small fraction of his entire oeuvre. Falter's drive to complete so many artworks in his lifetime can surely be seen as an indication of his mantra, "If you are not in love with what you are trying to put on canvas, you had better quit."[4]
John Falter was inducted into The Society of Illustrators' Hall of Fame in 1976, and was elected membership in the National Academy of Western Art in June 1978. Further honor was bestowed upon him at the recent opening of his very own museum, the John Philip Falter Museum, in May 2015, in Falls City, Nebraska.
The Nebraska State Historical Society has a collection of "objects and furnishings from his studio, as well as numerous paintings, papers, and sketchbooks" that were donated by his wife after his death in 1982. The Museum of Nebraska Art has 79 works by the artist, and The Norman Rockwell Museum archive houses a complete set of his Saturday Evening Post covers.
Entry written by Bailey Pfohl, 2016 Walt Reed Distinguished Scholar Intern
Footnotes:
[1] "John Falter." Museum of Nebraska Art. https://mona.unk.edu/mona/john-falter/
[2] Ibid.
[3] "John Falter," September 1, 1943, University of Nebraska at Kearney dpi graphics.
[4] "John Philip Falter." National Museum of American Illustration. https://americanillustration.org/project/john-falter/
Illustrations by John Philip Falter
Additional Resources
Bibliography
Clemens, Samuel. The Adventures of Tom Sawyer. New York: Macmillan Co., 1962.
Ford, Corey and John Philip Falter. The Horse of Another Color. New York: H. Holt and Co., 1947.
Monks, John Cherry and John Philip Falter. A Ribbon and a Star: The Third Marines at Bougainville. Washington, DC: Zenger, 1945.
Reed, Walt. The Illustrator in America, 1860-2000. New York: Society of Illustrators, 2001.