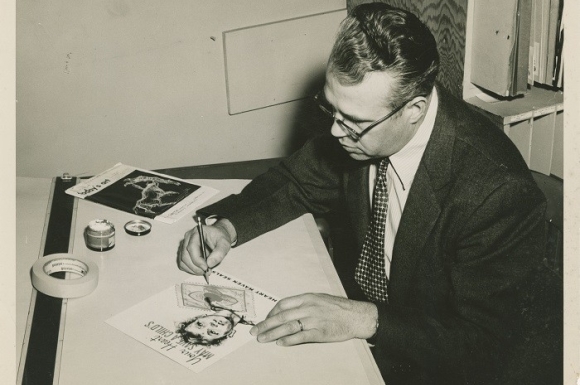 Biography
Born in 1912 to Edwin H. and Anna Zittle Bowermaster, Paul Bowermaster grew up in Lancaster County, Pennsylvania. While growing up, he attended the Pennsylvania Museum School of Industrial Arts, and the Wilmington Academy of Fine Arts in Delaware. While in school, he trained under N.C. Wyeth, one of America's greatest artists and illustrators, along with other great illustrators of the time including Frank Schoonover, Orville Peets, Lucille Howard, and Gayle Hoskins. Prior to working with the New Holland Company, Bowermaster briefly worked as a draftsman with the Hamilton Watch Company, and he also served during WWII as a cartographer in North Africa, Italy, and Corsica. He was also a sergeant in the Signal Corps of Army Air Forces.
In the late forties, Bowermaster began his work with the New Holland Machine Company. He started out as an artist for the company, then later became the art supervisor in the Communications and Promotions Department. During his time at the New Holland Machine Company, Bowermaster worked on various projects including greeting cards, national ads, product catalogs, and magazines. In a correspondence with the president of the company, he was congratulated for his contribution to the development of their advertising format, and the creation of their new Prestige Pictures. Bowermaster worked for the company for 30 years, and he retired as the art supervisor in 1977.
In a newspaper article, Bowermaster stated that he liked to paint "in the high key of a hot summer day." He liked to draw boys with their dogs, and the many adventures they'd go on together while roaming around a farm.
In addition to working with New Holland, Bowermaster was also a member of the St. Philip the Apostle Catholic Church, where he belonged to the Men's Club. While working in Philadelphia, he also became a member of the Art Director's Club. Outside of work, Bowermaster and his wife won second prize in a ballroom dance at the 1993 Lancaster County Recreation Commission Senior Games. He was married to his wife, Izora W. Whiskman, for 52 years, and they had a son and two daughters.
Miller, Tina. "Obituary: Paul Bowermaster, art supervisor." July 10, 1998.
Paul Bowermaster Collection. Norman Rockwell Museum Archives, NRM.2018.10
Illustrations by Paul Bowermaster
Additional Resources
Bibliography
Luttringer, Homer K. The Innovators: The New Holland Story. Lancaster: Innovative Ink, 1990.