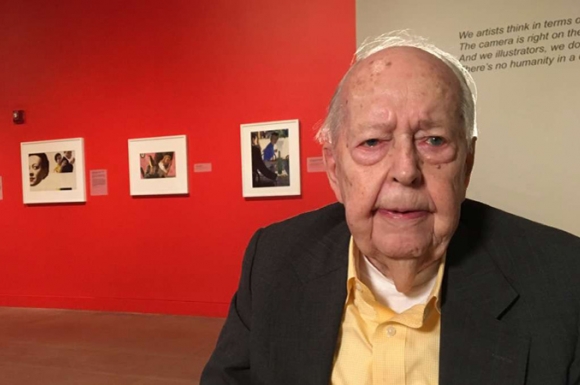 Biography
McCauley "Mac" Conner (b. 1913) grew up admiring Norman Rockwell's magazine covers in his father's general store. He began studying illustration with the International Correspondence School during the Depression. Later, Conner attended the Philadelphia Museum School of Industrial Art (today the Philadelphia Museum of Art and the University of the Arts), and earned distinction as one of the youngest artists to have his work on the cover of The Saturday Evening Post. The artist found further study with Golden Age illustrator Harvey Dunn at New York's Grand Central School of Art. Conner was drafted into the Navy in 1943 and deployed to Manhattan, where he spent World War II illustrating training materials and set down roots in the city he still calls home.
By 1950, well established in the illustration field, Conner joined with William Neeley to create Neeley Associates, a studio with up to ten artists servicing publishing and advertising clients. For the next 15 years, Mr. Conner was a mainstay illustrator for The Saturday Evening Post and for top women's and general interest magazines, including Ladies' Home Journal, Redbook, McCall's, Cosmopolitan, Good Housekeeping, Woman's Day, Woman's Home Companion, and Collier's. His advertising accounts included United Airlines, U.S. Army Recruiting, General Motors, and Greyhound Lines.
Known for his dramatic perspective, bold color blocks, and eye-catching patterns, Conner's stylish illustrations were noted for their ideals of female beauty and romance that author Betty Friedan later famously-and-critically-labeled "The Feminine Mystique." The themes presented in his work mirror the perspectives of the publications of the day and of their readership, with an emphasis on glamour, family values, and youth. The sophisticated, beautiful women in the illustrations are often depicted as the principal players, with men taking supporting roles.
"I never considered myself an artist," notes Conner. "I just liked to make pictures. (Illustrator) Al Parker was one of my gods, you might say, along with Norman Rockwell—I loved the way he painted; he had heart and soul and a sense of humor." Norman Rockwell Museum's Chief Curator Stephanie Plunkett adds that,"as a young boy, Mac Conner found inspiration in the art of Norman Rockwell, which he studied on the covers and pages of popular magazines in his father's dry goods store. His gift for creativity and invention is evident in lively, evocative works that offer insights into American aspiration during the Post-War era."
Anxieties about postwar culture can be found in the work as well, reflecting the national scare over the "juvenile delinquent problem," or the Cold War-era fascination with noir topics such as crime, intrigue, and mystery—subjects that Conner interpreted with dramatic compositions reminiscent of Hitchcock thrillers.
By the 1960s, Conner reinvented himself as a paperback cover artist, creating lush paintings that depict exotic locales and historical themes for romance novels and women's fiction published by Warner and Harlequin Books. Later in his career, Conner investigated portraiture and illustration for children's books.
Illustrations by Mac Conner
Additional Resources
Bibliography
Conner, Mac. Mac Conner Selected Works. New York: Museum of the City of New York, 2014.