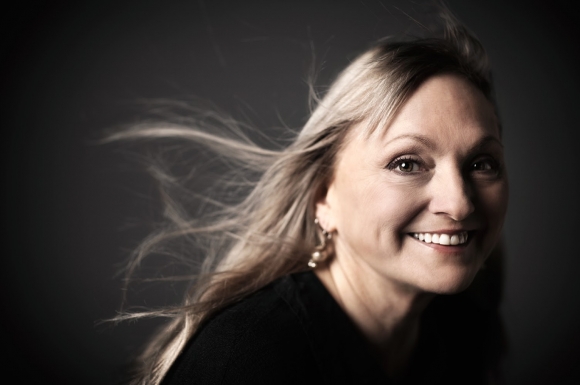 Biography
Anita Kunz was born in 1956 in Toronto, Canada, and grew up in Kitchner.[1] She was influenced by the illustration work of her uncle, Robert Kunz, who showed her that illustration had the potential to convey social messages.[2] Kunz studied at Ontario College of Art, graduating in 1978. She began sending her work to different magazines after beginning her illustration career.[1]
Kunz has lived in London, New York City, and Toronto. She has contributed her work to magazines, designs firms, book publishers, and advertising agencies in Germany, Japan, Sweden, Norway, Canada, South Africa, Holland, Portugal, France and England. Her clients include Time, Rolling Stone, Vanity Fair, The New Yorker, GQ, The New York Times, Sony Music, Random House Publishing, and many others. She was one of the two artists chosen by Rolling Stone magazine to produce a monthly illustrated History of Rock n' Roll end paper from 1988 to 1990. Kunz has produced cover art for magazines such as Rolling Stone, The New Yorker, Sports Illustrated, Time Magazine, Newsweek Magazine, the Atlantic Monthly, and The New York Times Magazine. She has also illustrated more than fifty book jacket covers. Canada Post used illustrations by Kunz on stamps issued for the Year of the Money in 2004.[1]
Kunz often teaches workshops and lectures at universities and institutions internationally, including the Smithsonian Institution and the Corcoran College of Art and Design in Washington DC. Her summer workshops have been conducted in New York at Syracuse University and in Kansas City at the Illustration Academy.[1]
Her paintings and sculptures have been displayed in museums and galleries worldwide, including the Norman Rockwell Museum in Stockbridge, Massachusetts, and the Teatrio Cultural Association in Rome, Italy. In 1987, she showed a collection of her artwork in Trafalgar Square, London, at Canada House. In 1997 she had a one-woman show in New York City at the Foreign Press office. In 1998 she had a solo show in Toyko at the Creation Gallery, and in fall 2000 the Society of Illustrators Museum of American Illustration mounted a mid-career retrospective of her work. In fall 2003, Kunz had a solo show at the Library of Congress in Washington, D.C. She was the first woman and the first Canadian to achieve this honor.[1]
Kunz was named one of the fifty most influential women in Canada by the National Post newspaper. She was appointed Officer of the Order of Canada, Canada's highest civilian honor, in 2009. In 2010, she was awarded an Honorary Doctorate from the Ontario College of Art and Design University. She also received Her Majesty the Queen's Diamond Jubilee medal of Honor in 2012. In 2015, she was awarded an Honorary Doctorate from the Massachusetts College of Art and Design in Boston.[1] In 2017, she was inducted into the Hall of Fame by the Society of Illustrators Museum of National Illustration.[3]
Entry written by Rachel Mancour, 2019 Walt Reed Distinguished Scholar Intern
Footnotes:
[1]"Anita Kunz." Wikiwand. n.d. July 10, 2019. https://www.wikiwand.com/en/Anita_Kunz
[2]"Anita Kunz." Revolvy. n.d. July 10, 2019. https://www.revolvy.com/page/Anita-Kunz
[3]"Anita Kunz." Society of Illustrators. n.d. July 10, 2019. https://www.societyillustrators.org/anita-kunz
Image from: http://www.muddycolors.com/2016/11/anita-kunz/
Illustrations by Anita Kunz
Additional Resources
Bibliography