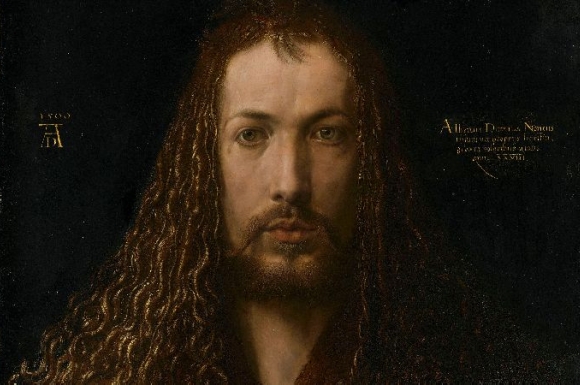 Biography
Regarded as the greatest artist of the German Renaissance, Albrecht Dürer (1471-1528) incorporated Italian Renaissance themes and styles in his work. Perhaps seeing himself as an "artist-prince," Dürer characteristically portrayed himself in self-portraits as one certain of his own brilliance.[1]
Dürer was born on May 21, 1471 in Nuremberg, Germany, an independent city-state within the Holy Roman Empire. He first worked under his father, a goldsmith, as a draughtsman. In 1484, Dürer completed his first work, a silverpoint self-portrait. The thirteen-year-old portrays himself with an air of confidence, reflecting self-awareness of his advanced artistic abilities.[2] Just two years later, he began an apprenticeship under the painter and woodcut illustrator Michael Wolgemut. In 1490, at age nineteen, Dürer completed his first painting: a portrait of his father.
Dürer began traveling through Northern Europe in 1490. In 1492, he stopped in Colmar, France, where he found inspiration from engravings by Martin Schongauer and the artist known only as "Master of the Housebook." Dürer travelled to Basel, Switzerland to work on his first woodcut illustration, St. Jerome Curing the Lion, finally returning to Nuremberg to marry in 1494.
When the Black Death pandemic entered Nuremburg in 1494, Dürer crossed the Alps to travel to Venice, Italy. There, he met artists including Gentile and Giovanni Bellini. He also studied Andrea Mantegna's works on the human body in motion as well as Antinio Pollaiulo's classical iconography and accurate renderings of the human form. From these inspirations, Dürer became fascinated with the theory of human proportion.
Returning to Nuremburg in 1495, Dürer began working independently as a printmaker and painter. After initial success, he attracted the attention of Frederick the Wise, Elector of Saxony, who commissioned paintings. In 1498, Dürer completed a woodcut series titled the Apocalypse. Signifying a greater emphasis on Gothic elements (as opposed to Italian influences), the visionary series received much recognition.
In a self-portrait painted in 1498, Dürer depicts himself with the dress and appearance of an "ideal" Renaissance aristocrat. Dürer sits indoors next to an open window, revealing distant mountains and the ocean, an element seen in contemporary Italian paintings. Dürer's placement inside signifies his familiar world, while the vast distant landscape through the window implies a connection to the world he has yet to reach.[3]
From 1500 to 1505, Dürer experimented with Italian-inspired emphasis on perspective and proportion while upholding the Northern-European focus on the particular.[4] While in contact with the Venetian artist, Jacobo de Barbari, Dürer sought to conceptualize a theory for human proportion. In his 1504 engraving, Adam and Eve, Dürer renders human beauty from calculations for an ideal form. In the same year, Dürer painted an altar panel, The Adoration of the Magi, for Frederic the Wise. The central panel expertly maintains balance in space and composition.
When the Black Death returned to Nuremburg in 1505, Dürer revisited Venice. He became influenced by the work of Giovanni Bellini, evident in the styles of many of Dürer's half-length portraits during the visit. In 1506, Dürer painted Feast of the Rose Garlands for the German funeral chapel at St. Bartholomew's Church in Bavaria. The altarpiece was widely praised for its solemnity and incorporation of Venetian themes and colors. Later that year, Dürer traveled to Bologna, Italy to study perspective, and viewed the work of Leonardo Da Vinci and Raphael in Florence. He returned to Nuremberg in 1507.
Maximilian I, Holy Roman Emperor, visited Nuremburg in 1512 and hired Dürer to work for him (until Maximilian's death in 1519). With other artists, Durer produced illustrations for the emperor's prayer book. During the period of service to Maximilian, Dürer produced his three "Master Engravings" (Knight, Death, and the Devil, Saint Jerome in his Study, and Melancholia I), which signify advancements in engraving techniques and further incorporation of Italian art styles including Neoplatonic Philosophy.[5]
When Maximilian I died in 1519, Dürer traveled to the Netherlands to attend the coronation of his successor, Charles V. Dürer remained in Antwerp (now in present-day Belgium) until 1521. During the stay, Dürer was inspired by the engravings of Lucas van Leyden. In the Netherlands, contemporary artists imitated styles from Dürer's paintings during his visit, such as portraits of Saint Jerome and Bernard von Resten. The artist returned to Nuremberg in 1521.
Before his death in 1528, Dürer focused on theoretical and scientific essays and illustrations. In 1526, he painted his final and perhaps greatest work, The Four Apostles. Depicting on two immense panels St. John, St. Peter, St. Paul, and St. Mark, the painting cautions against false prophets in accompanying inscriptions.
[1] Eberhard Ruhmer, "Albrecht Dürer," Encyclopædia Britannica (Encyclopædia Britannica, inc., May 17, 2020), https://www.britannica.com/biography/Albrecht-Durer-German-artist
[2] John Oliver Hand, with the assistance of Sally E. Mansfield, German Paintings of the Fifteenth through Seventeenth Centuries (Washington, DC: The Collections of the National Gallery of Art Systematic Catalogue, 1993) 49-51.
[3] Ruhmer, "Albrecht Dürer."
[4] Hand, German Paintings of the Fifteenth through Seventeenth Centuries.
[5] Ibid.
This artist's biography was written by Thomas Eitel Stucke. Stucke grew up in Washington, DC, and Knoxville, Tennessee. In 2018, he graduated from Phillips Exeter Academy in New Hampshire. He is currently studying art history and real estate at Cornell University, and holds a curatorial internship at Norman Rockwell Museum.
Illustrations by Albrecht Dürer
Additional Resources
Bibliography
Bieler, Stacey. Albrecht Dürer: Artist in the Midst of Two Storms. Eugene, OR: Cascade Books, 2017.
Dürer, Albrecht. Dürer's Drawings for the Prayer-Book of Emperor Maximilian I: 53 Plates. Mineola, NY: Dover Publications, 2013.
Fry, Roger and Albrecht Dürer. Records of Journeys to Venice and the Low Countries. Boston: The Merrymount Press, 1913.
Jenkins, Catherine, Nadine M. Orenstein, and Freyda Spira. The Renaissance of Etching. New York: The Metropolitan Museum of Art, 2019.
Kowalski, Jesse. Enchanted: A History of Fantasy Illustration. New York: Abbeville Press, 2020.
Kurth, Willi, ed. The Complete Woodcuts of Albrecht Dürer. New York: Arden, 1936.
Metzger, Christof. Albrecht Dürer. Munich, Germany: Prestel, 2019.
Panofsky, Erwin. Dürer's Apocalypse. London: Eugrammia Press, 1964.
Panofsky, Erwin. The Life and Art of Albrecht Dürer. Princeton, NJ: Princeton University Press, 1943.
Strauss, Walter, L., ed. The Complete Engravings, Etchings, and Drypoints of Albrecht Dürer. New York: Dover, 1972.
Troutman, Philip. Albrecht Dürer: Sketchbook of His Journey to the Netherlands, 1520-21. London: Elek, 1971.
Wolf, Norbert. Albrecht Dürer, 1471-1528: The Genius of the German Renaissance. Cologne, Germany: Taschen, 2006.