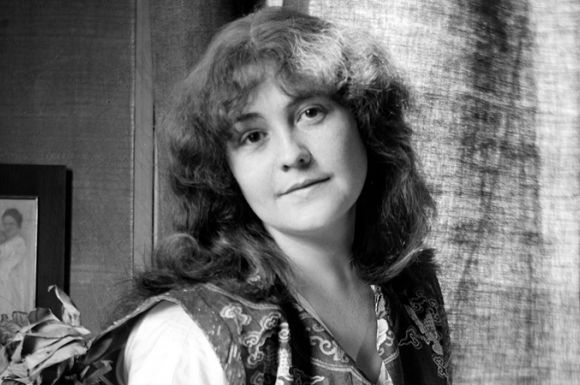 Biography
Born in Wilkes-Barre, Pennsylvania and raised in rural Nebraska, Rose O'Neill (1874-1944) taught herself how to draw, achieved success at a young age, gained tremendous wealth from the creation of Kewpie dolls, and contributed to the women's suffrage movement. She created the first comic strip published by a woman in the United States, was married and divorced twice, and hosted events for celebrated authors, artists, and poets of the day, including James Montgomery Flagg, Edwin Arlington Robinson, Khalil Gibran, and Booth Tarkington, before settling down in the Ozarks region of Missouri.
O'Neill was raised in an artistic household where she was encouraged by her father to recite Shakespeare, read classics like Ivanhoe, and attend theater performances.[1] She first achieved artistic success at the age of thirteen when she won a drawing prize from the Omaha World-Herald. The editors were so convinced O'Neill copied the work from another source that they required her to come to the newspaper office and draw illustrations in their presence.[2] She continued to hone her craft during her teenage years and several newspapers in the region published her illustrations. At the age of nineteen, O'Neill moved from Nebraska to New York City where she hoped her illustration career would flourish.
While living in a convent, O'Neill recalled the nuns would accompany her to meet with newspaper and magazine editors. Her work was soon published in the pages of Truth, Life, Harper's Bazaar, Cosmopolitan, Good Housekeeping, and other magazines. A comic strip O'Neill wrote titled "The Old Subscriber Calls" was printed in the September 19, 1896 issue of Truth, which was remarkable in that it was the first published comic strip created by a woman.[3] Her cartoons became so popular that she was asked to join the staff of Puck, where she was the only woman working from 1897 to 1903.[4]
In the same year her first comic strip was published, O'Neill married Gray Latham. Although Latham was from a wealthy Virginia family, his habit of collecting O'Neill's pay from her magazine submissions and spending it without her approval took a toll on their marriage and they divorced in 1901.[5] While her marriage to Latham was nearing its end, O'Neill began receiving affectionately written anonymous letters. The source of the letters was Harry Leon Wilson, an editor at Puck magazine. They were married in 1902. Wilson was a talented author, writing some of his books at O'Neill's Bonniebrook home in the Ozark Mountains of Missouri. According to O'Neill's autobiography, Wilson appears to have suffered from major depression at a time when there was little relief; his melancholy doomed their marriage and they were divorced in 1907.[6]
O'Neill's most popular creation was born in 1909, although similar figures had appeared in her work for several years. The Kewpies, named after Cupid, the Roman god of love, were child-like, winged, Elfish creatures sporting a topknot hairstyle. They were prominently featured in the pages of Good Housekeeping and Woman's Home Companion. The Kewpies were an instant success and the public showed a demand for Kewpie dolls, which O'Neill began producing with a factory in Germany. Over the next several years, O'Neill became a millionaire from the sales of the dolls, allowing her to afford homes in New York, Connecticut, Missouri, and Italy. Meanwhile, O'Neill continued her career in illustration and became the top artist for Jell-O, in addition to creating ad images for several other companies, such as Kelloggs's Corn Flakes and Eastman Kodak.
Beginning in 1915, while living with her sister, Callista, at an apartment in New York's Greenwich Village, O'Neill became involved with the women's suffrage movement. She marched in parades, gave speeches, and illustrated posters for the movement. The Nineteenth Amendment to the U.S. Constitution, which affirmed women had the right to vote, was passed by the Senate in 1919 and ratified by the states in 1920.
O'Neill admittedly aspired to become a fine artist whose work would be exhibited in museums. She studied in Europe for several years (including under Auguste Rodin) and created a series of "monster" drawings which depicted dark, surrealistic scenes drawn from mythology and her subconscious mind. These works were exhibited in galleries and museums throughout Western Europe and at the Society of Illustrators in New York, where she became the only female fellow. [7]
Rose O'Neill died in 1944 and was buried at her beloved Bonniebrook home in the Ozarks.
[1] Rose O'Neill and Miriam Formanek-Brunell, The Story of Rose O'Neill: An Autobiography (Columbia, MO: University of Missouri Press, 1997), 38.
[2] Ibid., 44.
[3] Sarah Buhr, Frolic of the Mind: The Illustrious Life of Rose O'Neill (Springfield, MO: Springfield Art Museum, 2018), 11.
[4] O'Neill and Formanek-Brunell, The Story of Rose O'Neill: An Autobiography, 16.
[5] Ibid., 74.
[6] Ibid., 88.
[7] Buhr, Frolic of the Mind: The Illustrious Life of Rose O'Neill, 35.
Illustrations by Rose O'Neill
Additional Resources
Bibliography
Armitage, Shelley. Kewpies and Beyond: The World of Rose O'Neill. Jackson, MS: University Press of Mississippi, 1994.
Buhr, Sarah. Frolic of the Mind: The Illustrious Life of Rose O'Neill. Springfield, MO: Springfield Art Museum, 2018.
Kowalski, Jesse. Enchanted: A History of Fantasy Illustration. New York: Abbeville Press, 2020.
O'Neill, David. Collecting Rose O'Neill's Kewpies. Atglen, PA: Schiffer Publications, 2003.
O'Neill, Rose. The Kewpie Kutouts. New York: F.A. Stokes, 1914.
O'Neill, Rose. The Kewpies and the Runaway Baby. Garden City, NY: Doubleday, Doran & Co., 1928.
O'Neill, Rose. The Loves of Edwy. Rockville, MD: Wildside, 1904.
O'Neill, Rose and Miriam Formanek-Brunell. The Story of Rose O'Neill: An Autobiography. Columbia, MO: University of Missouri Press, 1997.