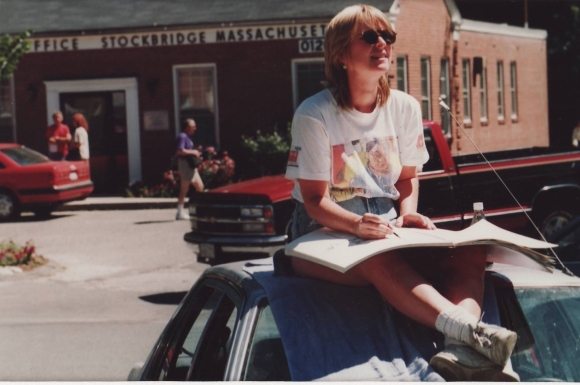 Biography
Lynn Pauley (b.1959) is a visual journalist, illustrator, educator, and painter. She is noted for direct drawing and painting, and the documentation of people, places, and events on location, portraying scenes as she sees and experiences them that capture particular moments in time and place. From 1991 to 1993, Pauley's expressive on-site drawings appeared weekly, accompanying articles for The New York Times Metro Section. She chronicled the 1993 bombing of the World Trade Center for Print magazine, the destruction of the Murrah Federal Building in Oklahoma City for The New Yorker, and covered the 1995 Masters Tournament for Sports Illustrated.[1]
While still in her teens Pauley used a sketchbook/journal to record her thoughts on what she saw in the world around her. She honed her skills, earning her BFA in illustration from Syracuse University and her MFA from the School of Visual Arts' Illustration as Visual Essay program. She also holds an Art Education degree from Parsons School of Design, and has found inspiration in the work of Bay Area figurative painters, in particular Richard Diebenkorn and David Park.
Pauley's expressive signature line drawings and lush acrylic paintings have won her commissions from an extensive client roster including the New York Jets, Yankee Magazine, Ladies' Home Journal, Good Housekeeping, Reader's Digest, Rolling Stone, Dean & Deluca, the Orlando Convention Center, and SPOTCO, for a 2009 Broadway poster campaign for Superior Donuts written by American playwright Tracy Letts. Her work has been on view abroad in Moulin a Nef, Auvillar, France, and in many U.S. locations including the University of the Arts, Philadelphia, Pennsylvania; the Orlando Convention Center, Orlando, Florida; Bergdorf Goodman Men, New York; Atrium Gallery, University of Connecticut, Storrs; and Norman Rockwell Museum, Stockbridge, Massachusetts.
An enthusiastic and inspirational instructor, Pauley has taught innovative, cross-disciplinary, on-site illustration classes both in the U.S. and abroad since 1989. From 2006 to 2008 Pauley was Chair of the Illustration program at New Hampshire Institute of Art. Her teaching experience includes Parsons School of Design, Fashion Institute of Technology (FIT) and the School of Visual Arts in New York City; Pratt Institute in Brooklyn; Delaware College of Art and Design, Wilmington; and the Munson Williams Proctor Art Institute in Utica, New York.
Pauley has summed up her central philosophy, noting, "Illustration at its finest and most moving has narrative. A personal voice. A voice unique to the artist that creates it. The illustrator must have a point of view. Illustrators have to be interesting, well read, citizens of the world, curious, courageous, media savvy, and current on the day's political and world events to keep making fresh pictures and still follow their own story line."[2]
Pauley's work was on view at the Norman Rockwell Museum in 2012 at the same time she conducted a five-day workshop there titled, "Illustration Boot Camp: A Hands-On Immersion." The Lynn Pauley Collection, including more than 1,200 works of original art and a vast archive of related published materials, is among the permanent collection holdings of Norman Rockwell Museum.
[1] The website of art4business inc. http://www.art4business.com/artists/artistDetail.jsp?ID=12060
[2] Pauley, Lynn, "Practical Magic"
This artist's biography was written by Phyllis Geraghty, a writer with professional experience in the public relations, education, health, and non-profit sectors.
Illustrations by Lynn Pauley
Additional Resources
Bibliography
Schaefer, Carole Lexa and Lynn Pauley. In the Children's Garden. New York: Holt, 1994.