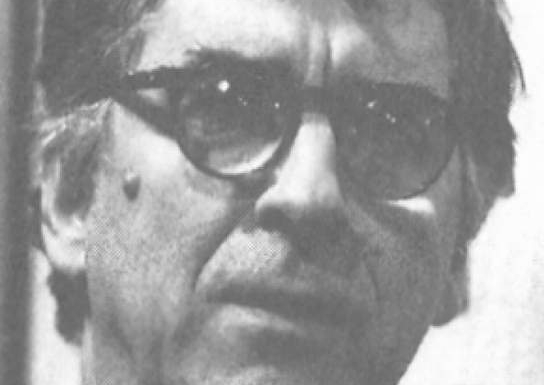 Biography
As a young artist with an affinity for realism and a love of drawing, Robert Weaver began his studies in fine art at the Carnegie Institute of Technology in his hometown of Pittsburgh, Pennsylvania. Cut short when, as a conscientious objector, he completed three years of alternate service during World War II, he later attended classes at the Art Students League in New York.
At the age of 25, Weaver took a job on a cargo vessel, intending to travel around the world. Instead, he found Venice, where he remained for two years. At the Academia Delle Belle Arti, he mastered the technique of painting in egg tempera. "There I was," he reflected years later, "painting real people and pigeons and boats and things, with no idea how I was going to make a living when I came back." He had developed a passion for murals, and the idea of working on a grand scale appealed to him.
Back in New York, though, Weaver found no considerable market for his designs. He took his sketches to Town and Country, hoping to find work there as a color consultant. Intrigued by his painterly, non-commercial style of art, the magazine's art director, Tony Mazzola, gave him some manuscripts to illustrate, and his career was inadvertently launched.
In the early 1950s, romantic, idealized imagery dominated the field of illustration, quite unlike Weaver's open-ended, expressionistic form of realism. Among the first to bring currents in fine art to illustration, he rejected literalism and emphasized pure form in his work. "I want you to see that this is a piece of artwork that is being done, actually see the workings of it," he has said. "I don't want to conceal the handwriting."
Robert Weaver appreciated the accessibility of the printed page, and from the 1950s through the 1970s, produced powerful illustrations for such prominent publications and corporations as Esquire, Life, Look, Fortune, Sports Illustrated, Playboy, The New York Times, and Columbia Records. By the late 1960s, his influence was clearly reflected in the magazines, books and advertisements of the period. His collage-like approach to painting was never before seen in illustration, but has since been widely imitated.
When he felt that the day of the magazine as an outlet for his creativity had passed, Weaver turned to books, which offered new expressive potential. The visual essays contained in his drawing books are evidence of his love of the turning page, and belief in the interconnectedness of images and ideas. At the School of Visual Arts, where he taught for thirty years, he emphasized the importance of seeing clearly and recording faithfully through direct drawing. Weaver's philosophy has had great impact on younger artists and on the illustration art of recent decades.
The recipient of the highest professional awards and honors, Robert Weaver was elected to the Society of Illustrators Hall of Fame in 1985. His compelling narratives have changed the perception and practice of illustration in our times and continue to enhance our appreciation of our visual, sensory world.
Illustrations by Robert Weaver
Additional Resources
Bibliography
Weaver, Robert. Robert Weaver: A Pedestrian View: The Vogelman Diary. Edited by Alexander Roob. Bönen, Germany: Kettler Verlag, February 28, 2013.