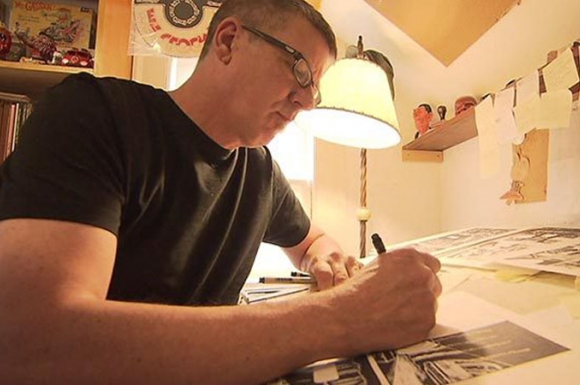 Biography
John Backderf (b.1959) began his career as an illustrator with "The City," an off-beat, witty comic strip that detailed the struggles of the middle class American male. The strip was was printed in several newspapers from 1990 to 2014. Backderf, using the pseudonym, Derf Backderf, also wrote and illustrated the acclaimed graphic novel, "My Friend Dahmer," which details Backderf's junior high and high school friendship with future serial killer, Jeffrey Dahmer. Backderf adeptly details the events that occurred during this time that anticipated Dahmer's descent into darkness. The memoir offers an empathetic view of a child abandoned by his parents and alienated by his peers who went on to commit some of the most horrific crimes in U.S. history. Fellow illustrator R. Crumb described the memoir as, "a well-told, powerful story. Backderf is quite skilled in using comics to tell this tale of a truly weird and sinister 1970s adolescent world."
Illustrations by John "Derf" Backderf
Additional Resources
Bibliography
Backderf, Derf. My Friend Dahmer. New York: Abrams ComicArts, 2012.
Backderf, Derf. Punk Rock and Trailer Parks. San Jose, CA: SLG Publishing, 2008.
Backderf, Derf. Trashed. San Jose, CA: SLG Publishing, 2004.