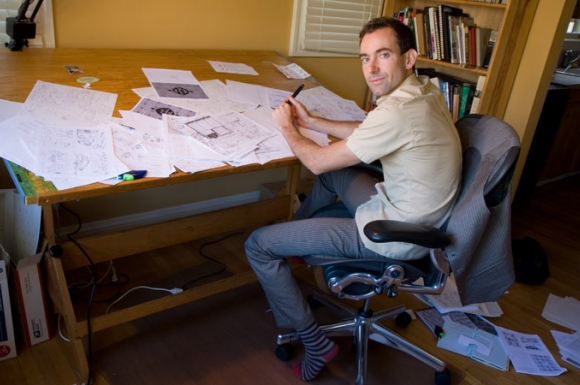 Biography
Craig Thompson is a graphic novelist most famous for his auto-biographical book, Blankets.
Thompson's work is influenced by his childhood spent in a fundamentalist Christian family in rural Wisconsin. He claims his access to popular culture was limited mainly to newspaper comic strips, which has been a major influence on his artistic style throughout his career.
Blankets details his internal childhood struggles with his strict Christian faith, his interactions with his family, and experience with first love. The candid publication received numerous accolades and Thompson received Harvey awards for Best Artist and Best Cartoonist.
Thompson followed up with Habibi, an award-winning graphic novel that details the relationship of two lovers through the lens of Islamic culture.
Illustrations by Craig Thompson
Additional Resources
Bibliography
Thompson, Craig. "Good-bye Chunky Rice," Top Shelf Productions, 1999. Book
Thompson, Craig. "Blankets," Top Shelf Productions, August 5, 2003. Book
Thompson, Craig. "Carnet de Voyage," Top Shelf Productions, August 3, 2004. Book
Thompson, Craig. "Habibi," Pantheon, September 20, 2011. Book