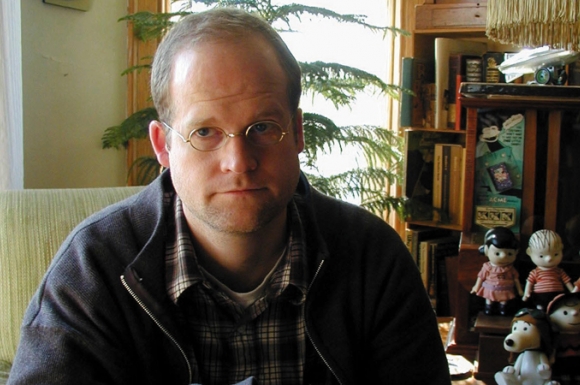 Biography
"Comics, at least in periodical form, exist almost entirely free of any pretense; the critical world of art hardly touches them, and they're 100% personal."
One of the most innovative and talented graphic artists of this generation, Chris Ware is acclaimed for presenting narrative illustration in a form and style vastly different from that of his contemporaries.
Ware's creative evolution is borne from the seemingly mundane – a childhood in Nebraska with cartoonists in his family, admiration of Charles Schulz's underrated work on Peanuts, and light television fare such as Bewitched and Gilligan's Island. While easy to dismiss as hokey, these influences are clearly evident in his award-winning work like Building Stories, The ACME Novelty Library, and Jimmy Corrigan: The Smartest Kid on Earth, a deeply personal examination of one man's struggle in a life filled with rejection and loneliness.
Ware's formal education occurred at the Art Institute of Chicago where he studied printmaking. While Ware's personal work details the struggles inherent within human existence, he has also applied his artistic skills to commercial projects such as covers and interior work for newspapers and magazines, including the New York Times, Esquire, and The New Yorker, where he has been a contributor since 1999. In 2002, Ware was the first artist in his field to have work exhibited at the Whitney Museum of American Art biennial exhibition.
Illustrations by Chris Ware
Additional Resources
Bibliography
Ware, Chris. "Jimmy Corrigan: The Smartest Kid on Earth," Pantheon, September 12, 2000. Book
Ware, Chris. "The Acme Novelty Date Book: Sketches and Diary Pages in Facsimile," Drawn and Quarterly, August 2003. Book.
Ware, Chris. "Acme Novelty Library," Pantheon, September 20, 2005. Book
Ware, Chris. "Building Stories," Pantheon, October 2, 2012. Book