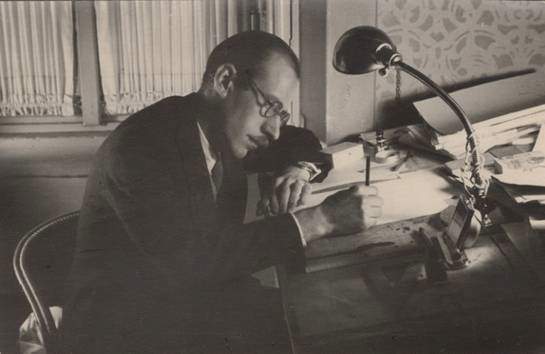 Biography
Saul Steinberg (1914 -1999) was a masterful artist who relished his engagement with the visual world and postwar society in the American twentieth century. Although best known for his incisive wit and brilliant New Yorker drawings created over six decades, he moved across disciplines with assurance and ease, creating art for all manner of things, from wallpapers and fabrics to public murals, stage sets, and advertisements. Never satisfied with the limitations of a single evolving style or approach, he continued to reinvent himself throughout his long and prolific career in his collages, prints, paintings and sculptures which are steeped in modernist styles and influences, filled with humor, and endowed with a fantastical and absurdist streak.
Deeply rooted in New York, the artist's home for fifty-seven years, Steinberg was born in 1914 in a small town in Romania to second and third generation Russian Jewish parents. Shortly after his birth the family moved to Bucharest. The son of a printer and a bookbinder, Steinberg was raised in what he called "the Turkish delight manner," in a world where Ottoman and western styles intermingled, and tradition and modernity intersected. Sidewalk cafes, neon lights, and car filled streets existed in tandem with horse drawn carts, street peddlers, and apartment courtyards teeming with life. In this drawing, entitled Bucharest, 1924 Steinberg renders his father's print shop in palatial fashion and depicts his 10-year old self in Prussian attire, behind an army regiment and followed by two street vendors, a peasant and a Muslim. The Balkans of Steinberg's youth provided access to a vibrant mixture of cultures, religions, and ethnic influences that would inform his art and establish his interest in the unique qualities of people, places, and things, large and small.
Steinberg grew up in a Romania dominated by antisemitic nationalism. He studied philosophy at the University of Bucharest, and then, in 1933, went to the Politecnico in Milan to pursue architecture. That training, along with early work as a cartoonist for the Italian humor newspaper Bertoldo, honed his gift for subtle graphic invention. Here is an image of one Steinberg's drawings for Bertoldo, "starring high-strung [Aunt] Elena," probably a veiled caricature of Mussolini. By 1940, major journals, including American ones like Life and Harper's Bazaar, also began to publish Steinberg's art. In early 1941 he was forced to go into hiding by antisemitic racial laws in Fascist Italy, and was later arrested, spending a month in a detention camp. After his release he fled Italy, reaching neutral Portugal in June 1941. In Lisbon he managed to get on a boat to America, thanks to a "slightly fake" passport he had doctored, but was refused entry at Ellis Island and deported to Santo Domingo. While there, awaiting a United States visa, his work began appearing regularly in The New Yorker. The magazine was then in its heyday, publishing leading authors, critics, and humorists, and was famous (as it still is) for its cartoons. Steinberg's unique imagery and style, with its whimsical line and Cubist influences, was instantly popular, and brought his art to vast, loyal audiences at the turn of a page. The magazine eventually sponsored him to enter the United States in 1942.
Steinberg's penchant for creating "slightly fake" documents resulted in one of his earliest books of drawings, entitled The Passport. Published in 1954, the book satirizes government infatuation with documents and stamps. The collection of drawings is a perfect example of the artist's talent for blending the old and the new, the fantastical and the precise. Living in Fascist Europe, and then as a Jewish exile from it at the beginning of World War II, Steinberg himself had to procure and produce myriad documents first as a suspect person and then to obtain safe haven in a new land. Some of the drawings are Steinberg's imagined creations of official bureaucratic paperwork, complete with signatures, seals, and fingerprints, calling into question the need for the authentication of identity. But Steinberg's early book The Passport does not only ridicule bureaucracy; it also functions as his own passport into the realm of American art, introducing a number of components that recur in his work throughout his career, such as his peculiar use of photography, the centrality of the mask as a device, and the importance of architecture as muse.
Steinberg's favorite occupations were drawing and travelling, the one nourishing the other, in the words of Robert Hughes, the art critic for Time magazine. His art is a kind of whimsical, absurdist travelogue of America—much like Nabokov's Lolita, to which it has often been compared. In 1942, soon after moving to New York, he set out by train to the see the country from coast to coast. Steinberg's later work "Car," a photographed hallah on wheels, associates the bread, an emblem of the Jewish immigrant, with automobiles, the great American obsession: both have shiny surfaces. Perhaps Steinberg meant his hilarious creation as a commentary on his own condition as a traveling immigrant Jew on the roads of America.
"Being an immigrant made one into a child," Steinberg said, "a child who talked funny and noticed things natives never did." From the time of his arrival in New York, he walked the streets of his adopted city with a freshness of vision that never grew jaded. The city captivated him, and nothing escaped his attention, from billboards, signs, and shop windows to automobiles, graffiti, and architectural ornamentation. Steinberg understood that in America high and low, beautiful and ugly, native and foreign joined forces to engender a sense of possibility and reinvention. Harold Rosenberg, the New Yorker's influential art critic and friend of the Abstract Expressionists, was an admirer. For him, Steinberg's immigrant status "affected his work to a degree that could not be overstated." New Yorker staff writer Adam Gopnik has noted that the cartoonist's place, on the margins of "high" art, was precisely the place Steinberg liked best, providing him with a vantage point outside the frame.
Illustrations by Saul Steinberg
Additional Resources
Bibliography
SELECTED BIBLIOGRAPHY
Melissa Renn, Andreas Prinzing, Iain Topliss, et al., Saul Steinberg: The Americans. Cologne: Museum Ludwig, 2013 (see News page).
Deirdre Bair, Saul Steinberg: A Biography. New York: Nan A. Talese/Doubleday, 2012. See corrections.
Mario Tedeschini Lalli, "Descent from Paradise: Saul Steinberg's Italian Years, 1933-1941." Published in Quest: Issues in Contemporary Jewish History, no. 2, October 2011 (see NEWS page). http://www.quest-cdecjournal.it/focus.php?id=221
Roberta Saraiva et al., Saul Steinberg: As aventuras da linha. São Paulo: Instituto Moreira Salles and the Pinacoteca do Estado, 2011 (see News page).
Iain Topliss, introduction to Saul Steinberg. Paris: Delpire Éditeur, 2008 (see News page).
Joel Smith, with an introduction by Charles Simic, Saul Steinberg: Illuminations. New Haven and London: Yale University Press, 2006 (see News page).
Joel Smith, with an introduction by Ian Frazier, Steinberg at The New Yorker. New York: Harry N. Abrams, 2005.
Iain Topliss, The Comic Worlds of Peter Arno, William Steig, Charles Addams, and Saul Steinberg. Baltimore: The Johns Hopkins University Press, 2005.
Marco Belpoliti and Gianluigi Ricuperati, eds., Saul Steinberg. Riga, no. 24. Issue devoted to new and reprinted essays on Steinberg (in Italian).
Books by Saul Steinberg
China Theater: An Informal Notebook of Useful Information for Military Men in China. Washington, D.C.: U.S. Government Printing Office, 1943.
All in Line. New York: Duell, Sloan & Pearce, 1945.
The Art of Living. New York: Harper & Brothers, 1949.
The Passport. New York: Harper & Brothers, 1954. Revised ed., with an introduction by John Hollander, New York: Vintage Books, 1979.
Steinberg's Umgang mit Menschen. Hamburg: Rowohlt Verlag, 1954.
Dessins. Paris: Gallimard, 1956.
The Labyrinth. New York: Harper & Brothers, 1960.
The Catalogue. Cleveland: Meridian Books/World Publishing Co., 1962.
Steinberg's Paperback. Hamburg: Rowohlt Verlag, 1964.
The New World. New York: Harper & Row, 1965.
Le Masque. Texts by Michel Butor and Harold Rosenberg; photographs by Inge Morath. Paris: Maeght Editeur, 1966.
The Inspector. New York: The Viking Press, 1973.
All Except You. With Roland Barthes. Paris: Repères, 1983.
Dal Vero. With John Hollander. New York: The Library Fellows of the Whitney Museum of American Art, 1983.
Canal Street. With Ian Frazier. New York: The Library Fellows of the Whitney Museum of American Art, 1990.
The Discovery of America. Introduction by Arthur C. Danto. New York: Alfred A. Knopf, 1992.
Saul Steinberg: Masquerade. Photographs by Inge Morath. New York: Viking Studio, 2000.
Lettere a Aldo Buzzi, 1945-1999. Edited by Aldo Buzzi. Milan: Adelphi Edizioni, 2002.
Reflections and Shadows. With Aldo Buzzi. Translated by John Shepley. New York: Random House: 2002. Originally published in Italian, 2001; French and German editions, 2002; Portuguese, 2011 (see News page).
One-Artist Exhibition Catalogues
Steinberg 1953. Paris, Galerie Maeght. Derrière le miroir, nos. 53-54, March-April, 1953.
Steinberg. Hannover: Kestner-Gesellschaft, 1954. Text by Alfred Hentzen.
Steinberg. Paris: Galerie Maeght. Derrière le miroir, no. 157, March 1966.
Saul Steinberg. New York: Sidney Janis Gallery, 1966.
Steinberg: "The Americans" et Aquarelles, Dessins et Collages 1955-1967. Brussels: Musées Royaux des Beaux-Arts, Musée d'Art Moderne, 1967. Foreword by P. Robert-Jones, text by Pierre Baudson.
Steinberg Rotterdam: Museum Boymans-van Beuningen, 1967. Foreword by H.R. Hoetink, text by Pierre Baudson.
Steinberg: Zeichnungen und Collagen. Hamburg: Hamburger Kunsthalle, 1968. Foreword by Helmut R. Leppien, texts by Pierre Baudson, Manuel Gasser, interview by André Parinaud.
Drawings by Saul Steinberg. New York: Sidney Janis Gallery, 1969.
Steinberg 1971. Paris: Galerie Maeght. Derrière le miroir, no. 192, June 1971. Text by Jacques Dupin.
Steinberg: Ölbilder, Gouachen, Zeichnungen. Zurich: Galerie Maeght, 1971. Text by Manuel Gasser.
Saul Steinberg. Milan: Galleria Mario Tazzoli, 1973. Text by Giorgio Soavi.
Saul Steinberg. New York: Sidney Janis Gallery, 1973.
Steinberg 1973. Paris: Galerie Maeght, 1973. Derrière le miroir, no. 205, September 1973. Text by Hubert Damisch.
Steinberg at the Smithsonian: The Metamorphosis of an Emblem. Washington, D.C.: National Collection of Fine Arts, Smithsonian Institution, 1973. Text by John Hollander.
Saul Steinberg: Zeichnungen, Aquarelle, Collagen, Gemälde, Reliefs 1963-1974. Cologne: Kölnischer Kunstverein, 1974. Texts by Tilman Osterwald, Wilhelm Salber, and Gertrud Textor.
Steinberg Drawings. New York: Sidney Janis Gallery, 1976.
Steinberg. Paris: Galerie Maeght, 1977. Derrière le miroir, no. 224, May 1977. Text by Italo Calvino.
Saul Steinberg. New York: Whitney Museum of American Art, 1978. Text by Harold Rosenberg.
Saul Steinberg, Richard Lindner. Paris: Galerie Maeght, 1980. Derrière le miroir, no. 241, October 1980. Text by Eugene Ionesco.
Saul Steinberg: Still Life and Architecture. New York: The Pace Gallery, 1982. Text by Italo Calvino.
Saul Steinberg: Mixed Media on Paper and Wood. Chicago: Richard Gray Gallery, 1982.
Saul Steinberg. London: Waddington Galleries, 1983.
Steinberg. Paris: Galerie Maeght Lelong, 1986. Repères: Cahiers d'Art Contemporain, no. 30, 1986. Interview by Jean Fremon.
Saul Steinberg: Recent Work. New York: The Pace Gallery, 1987. Text by Adam Gopnik.
Steinberg. Paris: Galerie Adrien Maeght, 1988. Text by Eugene Ionesco.
Steinberg: 4. Internationale Triennale der Zeichnung. Nuremberg: Kunsthalle Nürnberg, 1988. Texts by Italo Calvino and Curt Heigl.
Saul Steinberg: About America 1948-1995. The Collection of Jeffrey and Sivia Loria. Philadelphia: Arthur Ross Gallery, University of Pennsylvania; New Haven: Yale University Art Gallery, 1995-96. Catalogue published as Saul Steinberg: Fifty Works from the Collection of Jeffrey and Sivia Loria. New York: Jeffrey H. Loria & Co., 1995. Texts by John Updike and Jean Leymarie.
Steinberg: Drawing into Being. New York: PaceWildenstein, 1999. Texts by Arne Glimcher and Bernice Rose.
Saul Steinberg. Valencia: Institut Valencia d'Art Modern (IVAM), 2002. Forewords by Kosme de Barañano and Valerio Adami, texts by Dore Ashton, Roland Barthes, Italo Calvino, and Colin Eisler.
Saul Steinberg. Paris: Galerie Claude Bernard, 2008. Introduction by Philippe Dagen.
Saul Steinberg: L'Écriture visuelle. Strasbourg: Musée Tomi Ungerer, 2009. Texts by Philippe Dagen, Daniela Roman, Jean-Philippe Theyskens, Iain Topliss, and Thérese Willer.