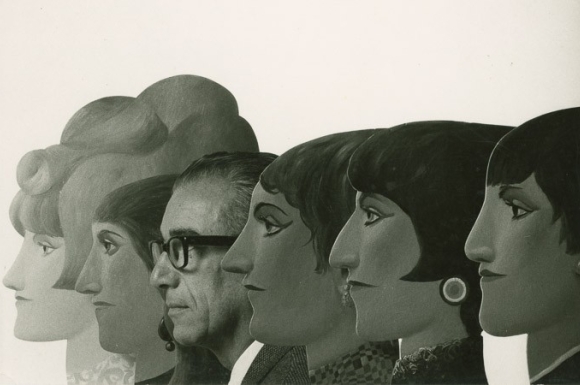 Biography
Groundbreaking modernist designer and children's book illustrator who emerged as one of the international design community's most influential pathfinders and bridge-builders. Idealistic and globally minded, he viewed pithy, smart, deceptively simple graphic design as a worthy contribution to the post-war effort, emphasizing democratic values and establishing a visual language to unite people across generations and cultures. During his prolific career, Lionni expressed his creative vision by pursuing distinct but interrelated artistic domains, including avant-garde graphic design and advertising, progressive picture books for children, and personal works exploring the mediums of printmaking, photography, drawing, painting, & sculpture.
The Early Years
Born in Amsterdam on May 5, 1910, Leo Leonni was a beloved son and nephew in a family that appreciated art. The only child of Louis Lionni, an oil company accountant of Jewish descent, and Elizabeth Grussouw Lionni, a Christian and an opera singer, Lionni loved to draw and set his sights at a young age on becoming an artist. He studied arts and crafts in primary school, and as his interest grew, he was mentored by his Uncle Piet, an architect and an artist who accompanied him to the Rijksmuseum, where he created copious drawings of sculptures and plaster casts. A diamond broker and noted art collector, Lionni's Uncle Willem provided access to another aspect of the world of art—collecting extensively and traveling widely, he often stored his artworks in relatives' homes. A painting by Marc Chagall hung outside Lionni's childhood room, and this and others brought the art of modernist painters into view, an alternative to the more traditional forms that he studied in museums. Also captivated by nature, Lionni kept and cared for small creatures like birds and fish in his attic room in Amsterdam, and he designed and filled terrariums with natural details that would eventually find their way into his work.
When Lionni was twelve years old, his parents left Amsterdam to establish residence in America, and for a time he lived with his grandparents in Brussels, Belgium. At the age of fourteen, Lionni joined his parents and attended high school in Philadelphia where his father was employed by the Atlantic Richfield Company. A year later, the family moved once again, to Genoa, Italy, where Lionni enrolled in a commercial high school, learned Italian, and developed an appreciation for the country's rich heritage of art and literature. There, when he was sixteen, he met Nora Maffi, the daughter of Fabrizio Maffi, a founder of the Italian Communist Party. The couple married in December 1931 when Lionni was twenty-one and were married for sixty-nine years. A citizen of the world who traveled widely, Lionni spoke five languages, including Dutch, German, English, Italian, and French.
Visionary Designer
In the late 1920s, Lionni explored opportunities in the field of commercial and submitted advertising proposals for Campari, known for its Italian liqueur, an aperitif created by infusing herbs and fruit in alcohol and water. Though their formula never changed, Campari's design standards were decidedly progressive, which appealed to Lionni. He went on to make his living in advertising while attending classes at the University of Genoa, where he earned a doctoral degree in economics. His modernist sensibility was also reflected in his expressive personal paintings, which attracted the attention of F. T. Marinetti, leader of the faded Futurist movement. In 1939, Lionni returned to Philadelphia with his wife Nora and two young sons, Louis and Paolo, and accepted a position at the prestigious N.W. Ayer & Son—founded in 1869, it held the claim of being the oldest advertising agency in the United States. Determined to maintain artistic freedom, Lionni made a move to New York in 1947, establishing his own design studio.
Over the course of his career, Ford Motor Company, Container Corporation of America, General Electric, Olivetti, and American Cancer Society were among his many clients. Commissioning work from such visionary artists as Alexander Calder, Willem de Kooning, Fernand Léger, Saul Steinberg, and the young Andy Warhol, he also originated Ladies' Home Journal's "Never Underestimate the Power of a Woman" campaign, created the prototype issue of Sports Illustrated, and designed MoMA's striking catalogue for The Family of Man, an exhibition curated by photographer Edward Steichen. Lionni served as art director of Fortune (1948-1960) and co-editor of Print (1955-1956). In addition to designing striking covers, typography, and interior layouts he was instrumental in launching the careers of many emerging artists and designers, including celebrated picture book artist Eric Carle, who considered him a mentor and a lifelong friend. Unfinished Business, an exhibition designed by Lionni for the United States Pavilion of the 1958 Brussels World's Fair gave a frank account of the struggle for racial justice in 1950s America. As an educator, Lionni inspired the next generation by teaching courses in graphic design at Parsons School of Design (1954), and later, at the Institute of Design in Ahmedabad, India (1967), University of Illinois (1967), and Cooper Union (1982-1985). In 1974, Lionni was elected to the Art Directors Hall of Fame for having made significant contributions to art direction and communications, and whose lifetime achievements represent the highest standards of creative excellence.
Picture Books and Personal Work
Though he maintained a residence in New York, in 1960 at the age of fifty, Lionni returned to Italy and settled in Tuscany, where he created paintings and large fantasy sculptures inspired by nature in iron and brass. His accidental entry into the world of picture books allowed him to meld the worlds of fine and applied art, and share humanistic messages through the use of animal metaphors that appealed to children and adults. Lionni was an editor at Time Life at the time, but Little Blue and Little Yellow (1959), his first published book, was the outcome of his attempt to entertain his grandchildren on a train ride by spinning a warm tale of friendship and togetherness with pieces of paper torn from a magazine. He would go on to write and illustrate more than forty picture books—short fables created in collage and other media offering meaningful life lessons expressed through artful, imaginative visuals and lyrical narratives. Lionni is the recipient of four Caldecott Honors for excellence in illustration, for Frederick and Inch by Inch in 1960, Swimmy in 1964, and Alexander and the Wind-Up Mouse in 1967. Individuality, creativity, friendship, community, and the common good are recurrent themes in his deceptively simple, multi-layered stories, which were often developed in his farmhouse in Italy. "I believe that a good children's book should appeal to all people who have not completely lost their original joy and wonder in life," the artist said. "I make them for that part of us, for myself and my friends, which has never changed, which is still a child."
Designed for adult audiences and first published in Italian as La botanica parallela in 1976, Parallel Botany was made available in English two years later—a richly imagined botanical world created over several years in a variety of media, including drawings, prints, sculptures, and paintings. The book's fantastical text, plant descriptions, travel stories, and folk etymologies, as well as historical details, are a reflection of Leonni's lifelong and deeply felt connection to the natural world.
Diagnosed with Parkinson's disease in 1982, Lionni would continue to write, illustrate, and conceive of new project ideas for more than a decade to follow. Having enjoyed a prolific and multi-faceted artistic career, Lionni died at his home near Radda in the Chianti district of Italy, on October 11, 1999 at 89 years of age.
Illustrations by Leo Lionni
Additional Resources
Bibliography
Lionni, Leo. Inch by Inch. New York: McDowell, Obolensky, 1960.
Lionni, Leo. Tico and the Golden Wings. New York: Knopf, 1964.
Lionni, Leo. The Biggest House in the World. New York: Pantheon, 1968.
Lionni, Leo. The Greentail Mouse. New York: Knopf, 1973.
Lionni, Leo. Pezzettino. New York: Knopf, 1975.
Lionni, Leo. Cornelius: A Fable. New York: Pantheon, 1983.
Lionni, Leo. On my beach there are many pebbles. Astor-Honor, 1961.
Lionni, Leo. Frederick. New York: Knopf, 1967.
Lionni, Leo. Little Blue and Little Yellow. New York: McDowell, Obolensky, 1959.