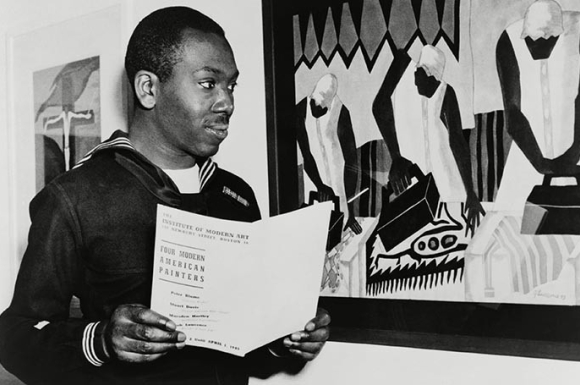 Biography
One of the first nationally recognized Black artists, social realist Jacob Lawrence was a visual storyteller who portrayed people of color in a vibrant, geometric style inspired by the sights and sounds of Harlem and his study of African American history.
A teenager in New York during the Harlem Renaissance, Jacob Lawrence absorbed the excitement of the artistic environment and became interested in African American history and culture. He researched and chronicled the lives of Harriet Tubman, Frederick Douglass, John Brown, and other figures and events in Black history. During the Great Depression, Lawrence studied art through the Works Progress Administration. In 1940, he created the Migration Series, sixty paintings which document the migration of African Americans from the rural South to urban centers in the North following World War I.
Later in life, Lawrence taught art at several schools, including Black Mountain College in North Carolina, New York's New School for Social Research, Art Students League, and Pratt Institute, the Skowhegan School in Maine, and the University of Washington in Seattle.
Racism, poverty, war, religion, and the pursuit of civil rights are prominent themes in Lawrence's art, which carried his messages to a wide, appreciative audience.
Photograph courtesy EVERETT/SHUTTERSTOCK.
Illustrations by Jacob Lawrence
Additional Resources
Bibliography
Aesop and Jacob Lawrence. Aesop's Fables. New York: Windmill Books, 1970.
Lawrence, Jacob. Harriet and the Promised Land. New York: Windmill Books, 1968.
Lawrence, Jacob. The Legend of John Brown. Detroit Institute of Arts, 1978.
Lovell, Charles Muir. Jacob Lawrence: An American Master. Greenville, NC: East Carolina University, 1992.
Nesbett, Peter T. Jacob Lawrence: The Complete Prints (1963-2000); A Catalogue Raisonné. Seattle, WA: Francine Seders Gallery, 2005.
Nesbett, Peter T. and Michelle DuBois. Over the Line: The Art and Life of Jacob Lawrence. Seattle: University of Washington Press, 2000.
Van Rensburg, Storm Janse. Jacob Lawrence: Lines of Influence. Zürich: Scheidegger et Spiess, 2020.
Turner, Elizabeth Hutton. Jacob Lawrence: The Migration Series. Urbanna, VA: Rappahannock Press, 1993.