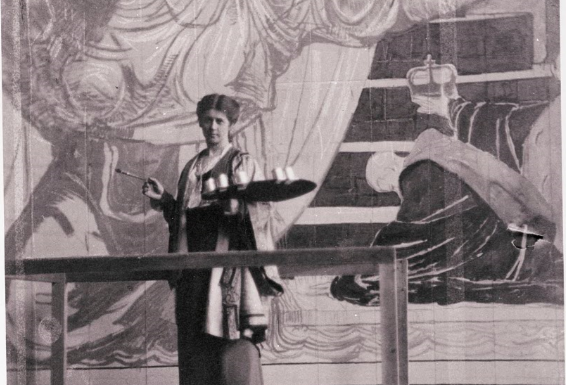 Biography
New Jersey-born Violet Oakley's desire to create art was self-described as "hereditary and chronic." Each of her grandfathers was an Associate of the National Academy of Design, her mother studied with painter William Morris Hunt (March 31, 1824-September 8, 1879), and her aunts traveled to Europe to study master works. Surrounded by such enthusiasm, Violet took up art as a child. Though she had hoped to follow her older sister Hester to study at Vassar College, Violet's parents deemed their youngest daughter too shy and poor of health to go away to school. With her family's full encouragement she instead enrolled in classes at the Art Students League in New York City. Her schooling continued in Europe where she traveled with her family, taking classes at the Academie Montparnasse in Paris and at Rye in Sussex with talented teacher Charles Lazar. The Oakleys returned to America when Violet's father fell ill, and after spending a brief time in New York, settled in Philadelphia. Violet enrolled at the Philadelphia Academy of the Fine Arts but, lacking sufficient funds to remain in the program and noting the quality of instruction her sister Hester found at the Drexel Institute, Violet switched to Howard Pyle's class. It was there that she met Jessie Willcox Smith and Elizabeth Shippen Green, two other woman illustrators who would come to be her companions for many years.
These three women shared a studio space in downtown Philadelphia before moving to the old Red Rose Inn Estate in Villanova where they lived and worked for many years. This unusually close group of successful female illustrators came to be known as the Red Rose Girls, a name designated by Pyle himself. They would later relocate to a Pennsylvania estate called Cogslea, named after each of the artists' and their friend and housemate Henrietta Cozens' last initials. The four women lived together from 1897 to 1911. Though she worked in publishing, starting with a collaboration on Henry Wadsworth Longfellow's Evangeline (1897) with Jessie Willcox Smith as organized by Howard Pyle, Oakley was the only one of the Red Rose Girls to create works on a larger scale. She began producing murals and stained glass windows later in her career. These larger works provided the opportunity for didactic or moralizing content that commercial illustration lacked, one for which the religious Oakley yearned. Oakley's Unity mural at the Senate chamber at the Pennsylvania State Capitol Building in Harrisburg showcases a strong female figure, a significant thematic focus in Oakley's works. These murals consumed Oakley's attention for 20 years, and cost a significant sum to produce. It was rare that she made a large profit on such a commission.
Oakley was a follower of Mary Baker Eddy's Christian Science Church, a religious denomination she had taken up in her adulthood in response to her father's illness and her own struggle with asthma. This devout observance of a controversial practice separated Oakley from her illustrator friends at the Red Rose Inn, and later Cogslea, though it brought a fervor to her painted and stained glass works. When Elizabeth Shippen Green left Cogslea to marry Huger Elliott, Oakley and Jessie Willcox Smith drifted apart. Oakley, who accepted a position as the second-ever female teacher at the Philadelphia Academy of the Fine Arts, found support and friendship in one of her new students, Edith Emerson.
Illustrations by Violet Oakley
Additional Resources
Bibliography
Carter, Alice A. The Red Rose Girls: An Uncommon Story of Art and Love. New York: Harry N. Abrams, 2000.
Reed, Walt. The Illustrator in America, 1860-2000. New York: Society of Illustrators, 2001.
Van Hook, Bailey. Violet Oakley: An Artist's Life. Newark, NJ: University of Delaware Press, 2016.