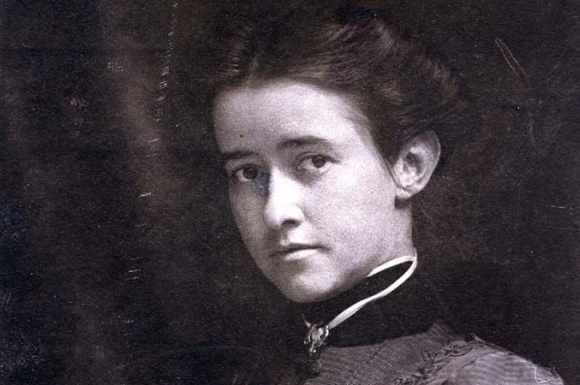 Biography
Elizabeth Shippen Green (1871-1954) was born to a well-connected Philadelphia family. An ambitious student at the Philadelphia Academy of the Fine Arts under Thomas Eakins, Thomas Anschutz, and Robert Vonnoh, Green additionally took on coursework at the Drexel Institute with Howard Pyle. The instruction of these teachers links Green to acclaimed illustrator Maxfield Parrish, an artist whose work influenced Elizabeth Shippen Green. It was in Pyle's class that she met her fellow artists Jessie Willcox Smith and Violet Oakley. These three women shared a studio space in downtown Philadelphia before moving to the old Red Rose Inn Estate in Villanova where they lived and worked for many years. This unusually close group of successful female illustrators came to be known as the Red Rose Girls, named as such by Pyle himself. Their body of work is a cornerstone of the Golden Age of American illustration, a time when magazine publishing flourished.
Green found success and a positive reputation as she completed her education and accepted illustration commissions from many noted publications. Green's decorative style lent itself to color printing, and was suitable for fashion advertising and children's books. She notably contributed to the Saturday Evening Post and Ladies' Home Journal, ith the latter being a commission achieved through Jessie Willcox Smith's recommendation. She also illustrated several American children's favorites throughout her career, such as the Five Little Pigs and Tales From Shakespeare, and her 44-year-long career included her publication in over 30 books. Eventually, in 1901, Green signed a semi-exclusive contract with Harper's Weekly, which decreased her activity with other publications until 1924. She was the first female staff member of Harper's. Along with her companions, Smith and Oakley, she was a member of the prestigious Philadelphia Plastic Club, an organization of women artists that held significant lectures and exhibitions. The three were featured together in a 1902 Plastic Club exclusive exhibition dedicated to their work.
With her exuberant personality and sense of humor, Green brought a lightness and joy to the lives of the serious and driven Smith and Oakley through their relocation from the Red Rose Inn to a nearby Pennsylvania estate called Cogslea, named after each of the artists' and their friend and housemate Henrietta Cozens' last initials, also the name of their chosen family. The four women lived together from 1897 to 1911. Green was a conscientious member of the household, tending to the group and her elderly parents once they moved in, and became a part of the extended Cogs amily. However, she was the only one of the Red Rose Girls ever to marry, thus breaking her pledge to the other women that she would forever remain without a male companion. Though she had delayed her leave with a five-year engagement, citing her aging parents as the cause, her eventual union with architecture professor Huger Elliott (1877-1948) and subsequent departure from the trio left her companions dismayed. The group continued their work independently, and still enjoyed success, but their dynamic and flow of inspiration and collaboration was never the same. Green moved several times in the years that followed her marriage, as her husband held a variety of positions throughout the Northeast. Though she spent a portion of her adulthood moving around as Mrs. Elliott, Green would eventually re-settle in Philadelphia before her death in 1954. Green outlived her husband, who died of a heart attack in 1948.
Illustrations by Elizabeth Shippen Green
Additional Resources
Bibliography
Carter, Alice A. The Red Rose Girls: An Uncommon Story of Art and Love. New York: Harry N. Abrams, 2000.
Giambarba, Paul. Elizabeth Shippen Green. Mashpee, MA: CapeArts Publishing, April 30, 2014.
Reed, Walt. The Illustrator in America, 1860-2000. New York: Society of Illustrators, 2001.