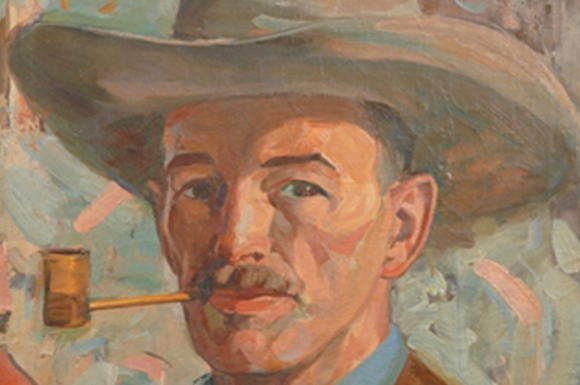 Biography
Allen Tupper True (1881-1955) grew up in Colorado Springs, Colorado, developing a deep love for the near-frontier at an early age. His early years in art were self-taught, but he eventually decided to pursue the hobby with professional training. For this, he left home to attend the University of Denver, and after graduating headed to Washington, DC, where he studied for a year at the Corcoran School of Art from 1901 to 1902. True then made his way to Philadelphia to study with the Brandywine School founder, Howard Pyle from 1902 to 1908, after which he apprenticed with the British muralist, Frank Brangwyn from 1913 to 1915.
While apprenticing with Brangwyn, True worked on commission for several major magazines in the industry, including Outing, Scribner's, Collier's, and The Saturday Evening Post. Like his contemporary, Charles Marion Russell (1864-1926), True's paintings were often inspired by the West and conveyed the artist's pride in its American identity. He felt great reverence for the West's native people, whom he had spent time with, and sought to accurately represent them through firsthand knowledge and researching through books and cultural centers. True's admiration led him to become something of a connoisseur and an authority in early settler and cowboy culture and artifacts, as well as many aspects of Native American life.[1]
True's early works consisted of mainly easel paintings, eventually migrating to large-scale murals shortly after his marriage to Emma Goodman Eaton in 1915.[2] His grand works can be found in the Colorado, Missouri, Nebraska, and Wyoming capitol buildings. With these mural and project experiences under his belt, True was hired as a consultant from 1934 to 1945 for the US Bureau of Reclamation, overseeing and designing the decoration plans for the Boulder Dam power plant, Grand Coulee Dam, and the Shasta Dam, to name just a few.
True was a Unitarian Mason, and an active member to the Mural Painters Society of America, the Cactus Club of Denver, the Author's Club in London, a brother in Beta Theta Pi, and a Fellow of England's Royal Society of the Arts.[3]
Rhode Island School of Design has a collection of True's artwork, and other murals by him can be found at the Brown Palace Hotel, Denver Civic Center Park, and the Colorado National Bank.[4] Additionally, the Smithsonian Institution houses the artist's papers, thanks to a donation made by his children in 1988.[5]
Entry written by Bailey Pfohl, 2016 Walt Reed Distinguished Scholar Intern
Footnotes:
[1] "Allen Tupper True." Allen Tupper True: An American Artist. 2016. http://allentuppertrueanamericanartist.com/
[2] Walt Reed, The Illustrator in America: 1860-2000 (New York: Society of Illustrators, 2001.), 125.
[3] Ibid. and Fitzgerald, Jean. "Allen Tupper True and True family papers, 1841-1987." Smithsonian Archives of American Art. 2016. https://www.aaa.si.edu/collections/allen-tupper-true-and-true-family-papers-10219/more-information
[4] "931 14th St. Historic Building: Murals." The Telecommunications History Group, Inc. 2016. http://www.telcomhistory.org/vm/MMurals.shtml
[5] Fitzgerald, "Allen Tupper True and True family papers, 1841-1987." 2016.
The painting of the artist is a self-portrait. The image was found online at: http://allentuppertrueanamericanartist.com/
Illustrations by Allen Tupper True
Additional Resources
Bibliography
Indian Memories: A Series of Mural Paintings by Mr. Allen True in the Colorado National Bank of Denver. Denver, CO: Colorado National Bank, 1923.
Reed, Walt. The Illustrator in America, 1860-2000. New York: Society of Illustrators, 2001.
True, Allen Tupper. Color and Decoration at the Boulder Power Plant. Washington, DC: Bureau of Reclamation, Department of the interior, 1936.
True, Jere and Victoria Tupper Kirby. Allen Tupper True: An American Artist. Seattle, WA: University of Washington Press, 2010.