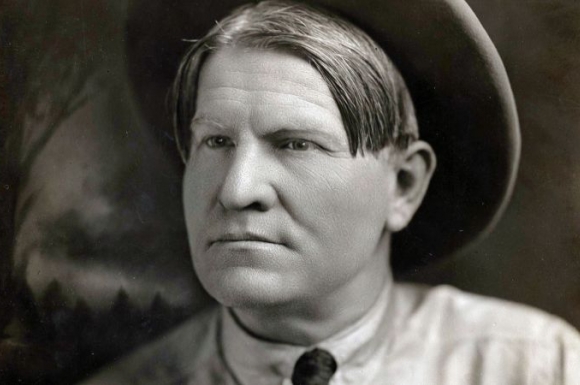 Biography
Charles Marion Russell (1864-1926) never much liked school, and after leaving the school in his hometown of St. Louis, Missouri, at the age of 16, he never returned to any school—not even to study his true love of art. This is considerably impressive, because Russell would go on to become one of the most well-known and lauded artists of the great American West.
Despite his life's trajectory, Russell did not grow up with the aspirations of becoming an artist. In fact, he most admired the Western lifestyle and sought to live as a cowboy. Chasing this dream, Russell found his first job on a ranch in central Montana, where he worked with sheep.[1] Although the job was soon deemed an unsuccessful fit, his love for Montana was strong, and he would end up spending the rest of his years there, though he did not know it yet. Searching for a job that would allow him to stay in the place he loved, Russell found a position as a night herder in the Judith Basin. The job conveniently enabled him to observe, draw, and paint the scenes he witnessed daily, something he had enjoyed since his boyhood.
Russell's art was initially for personal documentation of the west, which he experienced firsthand as a cowboy. It recorded the weather, encounters with livestock, and wild animals. But as opportunities began presenting themselves, Russell began to entertain the idea of beginning an artistic career.
One of his earliest major jobs in art was a full-page illustration for Leslie's Weekly ("Christmas Meat for Mountain Men") that garnered him some attention and clarified the extent of the scope of work available to him to become a full time artist. Soon after, in 1892, Russell settled in Great Falls, Montana, with the intent of switching his career to become a full time artist. He found work, and the very next year his drawings were published. They included drawings for Emerson Hough's Story of the Outlaw, Oline D. Wheeler's Trail of Lewis and Clark, and Stewart Edward White's Arizona Nights. Russell enjoyed a modest reputation.
Often inspired by his surroundings, Russell painted what he saw. After living among the Blood Indians of the Blackfoot Nation of Southern Canada, his work became informed by the experience and time he spent living near them. Russell's firsthand knowledge provided him with empathy and reverence for the Native American culture, which resonates strongly in his paintings of them. In an attempt to learn more about his subjects, the artist learned their language and began collecting artifacts and small mementos, many of which were used in his renderings to provide genuine details.[2] Eventually, he built a structure that served as a studio and storage space to house his growing collection of "Indian clothing, utilitarian objects, weapons, cowboy gear, 'horse jewelry,' and other Western props useful in depicting scenes of the Old West."[3]
In 1896, the artist married Nancy Cooper. From this point on, his fame took flight, garnering international attention thanks to his wife, who devoted much of her time to setting up shows for him in the US and London.[4] It is to her that Russell owes much of his career.
Russell's fame coincided with a time of great interest and fascination in the American West—images chronicling its exploration and settlement were published in journals, newspapers, magazines, books, and sold as tear sheets, posters, and individual prints or print series that could be hung in the home. Furthermore, entertainment such as silent films and Wild West shows circulated throughout the country, drawing large crowds.
Sticking to Western themes, Russell soon became affectionately known as "the cowboy artist," although he painted Native Americans, women, and wild animals as well. Russell's style is one that renders color and design equally important. His application of color reveals a familiarity of the artist with his beloved Montana. For example, many of his scenes depicting dusk incorporate vibrant oranges, purples, and blues, thus effectively conveying the atmospheric tone. As with color, his familiarity with real animals of the west allowed for a more accurate presentation of anatomy and movement, despite his never having been formally trained. His attention to detail can be seen in any aspect of his work, even in watercolor; because of its storytelling content and action-packed qualities, it is illustrative art.
By the end of his career, Russell was truly prolific. He completed approximately 4,000 works of oil painting, watercolor, and sculpture, done in wax, clay, plaster, and bronze. To this day, Russell's work and reputation have resonated and continue to inspire many artists of the West. The event of the artist's death caused a particular stir, and in Montana, Russell was treated like a national hero upon his death in October 1926. According to accounts, "on the day of Russell's funeral in 1926, all the children in Great Falls were released from school to watch the funeral procession. Russell's coffin was displayed in a glass sided coach, pulled by four black horses."[5] Since his death, Russell's work inspired a number of songs, and there have been a few schools name for him.
Russell was inducted into the Society of Illustration Hall of Fame in 1985, along with Robert Weaver and A.B. Frost. In 1991, he was added to the St. Louis Walk of Fame, an honor reserved for people who were born or spent their formative years in Missouri, and whose accomplishments "had a national impact on our cultural heritage."[6] Most recently, he was inducted into the inaugural class of the Montana Outdoor Hall of Fame in 2014.[7]
Charles Marion Russell's works have been collected eagerly by major museums like the Amon Carter Museum, The Butler Institute of American Art, Denver Art Museum, Nelson Atkins Museum, and many more. Furthermore, The C. M. Russell Museum Complex located in Great Falls, Montana houses more than 2,000 Russell artworks, personal objects, and artifacts. For a complete list of collections that hold works by Russell, please visit: http://www.charlesmarionrussell.com/museum.html.
Entry written by Bailey Pfohl, 2016 Walt Reed Distinguished Scholar Intern
Footnotes:
[1] Arthur Hoeber, The Painter of the West that has Passed (New York: Doubleday, Page & Co., 1911).
[2] Ibid.
[3] "Charles. M. Russell." C.M. Russell Museum. 2016. http://cmrussell.org/charles-m-russell/
[4] "Behind Every Man: Nancy Cooper Russell." Women's History Matters. March 18, 2014. 2016. http://montanawomenshistory.org/behind-every-man-nancy-cooper-russell/
[5] John Taliaferro, Charles M. Russell: The Life and Legend of America's Cowboy Artist (University of Oklahoma Press, 2003), 264.
[6] "St. Louis Walk of Fame Inductees." St. Louis Walk of Fame. 2016. http://www.stlouiswalkoffame.org/inductees/?view=achievement
[7] Kuglin, Tom. "Montana Outdoor Hall of Fame inducts inaugural class." Missoulian, December 3, 2014. 2016. http://missoulian.com/lifestyles/recreation/montana-outdoor-hall-of-fame-inducts-inaugural-class/article_ca3d81a3-c77c-5501-8a30-9c114bd4b34e.html
Illustrations by Charles Marion Russell
Additional Resources
Bibliography
Chapin, Louis. 50 Charles M. Russell Paintings of the Old American West from the Amon Carter Museum. New York: Crown Publishers, 1978.
Craze, Sophia. Charles Russell. New York: Knickerbocker Press, 1989.
Reed, Walt. The Illustrator in America, 1860-2000. New York: Society of Illustrators, 2001.