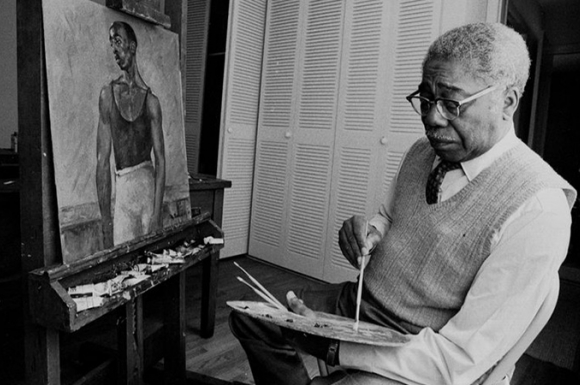 Biography
Aaron Douglas was born in Topeka, Kansas on May 26, 1899. Douglas began his studies at the University of Nebraska at the age of nineteen, and in 1922 he graduated with a Bachelor of Fine Arts degree. Following his studies in Nebraska, he taught visual arts at Lincoln High School in Kansas City, Missouri for two years. In 1925, at the age of twenty-six, he moved to New York City where the art scene was already thriving in his Harlem neighborhood. While in Harlem, Douglas became close friends with poet and author Langston Hughes and sociologist and civil rights activist W.E.B. Du Bois. Du Bois at that time was the editor of the Crisis, which was a journal made for the National Association for the Advancement of Colored People (NAACP). He offered Douglas the opportunity to publish some of his illustrations in the journal's publications. Douglas was able to apprentice under the German artist Winold Reiss, which was arranged by Charles S. Johnson, editor of Opportunity, the monthly journal of the National Urban League. Under the tutelage of Reiss, Douglas became motivated to research African heritage as a source of subject matter for his work, and in December 1925, his work was published alongside Reiss's in Alain Locke's The New Negro: An Interpretation. After only a year of being in Harlem, Douglas had established himself as a notable artist within the African community. Douglas's experience with racism and racial solidarity imbued him with an eagerness to play a role in promoting social change. His work within the Harlem community was well received and successful because he was one of the first creators to incorporate African motifs and designs into his work. By looking into past Black experience within the United States and hearkening back to African heritage both figuratively and literally, Douglas was able to transform his work into a modernized version of African pattern.
Douglas married Alta Sawyer in 1926. Sawyer was Douglas's high school sweetheart, and during Douglas's time in New York, he consulted with her in his decision making on numerous occasions. Sawyer helped make it possible for Douglas to share his struggles in New York and get advice on employment, and he kept her informed of their mutual friends and new acquaintances in New York. The couple embraced their responsibility to use their talents and increasing fame and fortune to help advance the community. The two of them hosted Harlem gatherings and eventually established themselves as part of the Harlem cultural elite.
The illustrations Douglas is best known for are his works in James W. Johnson's book, God's Trombones: Seven Negro Sermons in Verse (1927), for which he provided seven illustrations to go along with the poems written by Johnson. The book was well-received, and in 1928 both Johnson and Douglas received awards for their work. He would continue to make illustrations for other magazines such as Vanity Fair and Fire!! However, Douglas's last major illustrations were made for Paul Marand's book, Black Magic (1929). Later that same year, Charles Johnson invited Douglas to decorate the walls of the Fisk University Library in Nashville, Tennessee. He created a series of murals telling the story of the Black experience from the shores of Africa to life in America. In these murals were themes including African American religious songs, labors, and Blacks in Africa as well as in America. His major accomplishment was a series of murals titled Aspects of Negro Life, which were sponsored by the Work Progress Administration (WPA) and fill the reading room at the Schomburg Center for Research on Black Culture at the New York Public Library. The project was completed in 1934, and in the following year, Douglas painted a mural for the Harlem YMCA titled Evolution of Negro Dance. In that same year, Douglas created eight paintings that were based on smaller versions for God's Trombones: Seven Negro Sermons in Verse. The painting Let My People Go (1935-39) is among Douglas's most important works, and is currently on view in the Metropolitan Museum of Art.
During Douglas's later years, around 1940, he accepted a teaching position at Fisk University where he founded the Art Department. He was concerned with students learning the fundamentals the hard way, and placed emphasis on becoming an artist rather than an educator of art. He focused on the world and its social problems such as the struggles of Blacks in America, the attitudes whites held towards African-Americans, and the plight of Jews throughout the world. Gregory Ridley, a former student of Douglas, ascertained that Douglas's approach towards art came from a social point of view. Douglas retired from Fisk University after twenty-six years working in the Art Department and in 1979 he died at the Nashville General Hospital in Tennessee at the age of seventy-nine.
Illustrations by Aaron Douglas
Additional Resources
Bibliography
Cullen, Countee and Aaron Douglas. Caroling Dusk: An Anthology of Verse by Negro Poets. New York: Harper, 1927.
Driskell, David C., David L. Lewis, and Deborah Willis Ryan. Harlem Renaissance: Art of Black America. New York: Abrams, 1987.
Earle, Susan and Renée Ater. Aaron Douglas: African American Modernist. New Haven, CT: Yale Univ. Press, 2007.
Huggins, Nathan Irving. Voices from the Harlem Renaissance. New York: Oxford University Press, 1976.
Johnson, James Weldon. God's Trombones: Seven Negro Sermons in Verse. New York: Viking, 1927.
Rochelle, Belinda. Words with Wings: A Treasury of African American Poetry and Art. New York: HarperCollins, 2001.