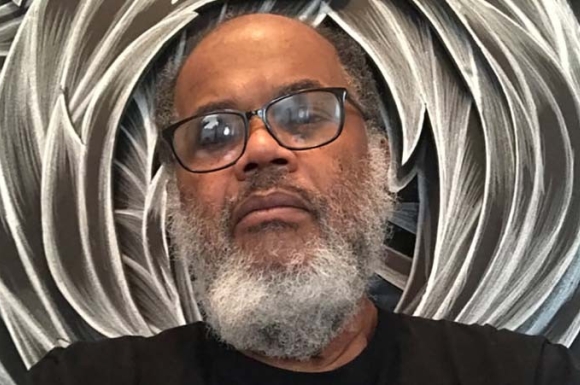 Biography
Born and raised in Harlem, Larry Weekes studied illustration at New York Community College and attended classes at The Art Students League and New York's School of Visual Arts.
Working for several years in retail management, Weekes changed careers to become a graphic artist and designer for such companies as Phat Farm and FUBU. Weekes now focuses on creating three-dimensional artwork using a variety of media, including photography, painting, and drawing to comment on race, equity, and human rights. He is President of the Fulton Art Fair—a vibrant Brooklyn arts organization founded in 1958 by Shirley Hawkins, a Bedford Stuyvesant businesswoman, and co-chaired by artists Ernest Crichlow and Jacob Lawrence. The organization's goal is to present and promote the work of African American artists living in New York, serving as a community gathering place and inspiring cultural awareness.
Regarding the role of contemporary artists, Weekes commented, "The artist must evoke the energy of feelings. We all have moments when we need to just float or take a moment to meditate on our lives. The artist must also document history. I enjoy working in black and white because we dream in black and white. Dreams are a kind of reality that is beyond the everyday reality of life. I feel this allows easer flow of the creative energy. Adding a three dimensional element creates a new reality."
Illustrations by Larry Weekes
Additional Resources
Bibliography
Phillips-Pendleton, Robyn and Stephanie Plunkett. Imprinted: Illustrating Race. Stockbridge, MA: Norman Rockwell Museum, 2022.