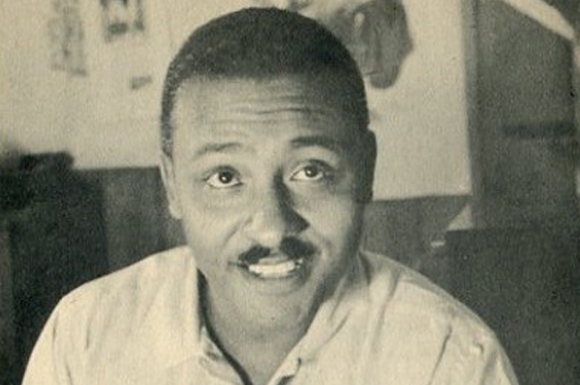 Biography
E. Simms Campbell was the top artist for Esquire in the 1930s—an African American who broke new ground, while called upon to create art focusing on white, affluent Americans.
Born in St. Louis, Missouri in 1906, Elmer Simms Campbell received formal art training at the Chicago Art Institute. In 1927, he signed on with the Triad Studies advertising agency in St. Louis. Two years later, he moved in with his aunt in New York while he began creating illustrations for the magazines Judge and Life. After studying at the Academy of Design and the Art Students League, he joined Esquire at its inception in 1933, where he "drew many cartoons a month and contributed heavily as a gagman... forty or fifty ideas monthly."[1]
He continued producing voluminous work for Esquire over the next twenty years, in addition to creating the magazine's mascot, "Esky." His illustrations for Esquire focused on voluptous women painted in watercolor, oftentimes placed in harems. From the 1930s through the 1960s, Campbell also illustrated for numerous other magazines, including Cosmopolitan, Ebony, The New Yorker, Redbook, and Playboy, where he would later incorporate his harem girls in his adult cartoons.
In 1939, Campbell became the first African American to have his work syndicated nationwide. King Features published his comic strip, Cuties, in more than 140 newspapers around the country. In addition to his magazine and newspaper work, Campbell also created advertising illustrations for companies such as Barbasol, Springmaid Fabrics, and Bisquick.
A workaholic to the end, Campbell continued drawing until his death in 1971. He was inducted into the Society of Illustrators' Hall of Fame in 2002.
[1] Mel Heimer, Famous Artists & Writers of King Features Syndicate (New York: King Features Syndicate, 1949).
Illustrations by E. Simms Campbell
Additional Resources
Bibliography
Campbell, E. Simms. Chorus of Cuties. New York: Avon Publications, 1952.
Campbell, E. Simms. Cuties in Arms. Philadelphia, PA: David McKay Company, 1942.
Campbell, E. Simms. More Cuties in Arms. Philadelphia, PA: David McKay Company, 1943.
Dodson, Howard and Thomas Riggs. St. James Guide to Black Artists. Detroit, MI: St. James Press, 1997.
Merrill, Hugh. Esky: The Early Years at Esquire. New Brunswick, NJ: Rutgers University Press, 1995.