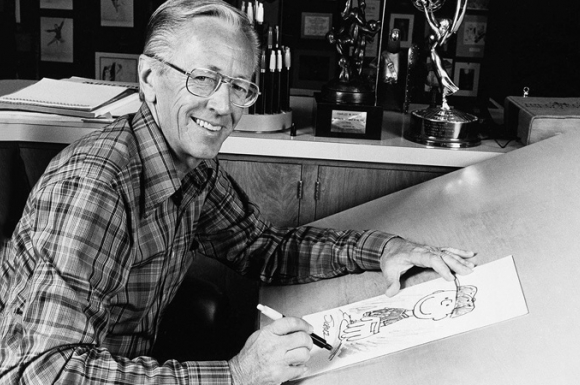 Biography
The thing that I came to realize was that Schulz is the great unifier. Here's the one cartoonist that pretty much everybody can agree on.
- Chip Kidd, Author of Only What's Necessary: Charles M. Schulz and the Art of "Peanuts"
Arguably the most popular cartoonist of the second half of the 20th century, for nearly 50 years Charles Schulz entertained children and adults alike with his Peanuts comic strip. Charlie Brown, Linus, Lucy, Peppermint Patty, Snoopy, and the rest of the gang first appeared in newspapers in October 1950. According to the New York Times, Schulz drew more than 18,000 Peanuts comic strips which at one point appeared in 2,600 newspaper in 75 countries. Licensing from the comic strip generated an annual revenue of over $1 billion.
An animated television special based on the strip, A Charlie Brown Christmas, debuted in 1965. It's the Great Pumpkin, Charlie Brown aired the following year. Both specials were instant hits among television viewers and continue to air each Halloween and Christmas season.
In December 1966, the pop music group, The Royal Guardsmen, released a single based on Charlie Brown's dog's daydream adventures titled Snoopy vs. the Red Baron that reached #2 on the U.S. Billboard chart.
The Charles M. Schulz Museum and Research Center, located in Santa Rosa, CA, continues to uphold the legacy of the great illustrator.
Illustrations by Charles Schulz
Additional Resources
Bibliography
Schulz, Charles. "The Complete Peanuts 1950-1952," Fantagraphics, October 17, 2004. Book
Schulz, Charles. "Peanuts Every Sunday 1952-1955," Fantagraphics, December 6, 2013. Book